Football and basketball coaching changes are heavily analyzed and scrutinized due to their significant impact on a university's financial trajectory in athletics. According to USA TODAY, the average salary for FBS head coaches during the 2020-21 season was $2.7 million while 36 men's basketball head coaches reportedly made at least $2.7 million in total pay themselves. Many states' highest-paid public employees are FBS head coaches, such as Alabama's Nick Saban ($8.9 million) and Florida's Dan Mullen ($6.1 million).
However, most coaches never reach the FBS or Division-I level and even fewer become head coaches in major college sports. Previous ADU research studies have covered this subject in detail, such as the role that search firms play in coach hirings as well as data that statistically proves institutionalized discrimination in job searches.
The study below serves as a guide in the hiring practices in both sports, identifying key trends in coaching experience and job types and how they influence head-coaching hires.
We begin with basketball, identifying common traits of first-time head coaches. Much of the data in this study is oriented around first-time head coaches and their prior experience before becoming head coaches in Division-I men's basketball or FBS football. 
The chart below shows the average experience in total years of first-time head coaches hired since 2014.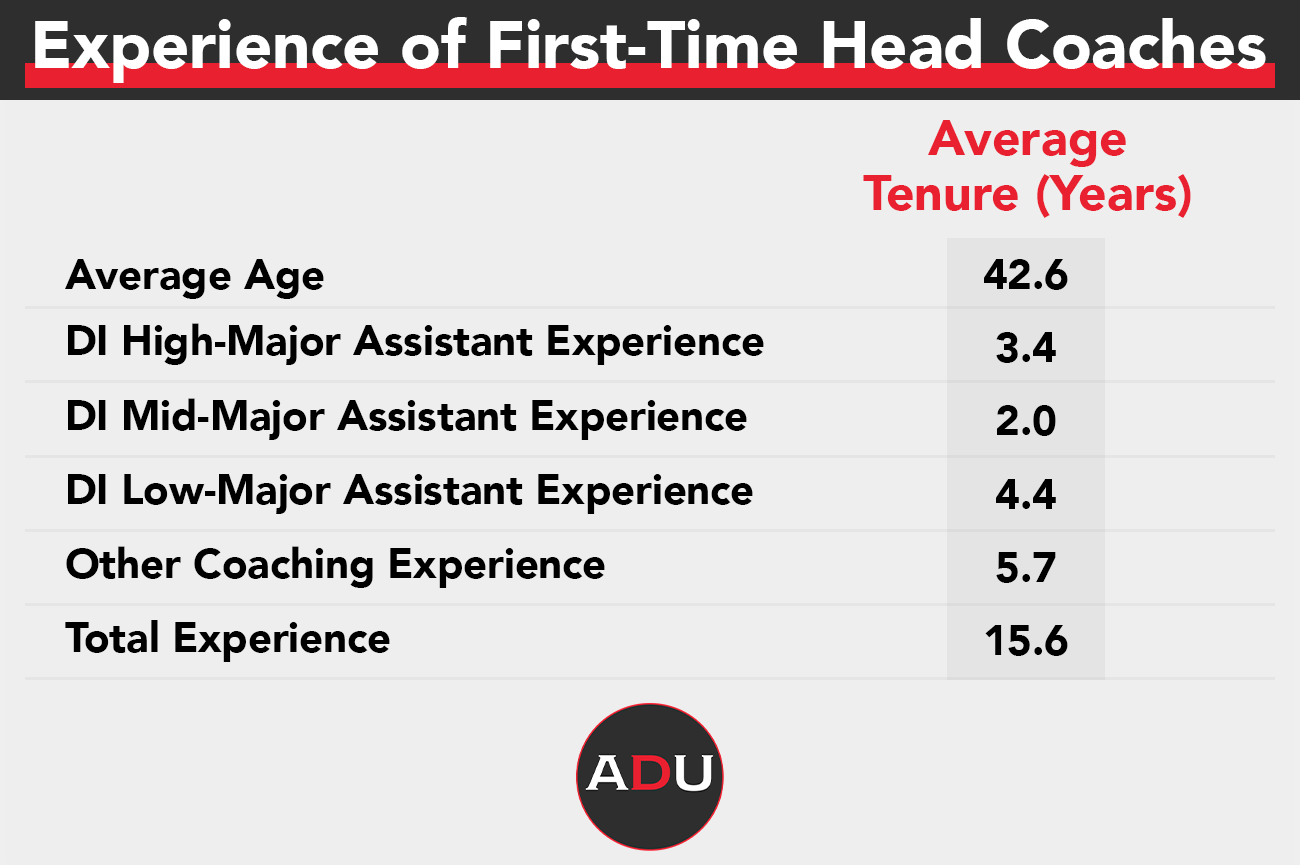 For the purpose of this study, high-major conferences are considered the ACC, Big Ten, Big 12, Big East, Pac-12 and SEC; Mid-major conferences are the AAC, A10, MVC, MWC and WCC; Low-majors are the remaining conferences.
In Division-I men's basketball, the average age of a first-time head coach is 42.6 years old with 15.6 years of coaching experience, including 9.8 years of full-time experience at the Division-I level.
The standard deviation in age for first-time head coaches is 7.2 years while the standard deviation for total experience is 7.7 years. A great deal of the experience factor is dependent upon coaches who played professionally prior to coaching compared to those who immediately began as graduate assistants.
As such, most coaches begin their careers as grad assistants or as assistants at the high school level. This career stage is the longest, on average, for most eventual head coaches. More than two-thirds of total coaching experience is at the D-I low-major level or outside of D-I for those who become head coaches.
Men's Basketball Coaching Carousel Matrix
The chart below shows the hiring frequencies of head coaches based on their conference level and previous job type. For example, 16.9 percent of high-major head coaches were mid-major head coaches in their most recent position.
The vast majority of first-time head coaches begin at the low-major level and have sustained success before opportunities in the major conferences. Of the 133 first-time head coaches hired since 2014, 15 (11.3 percent) began at a high-major, 20 (15.0 percent) at a mid-major and 98 (73.7 percent) at a low-major. Most of the first-time coaches who started at high-majors were either longtime assistants of notable coaches (Arizona's Tommy Lloyd under Mark Few; Washington's Mike Hopkins under Jim Boeheim) or former professional stars (Michigan's Juwan Howard; Vanderbilt's Jerry Stackhouse; Georgetown's Patrick Ewing).
High-major programs also have more bandwidth to hire active head coaches than mid-majors or low-majors. High-major programs hire active head coaches to fill 66.2 percent of all vacancies while mid-majors do so in 44.5 percent of hirings and low-majors just 17.3 percent of the time. For smaller conferences, candidate pools are often limited. When coaches thrive at the lower levels, they frequently interview for bigger, higher-paying jobs, forcing the smaller program to rebuild.
Overall, 17.9 percent of all Division-I men's basketball head-coaching hires since 2014 have been internal promotions of either assistants or associate head coaches. Of the internal promotions, 89.7 percent of the hires were of first-time head coaches. The exceptions were Penn State's interim hiring of Jim Ferry (now the UMBC head coach), Evansville's Todd Lickliter, Stony Brook's Geno Ford, IUPUI's Byron Rimm and Presbyterian's Dustin Kerns (now the Appalachian State head coach).
Men's Basketball Coaching Trees
Several head coaches, over time, groom former assistants who are now active head coaches themselves. Joining coaches with track records of developing younger coaches can prove to be valuable experience that leads to head-coaching opportunities.
To track this, we credited a head coach every time a former assistant left his staff directly for a first-time job as a head coach. For example, Purdue head coach Matt Painter had two former assistants hired as first-time head coaches during the 2021 carousel in Penn State's Micah Shrewsberry and Texas A&M Corpus Christi's Steve Lutz.
Five coaches have had at least three former assistants become first-time head coaches since 2014.
Chris Beard

: Mark Adams (Texas Tech), Brian Burg (Georgia Southern), Chris Ogden (UT Arlington), Wes Flanigan (Little Rock)

Matt Painter

: Micah Shrewsberry (Penn State), Steve Lutz (TAMU Corpus Christi), Jack Owens (Miami Ohio)

Jay Wright

: Kyle Neptune (Fordham), Ashley Howard (La Salle), Baker Dunleavy (Quinnipiac)

Mike White

: Jordan Mincy (Jacksonville), Darris Nichols (Radford), Dusty May (FAU)

Steve Wojciechowski

: Dwayne Killings (Albany), Stan Johnson (Loyola Marymount), Brett Nelson (Holy Cross)

Chris Beard's linear growth from coaching at the D-II level to the University of Texas in just an eight-year span has caught college basketball by storm. Wes Flanigan and Mark Adams succeeded Beard at Little Rock and Texas Tech, respectively, while Brian Burg and Chris Ogden landed head jobs via the Texas Tech bench.
Since taking over at Texas, Beard has assembled what is widely regarded as the best coaching staff in the country. Ogden and UTEP's Rodney Terry both left head-coaching jobs to join Beard's staff, in addition to nationally recognized recruiters in Jerrance Howard and Ulric Maligi. 
Men's Basketball Conference Coaching Chart
To better understand the men's basketball coaching carousel, the following table orders each of the 32 D-I conferences by total head-coaching jobs created. The chart also includes the average tenure winning percentages based on the conference the coach was departing. Additionally, the average head-coaching job level created by each conference is also listed, with low-major jobs equaling 0 points, mid-major jobs equaling 1 point, and high-major jobs equaling 2 points. 
For an example on how to read the chart below, former ACC coaches have filled 7.3 percent of all D-I head-coaching vacancies since 2014 and have gone on to average a 52.1-percent tenure winning percentage at an average job level of 0.63.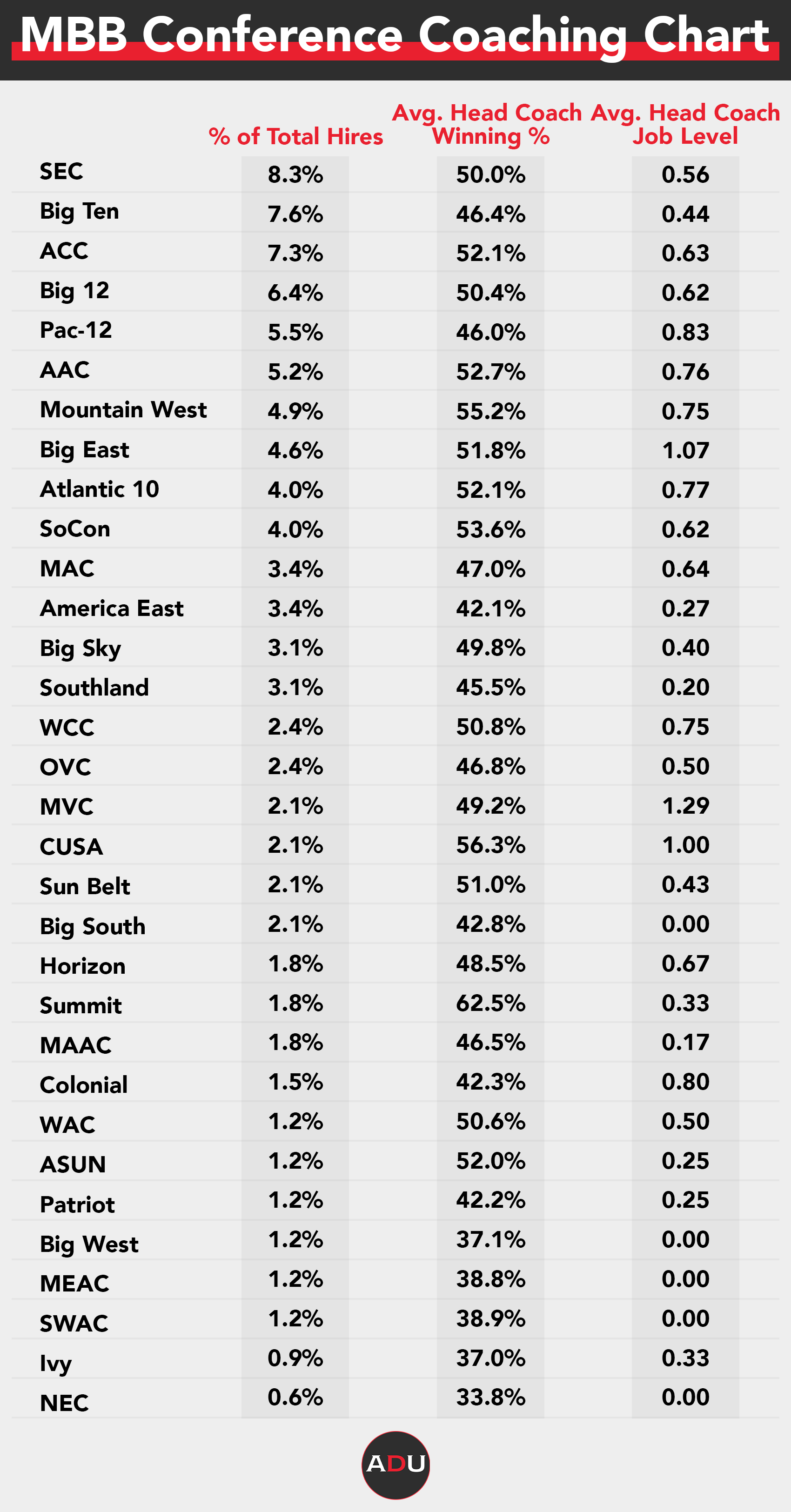 While the SEC and Big Ten combine for 15.9 percent of head-coaching hires, the majority of these head-coaching positions fall into the low-major basket. The Big East ranks 8th in percentage of total hires but the conference produces far more head-coaching opportunities in mid-major and high-major leagues. During the 2021 coaching carousel, Minnesota hired Xavier assistant Ben Johnson and Fordham hired Villanova assistant Kyle Neptune while Loyola Marymount hired Marquette associate head coach Stan Johnson in 2020, all of which are hires within traditional multi-bid leagues.
Meanwhile, five conferences — the Big South, Big West, MEAC, NEC and SWAC — didn't have a former assistant, associate head coach or head coach leave the conference for a head-coaching position in a mid-major or high-major league since 2014.
Some conferences are hit with coaching turnover more than others. As seen below, the America East has the highest average tenure length among its coaches, based on median tenure lengths since 2014. 
While the Mountain West ranks seventh among all conferences in head-coaching jobs created, its average tenure length may indicate that the conference is often picked off by high-major vacancies. Notable former Mountain West coaches include Arkansas' Eric Musselman, Utah's Craig Smith, Iowa State's T.J. Otzelberger, Liberty's Ritchie McKay and Texas Southern's Johnny Jones. 
There is also significant evidence that more assistant experience in multi-bid conferences leads to higher-level, first-time jobs as head coaches. However, it doesn't necessarily equate to a quicker route towards a first-time job or more success once there.
The chart below breaks down first-time head coaches based on percentage of total years spent on a high-major or mid-major staff as an assistant.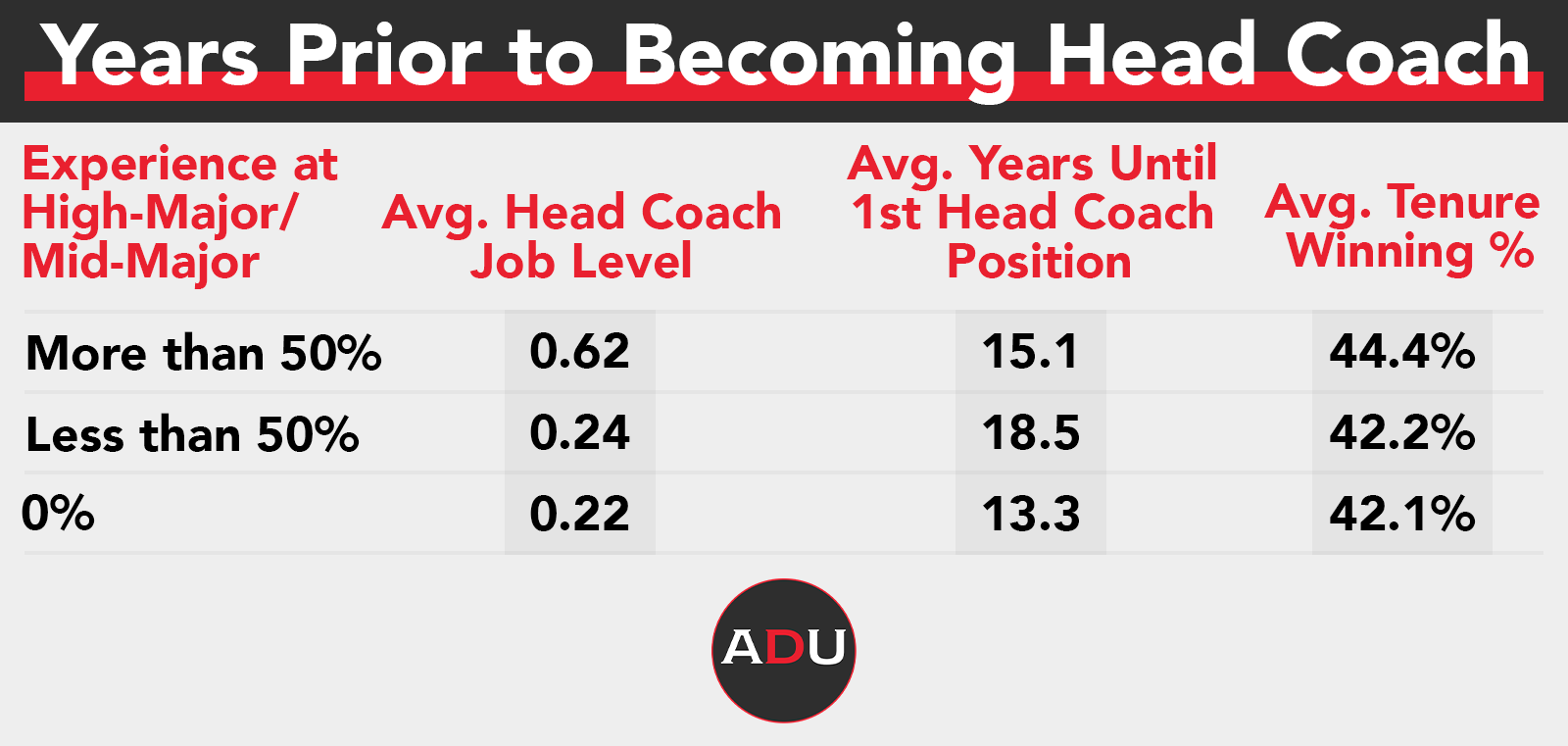 On average, first-time head coaches with zero high-major or mid-major experience had 13.3 years in coaching prior to their first head-coaching job. Although the overall winning percentage and job level measures are nearly identical for first-time head coaches with slightly more experience in multi-bid leagues, it required more than five additional years to earn a first-time job as head coach.
This circles back to low-major conferences often promoting from within or hiring fellow low-major assistants, allowing a quicker route for younger coaches to earn head jobs. Additionally, assistants in high-major conferences may have a reluctance to become head coaches in low-major conferences if the salary is undesirable or the program is unlikely to have a positive trajectory in the near future.
Moving over to football, the experience profile for a first-year coach at the FBS level is below. The average first-time head coach is 43.2 years old, just barely exceeding college basketball's 42.6-years-old average. 
The table below shows the most common coaching job types, how often eventual FBS head coaches worked at the specified job type, and the average tenure length of the job type.
For example, 32.6 percent of eventual FBS head coaches were once Power-Five associate head coaches and had an average of 2.71 years in the position.
Most coaches begin in the "Other" job level as either an FBS grad assistant or an assistant at the high school level. This is the longest average tenure of any job type at 5.38 years and over 90 percent of all eventual FBS head coaches begin at this level.
From there, more than 60 percent of coaches begin working with specific positional groups in FBS — 69.8 percent at the Power-Five level and 62.8 percent at the Group of Five level. With an average of 16.9 years of coaching experience prior to their first FBS head-coaching position, most coaches don't spend more than two or three years at the same position once they reach the college level, meaning there are constant changes in positions, roles and programs.
Among the notable takeaways from the above table is the infrequent transition between FCS and FBS. Few FBS head coaches were once full-time FCS assistants and it is also exceedingly rare for FCS head coaches to climb into the same position at the FBS level. Since 2014, Kansas State's Chris Klieman is the only FCS head coach to jump directly to a Power-Five program. Klieman spent the previous five seasons at North Dakota State, winning four FCS national championships and earning a 69-6 overall record before being hired by Kansas State ahead of the 2019 season.
FBS Football Coaching Carousel Matrix
Determining the job type that leads to an FBS head-coaching position is vital information as well, although it varies greatly depending on whether the position is Power-Five or Group of Five.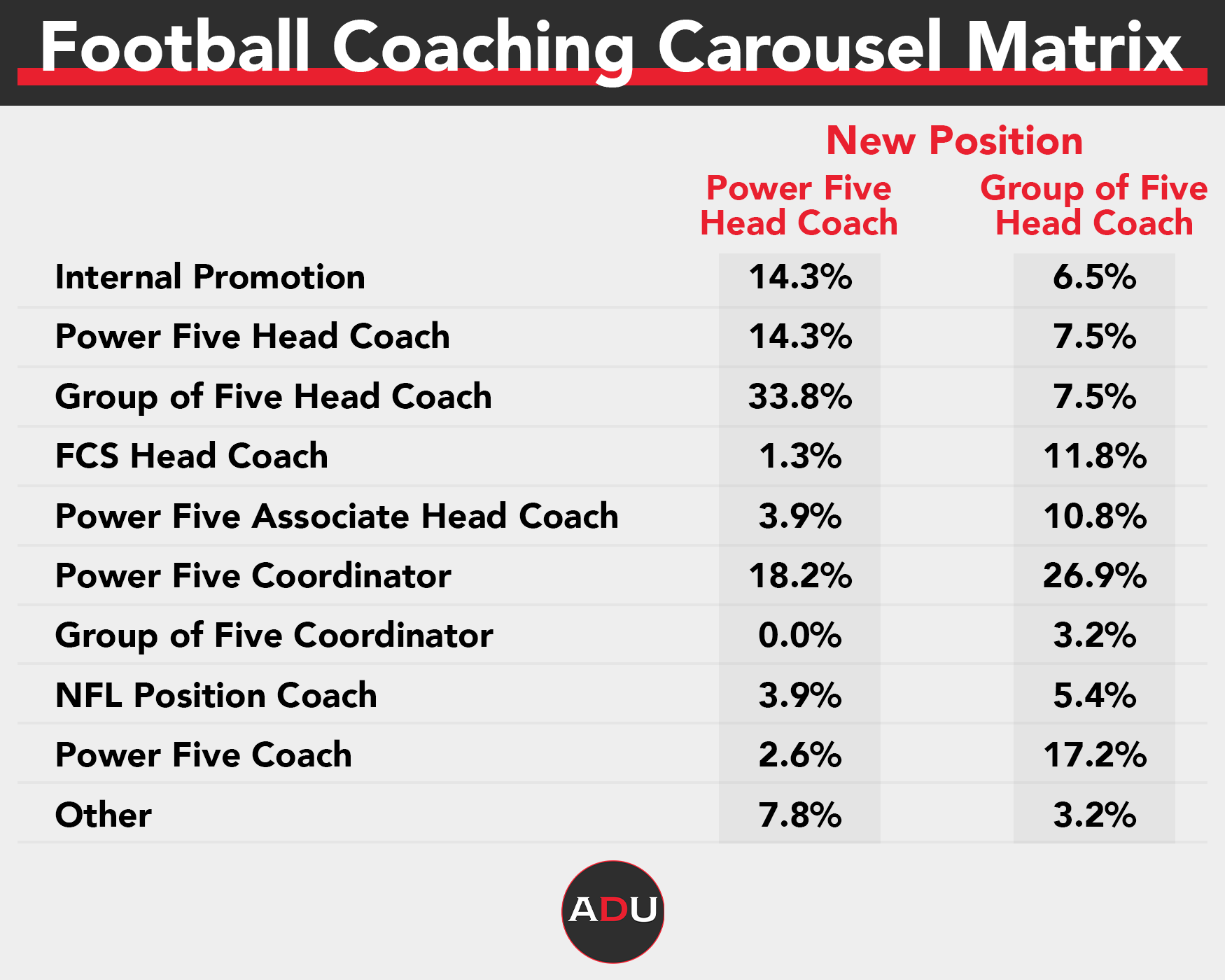 More than one in three head coaches hired at the Power-Five level were previously Group of Five head coaches, making up the heavy majority of all Power-Five hirings. After Group of Five head coaches (33.8 percent), Power-Five coordinators (18.2 percent), Power-Five head coaches (14.3 percent) and internal staff promotions (14.3 percent) are the most common outlets for Power-Five vacancies.
Power-Five coordinators are the most common targets for Group of Five vacancies at 26.9 percent. Group of Five programs are also more than six times as likely to hire a Power-5 positional coach as head coach (17.2 percent) while FCS head coaches (11.8 percent) and Power-Five associate head coaches (10.8 percent) round out the top four.
Overall, 9.4 percent of FBS head-coaching hires since 2014 were internal promotions. This figure is just over half of the 17.9 percent of internal head-coaching promotions found in Division-I men's basketball. Internal promotions are far more likely at the Power-Five level than the Group of Five. Notable Power-Five head coaches who were internal promotions in recent years include Ohio State's Ryan Day, Oklahoma's Lincoln Riley, Oregon's Mario Cristobal, LSU's Ed Orgeron, Indiana's Tom Allen and USC's Clay Helton. 
FBS Coaching Trees
Like basketball, coaching trees are especially relevant in FBS as well. Below are the four coaches who have had at least three former staffers become head coaches for the first time since 2014.
Brian Kelly

: Clark Lea (Vanderbilt), Mike Sanford Jr. (Western Kentucky), Bob Diaco (UConn), Chuck Martin (Miami Ohio)

Urban Meyer

: Ryan Day (Ohio State), Chris Ash (Rutgers), Tom Herman (Houston), Luke Fickell (Cincinnati)

Nick Saban

: Charles Huff (Marshall), Jeremy Pruitt (Tennessee), Kirby Smart (Georgia)

Todd Graham

: Mike Norvell (Memphis), Billy Napier (Louisiana), Jay Norvell (Nevada)
Notre Dame's Brian Kelly and former Ohio State head coach Urban Meyer (now the Jacksonville Jaguars head coach) lead the way with four former staffers hired as head coaches. Two coaches from Meyer's tree, Ohio State's Ryan Day and Cincinnati's Luke Fickell, appeared in New Year's Six bowl games in 2021 despite neither coach having yet recorded five years of FBS head-coaching experience.
Alabama head coach Nick Saban has also created bridges between his former staffers and FBS head-coaching vacancies. However, the majority of coaches who assumed head-coaching duties after their time under Saban at Alabama were head coaches at one point before joining the Crimson Tide, such as Steve Sarkisian (Texas) or Mike Locksley (Maryland).
FBS Conference Coaching Chart
The SEC is also the most frequent conference target for head-coaching choices in FBS, collecting 20.9 percent of all hires.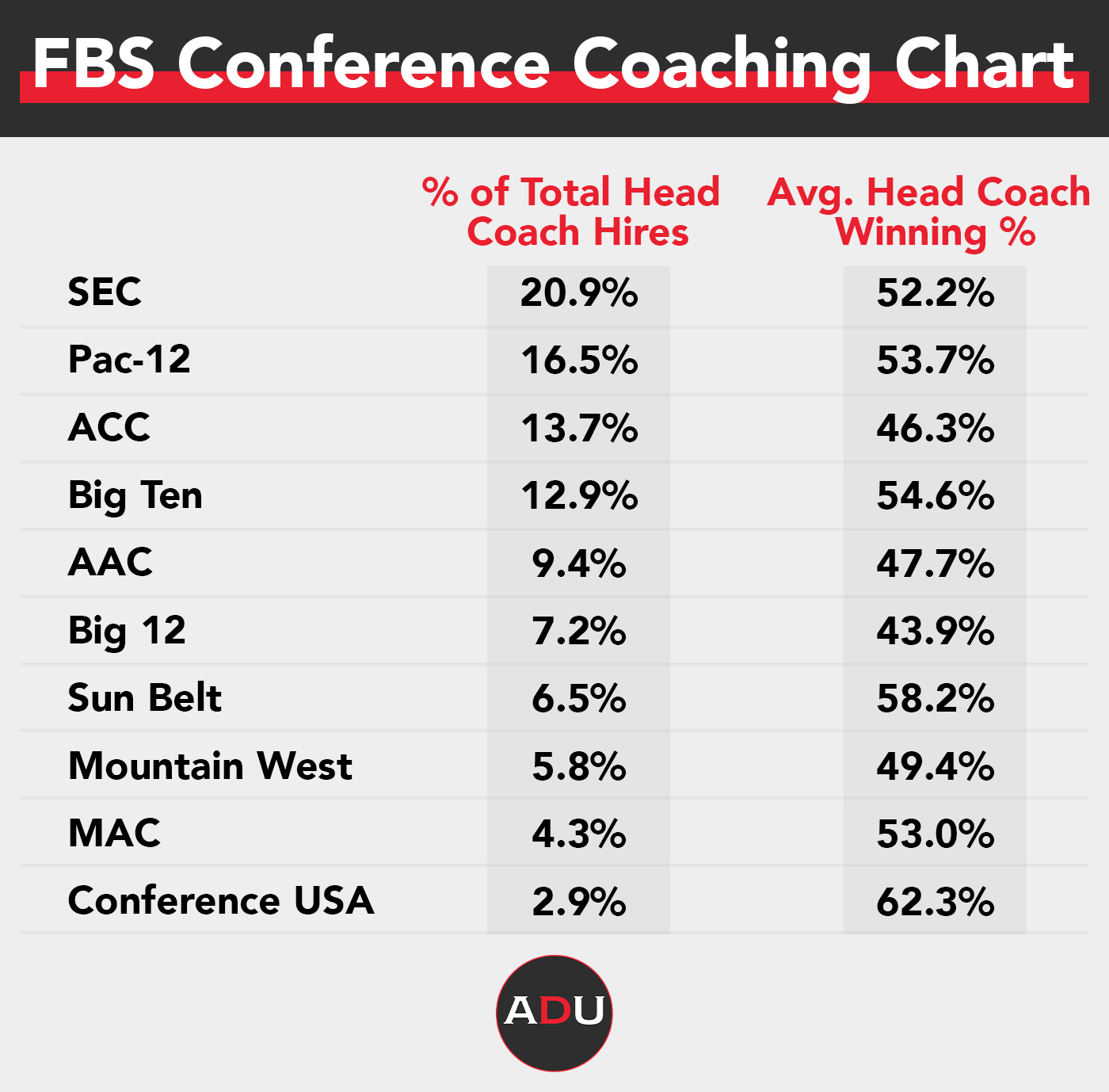 During the 2020-21 coaching carousel, the SEC was responsible for four of the 17 FBS coaching hires in UCF's Gus Malzahn (Auburn), Marshall's Charles Huff (Alabama), Texas' Steve Sarkisian (Alabama) and Arkansas State's Butch Jones (Alabama).
While it creates the fewest head-coaching opportunities, the Conference USA maintains the highest average winning percentage among coaches hired from its conference. Notable hires from the Conference USA include Ole Miss' Lane Kiffin (Florida Atlantic), Purdue's Jeff Brohm — who was promoted to Western Kentucky head coach in 2014 and hired at Purdue in 2017 — and Louisville's Bobby Petrino (Western Kentucky). 
Although there will never be an exact checklist assistants need to become NCAA head coaches, understanding trends and commonalities within the coaching carousel can help narrow and refine career goals.
As seen in the data above, there are particular qualifications that most coaches meet prior to taking over head-coaching positions, whether it may be serving as an assistant at a particular level, studying under the sport's prominent coaches or aligning with conferences that have successful track records. 
Combining the aforementioned facts and figures and applying the information to what we currently know about FBS and men's basketball coaching staffs, it's possible to more closely identify the current assistants who could join the next wave of successful head coaches in the years to come.