Making informed decisions during the hiring process is vital for any athletic department. To help with these decisions, universities often consult with the services of a search firm.
Growing in popularity in recent years, search firms assist with selecting coaches, athletic directors and other leadership positions. These firms generally act as a bridge between a vacancy and potential candidates, ensuring a confidential and streamlined process.
Search firms are especially prevalent for particular universities and less so for others. We performed several studies to further understand how search firms impact the landscape of college athletics, particularly with the hiring of athletic directors and college football head coaches. According to our findings, 217 different universities have used a search firm in the hiring of either an athletic director or football head coach since 2008. In total, there have been 25 different firms assisting in these hires, with the bulk of the decisions made by a few prominent entities.
The table below highlights the search firms that have been involved with the most combined hires since 2008, with Parker Executive Search leading the way by a steady margin:
Other firms like Ventura Partners have primarily focused on football coaching hires (6 searches) while Witt/Kieffer has helped mostly with hiring athletic directors (8 searches).
These firms have helped make significant hiring decisions: Turnkey Search assisted in welcoming Warde Manuel to Michigan's athletic director role while Korn Ferry ushered Jim Harbaugh to Michigan's football coaching position. This is just one example of a university consulting with search firms to make program-changing decisions.
With that in mind, let's take a look at how search firms compare based on tenure performance. To perform the study below, we found the average tenure rating based on ADU's Athletic Director Performance Ratings as well as the average tenure winning percentage of football coaches hired prior to this season. These metrics were then tied back to the hires made by the individual firms.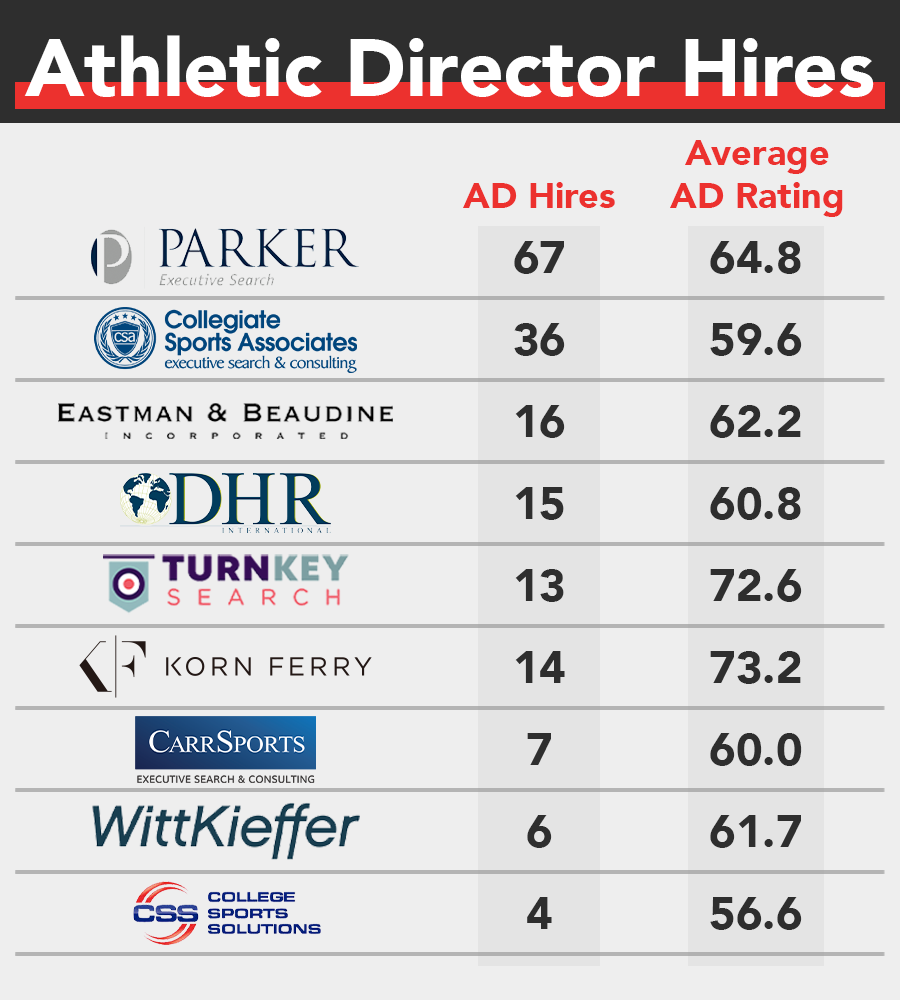 Korn Ferry, with 21 total hire, maintains the strongest performance in both football coaching hires as well as athletic director hires. In addition to Harbaugh, Korn Ferry was also involved in the coaching hire of Mark Richt (Miami, 2015), Jim McElwain (Florida, 2014) and Charlie Strong (Texas, 2014), and the AD hirings of Hunter Yurachek (Arkansas, 2017), Jeff Long (Kansas, 2018), Vince Tyra (Louisville, 2018) and John Wildhack (Syracuse, 2016), among others.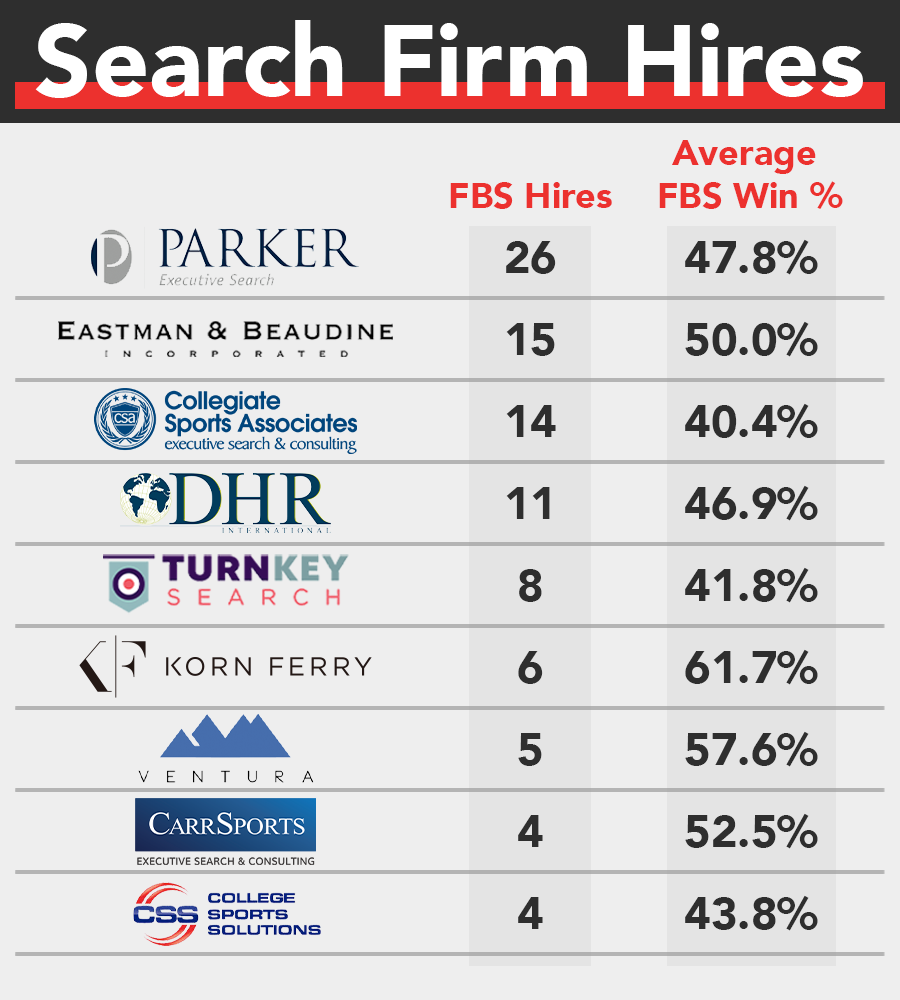 It is worth noting in the above example that Korn Ferry has historically been the most expensive search firm, charging as much as $270,000 for a head coach search, while competitor rates can range between $50,000 – $150,000. The schools that can afford to pay higher search fees also spend more money on their programs in general, including staff salaries and guarantee games, which generally leads to more wins and higher AD ratings. Even then, as the data shows, a search firm's assistance in coach hires in particular give no guarantees of locating the right leader for a program long term, as evidenced by the fact that three of the coaches mentioned above eventually separated from their institutions.  
Below you will find a table that includes 10 of the 20 highest-rated athletic directors from our Athletic Director Performance Rating study who were hired by universities that consulted with a search firm.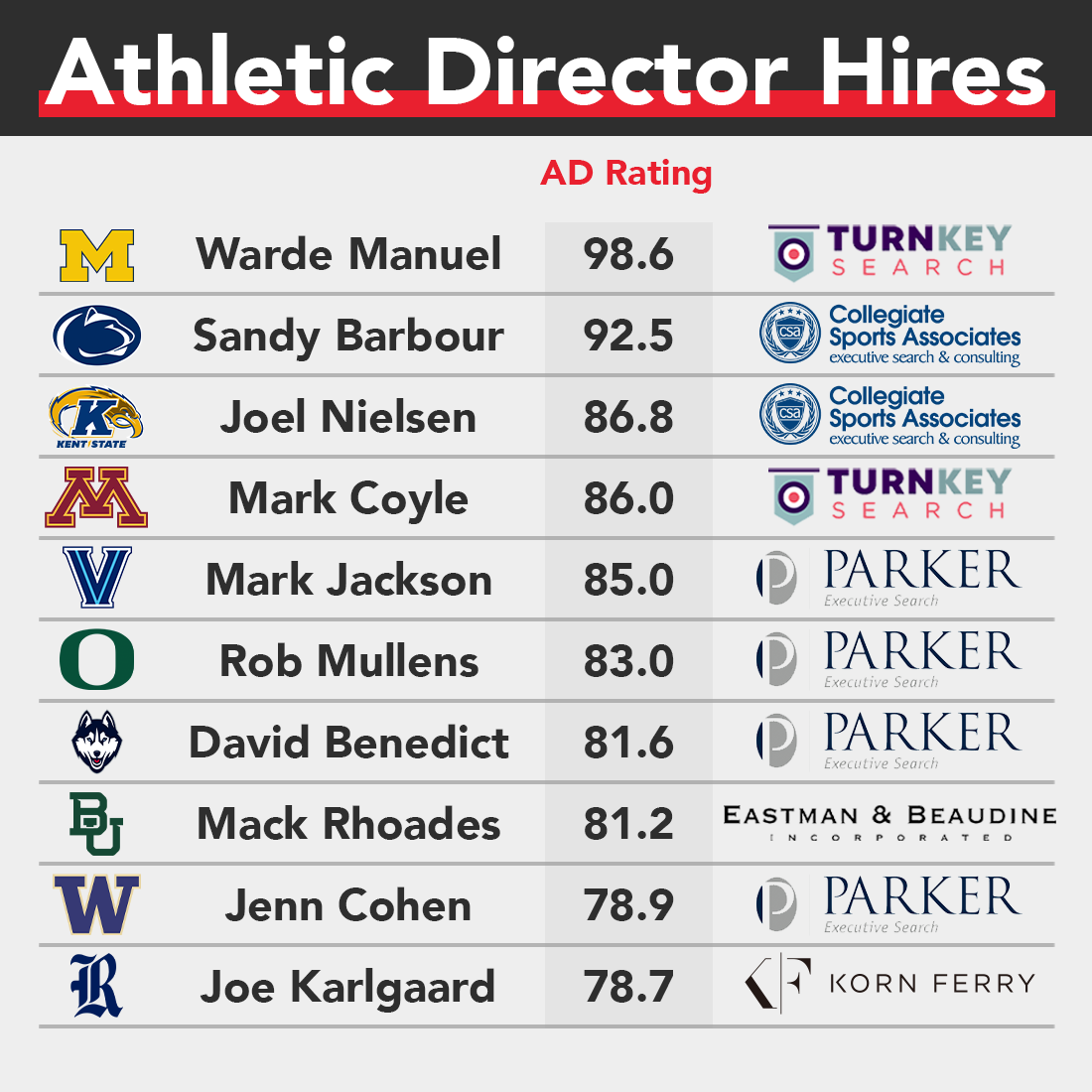 Just how often is a search firm used? The table below breaks down the frequency of search firms in hiring football coaches as well as athletic directors at both the Power-5 level and outside the Power-5.
There are notable differences in the type of athletic directors who are selected by search firms compared to those who aren't. The chart below shows the frequency of athletic directors hired based on their previous employment type and whether a firm was used.
Search firms are nearly twice as likely to help a school select an athletic director who was previously employed by another FBS university. AD searches that proceed without firms, however, are over four times as likely to make an internal hire than when a search firm assists with the hiring process. When a search firm is involved in an AD hire, there is also a slightly increased chance in a female candidate being selected. 
University-wide loyalty to a particular search firm isn't necessarily a common trend. Of the 75 universities that used search firms multiple times in our study, just 26 (34.6 percent) have consulted with the same search firm for their hires. An example of this includes UCF, which consulted with Parker Executive Search in each of its four hires over the years. USF, meanwhile, has consulted with Eastman & Beaudine on three separate occasions. 
Most universities, though, explore a variety of search firms. Ole Miss used a search firm in hiring football coaches Matt Luke (2017) and Lane Kiffin (2019) and athletic directors Ross Bjork (2012) and Keith Carter (2019). But instead of consulting with the same firm, Ole Miss received assistance from Turnkey Search, Ventura Partners, Collegiate Sports Associates and Eastman & Beaudine, respectively.
According to our men's basketball search firm study, this trend is commonplace on the hardwood as well. Less than 20% of the time the same search firm was used in consecutive men's basketball head coaching hires. 
While a specific search firm — or even the hiring of a search firm at all — doesn't guarantee athletics success, there are particular firms that have proven track records, as seen above. Properly identifying the needs and goals in a vacancy is paramount to making a hire that can elevate a program.