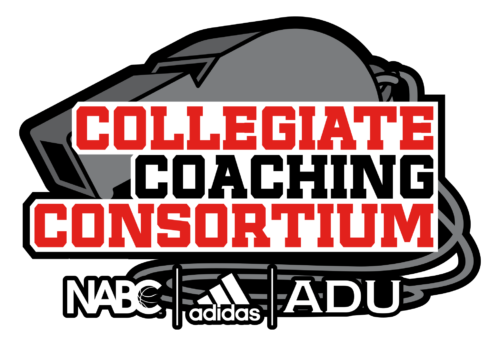 April 3-4, 2022 | New Orleans, Louisiana
The Collegiate Coaching Consortium – a collaboration between AthleticDirectorU and the National Association of Basketball Coaches (NABC) – was founded with a simple goal: to better the game of collegiate basketball. In order to spark both material and sustainable change, that process of improvement must start long before any whistle is ever blown. Thus, the consortium seeks to assist coaches, athletic directors and universities in identifying and channeling all their available capabilities and resources towards building successful and ethical programs. This is accomplished through a distinctive, hands-on professional development regime designed to elevate the decision-making and leadership skillets of both first time head coaches and the athletic administrators hiring them.
Hosted yearly during the NABC Convention at the site of the NCAA Men's Final Four, the invitation-only Collegiate Coaching Consortium builds upon the Villa 7 Consortium to bring together a cohort of rising basketball coaches and Division I athletic directors to partake in a rigorous multi-day academy that teaches each how to identify, analyze and influence critical organizational processes as a means of building better teams and athletic programs. Each cohort – coaches and ADs – will participate in individually-focused curriculum designed to sharpen the competencies and capabilities that are critical for ensuring success within their respective roles.
For Coaches, This Includes:
Positioning oneself for their first head coaching opportunity
Identifying a personal Unique Value Proposition
Determining institutional and personal fit
Developing job interviewing skills
Creating a foundation for long-term success within the first few months of your tenure
Delegating authority and empowering your staff
Maintaining a strong and productive relationship with your athletics director and staff
For ADs, This Includes:
Understanding the pressures and challenges facing new head coaches
Recognizing the challenges that are unique to your athletics program
Identifying coaching candidates who are best suited to lead within such environments
Creating a stronger Employee Value Proposition (EVP) that helps attract better candidates
Designing an effective orientation program and onboarding process
Building a better retention strategy that reduces coach turnover
Helping your coaches reach greater levels of productivity and performance
These lessons will be taught by successful coaches and administrators, alongside top subject matter experts, professors, and accomplished executives from a wide range of industries and vocations. Additionally, beyond their individual programming, participating coaches and athletic directors will interact in one-on-one and group settings, giving each the opportunity to put into practice the learnings of their consortium.
Friday, April 1
Ernest N. Morial Convention Center
Consortium PDS Clinic I (Open To All Convention Attendees)
Identifying the Characteristic of a Head Coach
What makes a successful head coach on the Division I level? From professional development, personal branding, relationship building and everything in between, a panel of search firm consultants discuss what rising coaches must do on and off the court to position themselves for long term career prosperity.
Consortium PDS Clinic II (Open To All Convention Attendees)
Getting the Offer: Division I Head Coach Mock Interview
How do you separate yourself from other candidates once you've finally landed an interview for your dream job? Learn the techniques necessary to ace a Division I head coaching interview and leaving a lasting impression on the search committee.
Sunday, April 3
Ernest N. Morial Convention Center
Group Session I
Determining Candidate and Institutional Fit
Chris Capko, Brian "Penny" Collins, Anthony Wilkins
What makes a successful coach hire? It starts with determining the challenges unique to your athletics program and then identifying coaching candidates who are best suited to lead within such environments. In this interactive group session, athletic directors and coaches will help interview three candidates with unique backgrounds and decide whether or not they can be successful at their institutions.
Group Session II
Creating The Department Culture Your President Expects
Kelly Damphousse, Linda Livingstone, David Kwabena Wilson  
From student-athlete welfare to compliance; community outreach to championships, understand the dynamics at play and priorities from Presidents and Chancellors and how you can best position yourself and your department.
Group Session III
Networking Lunch Presented By Praters
Coach Breakout I
Navigating The Search Process
Chad Chatlos, Delania Jordan, Jeff Schemmel, Drew Turner
How do you best position yourself to land your first job as a Division I head coach while also ensuring alignment with your long-term professional and personal goals?
AD Breakout I
Effective Navigation Of NIL
Courtney Altemus, Luke Fedlam
Name, Image and Likeness has brought with it a seismic shift in the landscape of student-athlete recruitment and retention; how can coaches and the administrators who support them best navigate the new era of college athletics in-which few red-lines exist.
Group Session IV
Driving Culture and Delivering Results
Joshua Gordon
Most leaders speak often of the culture they desire of their departments, coaches and student-athletes. Yet, we regularly see massive failures in behavior that derail seasons and careers. While there are many versions of effective high-performance culture that drives sustained success and mitigates risk, there are core steps that must be taken to ensure culture is more than mere words on paper.
Key Note Session I
Elite Performance Starts With Elite People
Reecee Hollans, Craig Robinson
How do the world's top performing organizations evaluate, recruit and develop human capital? The consortium is joined by a panel of leading senior executives from the Fortune 500, professional sports and disruptive start-ups, to discuss their secrets in identifying and cultivating elite talent within their own organizations.
Monday, April 4
Coach Breakout II
What I Wish I Knew
Jon Coffman, Tavaras Hardy, Steve Smiley
What can new head coaches do to ensure they get their tenures off to a successful start? From the first 90 days, to hiring a staff, to developing critical relationships within the university community, a crop of rookie coaches will share their own successes and mistakes when taking the reins of a program for the first time.
AD Breakout II
Hiring Best Practices
Chris King, Heath Schroyer, Bryan Maggard, Eric Wood w/ Tim Hall
A panel of experienced athletic directors with a history of successful head coaching hires will discuss their best practices, unique strategies and do's and don'ts for running a head coach search.
 
Group Session V
Athletic Director – Coach Match-Making
Matchmaker, matchmaker make me a match. Participating athletic directors, coaches and search firms will be paired one-on-one to learn more about one another.
Keynote Session II
Building and Sustaining A Culture of Excellence
David Griffin, Jim Boeheim
The question is simple – how do you build and sustain an organization that will stand the test of time? In this intimate session, the Consortium is joined by a group of elite coaches and front office executives that have elevated their teams to the highest echelons of collegiate and professional sports.
Frequently Asked Questions
1. What administrators are eligible to attend the Consortium?
The consortium is open to all current Division I athletic directors on a first-come, first serve basis. To insure maximum benefit and attentiveness for all attendees, the Consortium anticipates approximately 25 spots every year to be available for participating athletics directors.
2. What coaches are eligible to attend the Consortium?
The consortium is invitation only for coaches. All current Division I men's basketball assistants are eligible, and a limited number of invitations for head coaches at non-Division I institutions will be extended. Coaches must be members of the NABC to be considered. In future years, the Consortium will require coaches interested in participating to complete several pre-qualifying PDS courses and clinics through the NABC to be eligible. The consortium estimates approximately 25 coaches to be invited yearly.
3. How do coaches receive an invite to the Consortium?
The Consortium's board of directors will work to identify and invite qualified participants who are likely to become head coaches on the Division I level within the next 2-3 years. Additionally, the Consortium has committed to ensuring that at least one-third of all coaches participating identify as ethnic minorities.
4. Does my university's apparel affiliation affect my eligibility to participate?
No, a university's affiliation with any apparel or footwear brand has no bearing on an administrator or coach's eligibility to participate in the Consortium.
5. What happens if I don't receive an invitation?
The Consortium aims to create as many opportunities for coaches to participate as possible, and thus plans to invite a largely new set of participants every year.
6. Is there a cost to attend?
Outside travel and lodging, there are no direct costs associated with attending the Consortium for participating administrators and coaches thanks to the generous support of our partners.
7. If I'm not invited to participate this year, can I still benefit from the Consortium?
Yes. Select Consortium speakers will also present during Professional Development Series clinics at the NABC Convention. PDS Clinics are accessible to all NABC Convention registrants.