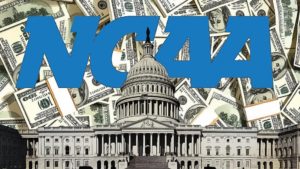 As of mid-February, 39 states have passed, currently/previously proposed, or plan to propose NIL legislation. Currently, six have passed NIL legislation at the state level (California, Florida, Colorado, Nebraska, New Jersey, and Michigan). With Florida's July 1 deadline approaching and uncertainty rising whether a federal bill will pass before then, more and more states are considering NIL bills. Notably, Iowa recently proposed a bill, and its effective date would be the same as Florida's—July 1, 2021. New Mexico and Maryland are considering a similar date, and California, whose original effective date was January 1, 2023, is also considering moving up its effective date. While other states are starting to make noise in the NIL arena, California and Florida were leaders in the push.
California
California became a trailblazer in NIL legislation when it passed SB 206 September 30, 2019. Despite a January 1, 2023, effective date, California's SB 206 provided a roadmap and detailed that: (1) colleges cannot prevent a student athlete from participating in athletics or revoke an athlete's scholarship for earning compensation from NIL; (2) athletic conferences and the NCAA cannot prevent an athlete from earning compensation from his/her NIL or punish schools for athletes earning compensation; (3) colleges cannot provide prospective athletes with compensation relating to NIL or prevent a student athlete from receiving professional representation from licensed agents; and (4) athletes cannot enter into an NIL contract that conflicts with the athlete's team contract. All contracts must be disclosed to an official of the college.
Florida
Although Florida was the third state to pass legislation, its bill has arguably been the most impactful because of its early effective date. Many of the provisions are similar to California's bill, with the exception of the effective date and additional financial literacy and life skills workshop. Some of the key provisions detail that: (1) athletes may receive compensation commensurate with their market value for their name, image, and likeness; but the compensation may only be provided by third parties not affiliated with the university; (2) schools cannot directly or indirectly compensate current or prospective athletes; (3) athletes may receive professional representation in the form of a licensed agent or attorney; (4) athletes cannot enter into NIL contracts that conflict with their team contract, and they must disclose any NIL contracts to their school; and (5) each school shall have a financial literacy and life skills workshop for a minimum of five hours at the beginning of an athlete's first and third years.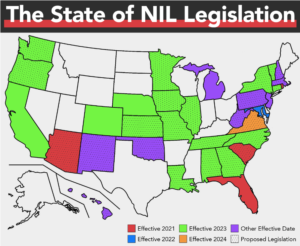 FEDERAL
Student-Athlete Equity Act
The first federal bill introduced back in 2019 by former North Carolina House Representative Mark Walker, the Student-Athlete Equity Act sought to prohibit amateur sports organizations (like the NCAA) from restricting athletes' use of their NIL for compensation. The bill stated that "Section 501(j)(2) of the Internal Revenue Code of 1986 is amended by adding after the period at the end the following: 'Such term does not include an organization that substantially restricts a student athlete from using, or being reasonably compensated for the third party use of, the name, image, or likeness of such student athlete.'"
Fairness in Collegiate Athletics Act
Florida Senator Marco Rubio's Fairness in Collegiate Athletics Act was introduced only six days after Florida Governor Ron DeSantis signed Florida's NIL bill. Rubio's bill is considered more NCAA friendly, as it offers the following provisions: (1) the NCAA has the freedom to implement NIL policies but must do so at least one day before July 1, 2021; (2) the NCAA would receive a safe harbor from lawsuits and would be afforded an antitrust exemption; (3) athletes could be represented by agents, subject to the Sports Agent Responsibility and Trust Act ("SPARTA"), and must disclose contracts; and (4) the Federal Trade Commission would be in charge of enforcing violations.
The Student Athlete Level Playing Field Act
Ohio House Representative Anthony Gonzalez and Missouri House Representative Emanuel Cleaver led a bi-partisan bill of four Democrats and four Republicans, titled the Student Athlete Level Playing Field Act, which features the following provisions: (1) athletes can enter into NIL contracts, unless the endorsement could harm the athlete's reputation (such as alcohol or tobacco); (2) the bill clarifies that athletes will not be deemed employees and that universities cannot provide NIL compensation to athletes; and (3) Congress will appoint a committee including NIL stakeholders and athletes that will study the logistics of NIL and provide legislative recommendations to Congress.
College Athletes Bill of Rights
New Jersey Senator Cory Booker sponsored the College Athletes Bill of Rights alongside Connecticut Senator Richard Blumenthal, New York Senator Kirsten Gillibrand, and Hawaii Senator Brian Schatz. The bill gained strong Democratic support from figures such as former presidential candidate Bernie Sanders and now-Vice President Kamala Harris. The proposal is the most player-friendly proposal to date and includes some of the following keys: (1) athletes can earn compensation from NIL, group licensing deals, and enter revenue-sharing agreements with universities, conferences, and athletic associations; (2) there would be no penalties if a player wanted to move schools—essentially like open free agency; (3) it would create an "oversight panel" of experts who would create a baseline of rules governing college athletics; (4) athletes would receive "lifetime scholarships" so they could return to school to finish their degree after their athletic eligibility ends; and (5) athletics departments would be required to provide annual detailed reports of revenues and expenses.
Athletes Compensation Rights Act
The chair of the Senate Commerce Committee, Mississippi Senator Roger Wicker, introduced a bill in December 2020 restricting boosters from paying to use an athletes' NIL. His bill also assigns the Federal Trade Commission to choose a private, nonprofit group to oversee the NIL landscape and future rules.
Senator Chris Murphy and Representative Lori Trahan
Connecticut Senator Chris Murphy and Massachusetts House Representative Lori Trahan proposed S. 238, the most recent federal bill and the only bill that does not give the NCAA or any other body an ability to regulate the products athletes endorse. Along with little regulation, the bill also requires that a school or conference must provide all athletes the same assistance in taking advantage of NIL. Finally, the federal government has an obligation to create an annual report assessing the NIL landscape, dividing data by race, gender, and sport so the marketplace can be analyzed.