Dissecting the "College Athletes Bill of Rights" Senate Bill
The opening of the "College Athletes Bill of Rights" 63-page federal bill plainly states its objective is to "protect the rights of college athletes and to establish the Commission on College Athletics, and for other purposes."
In this series that will coincide with the on-the-court March Madness (buzzer-beaters, upsets) and off-the-court March Madness (pandemic-influenced postponements), Student Athlete NIL takes a deep dive into one of the most talked about bills introduced by Congress and one that, if enacted as scripted, could change the landscape of college sports forever.
We'll answer several pressing questions about this bill, including its potential for usurping the NCAA's current role as the preeminent authority for college athletics in America. In a variety of places, how current NCAA rules or other policies compare to the bill's proposed actions is also explained.
In Part I, we focus on the bill's proposed plan of action for creating a permissible NIL landscape for college athletes.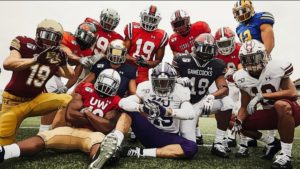 Under the bill, would NCAA Division I members still be able to sell jerseys with only the number (but not the name) of current popular student-athletes without any NIL concerns?
Current NCAA rules allow for institutions to sell jerseys with any number on it provided there is no student-athlete name on the back. For example, Clemson could have been selling #16 football jerseys in its campus bookstore the past few years and collecting the revenue provided there was no reference to Trevor Lawrence, by name, on the jersey.
Under this bill, that all could change.
In the bill's definition section, the term ''likeness'' includes, for college athletes that have a jersey number, "…the jersey number associated with the college athlete and the sport in which the college athlete participates at a particular institution of higher education during the period of the participation of the college athlete in the sport at the institution of higher education, if the jersey number is accompanied by a logo or color scheme that is clearly associated with the institution of higher education; or some other means by which the jersey number is clearly associated with the particular college athlete." This means a Clemson jersey with its trademark paw and purple, orange, and white colors along with the #16, and nothing more, would have been considered Trevor Lawrence's likeness.
The bill further notes that with respect to any college athlete or former college athlete the uniquely identifiable voice, catchphrase, or nickname of the college athlete; or any other trademark that identifies or distinguishes the college athlete is also protected.
Is the bill conducive to the possible creation of group licensing at the college level?
Yes, the bill implies the creation of group licensing. The bill states that a person may not use the NIL or athletic reputation of any member of a group described in the bill to sell or promote any product unless the person obtains a license from the group for that purpose.
Does the bill provide latitude for universities to enforce a "morality clause" by which the university could prohibit student-athletes from endorsing certain types of products or services?
Sort of. The bill would allow for a state to prohibit college athletes who reside in that state from entering into endorsement contracts with entities in a particular industry if the state also prohibits institutions of higher education located in the state from entering into agreements with such entities.
Interestingly, the bill also calls for universities to provide to each college athlete enrolled at the institution of higher education "a list of entities with which institutions of higher education and college athletes are prohibited from entering into endorsement contracts."
Institutions providing a prescribed list of prohibited businesses from which a student-athlete could enter is unwieldy and would lead to more red tape when a new business pops up not on the list given to the athlete. A more reasonable approach in the bill would have been to require notice to student-athletes through a list of restricted categories, such as gambling or adult entertainment, instead of a prescribed list of casinos and strip clubs.
Under the bill, if a student-athlete has an NIL endorsement agreement with a third-party entity, can the Division I school (or its media rights holder on its behalf) approach that same entity to court a sponsorship agreement with the institution?
No. The bill recognizes the possibility of concurrent sponsorship agreements so that, for example, an entity already endorsed by a student-athlete could also contract with the student-athlete's university so the entity could use the university's marks, logos, or colors in the advertisement with the student-athlete.
The bill specifies that an agreement between the institution of higher education and the third party "cannot be initiated or coordinated" by the institution. On its face, this would restrict a university's media rights holder, say, market-leader Learfield IMG College, from picking up the phone and calling the marketing director of a business already receiving an endorsement from one of its student-athletes.
There does not appear to be a parallel restriction on student-athletes seeking endorsement deals with a current corporate partner of the student-athlete's university.
Would the bill allow a college athlete to wear Adidas shoes while representing a university with a Nike athletic apparel deal during the school's games?
Yes. To quote Mars Blackmon, "it's gotta be the shoes." NCAA member schools and Nike, Adidas, Under Armour and their apparel-producing cohorts should be paying close attention to this provision in the bill.
The bill does permit a university to "require a college athlete to use, during a competition or practice sponsored by the school, apparel selected by the institution of higher education"; however, that exclusivity provision over what apparel a college athlete may wear has a big exception: an NCAA member school "may not prohibit or discourage a college athlete from wearing footwear of his or her choice during mandatory team activities, unless the footwear has lights, reflective fabric, or poses a health risk to the college athlete."
That's right, a student-athlete at a "Nike school" could choose to wear Adidas shoes in competition while representing the university. Putting this into perspective, Zion Williamson could have worn Adidas shoes while representing Duke (a Nike school) during his one-and-done year and Duke and Nike could not stand in his way.
This provision speaks to "mandatory team activities" being the space in which an NCAA member school could govern which apparel their student-athletes may wear — except the shoes.
Universities also may not prohibit and may not enter into a contract that prohibits a college athlete from carrying out activities pursuant to an endorsement contract during a period in which the college athlete is not engaged in a mandatory team activity.
Would the bill enable university athletic boosters to exploit, under the banner of NIL transactions, the current NCAA recruiting guardrails and financially support college athletes in a myriad of ways without causing eligibility repercussions for the athlete?
Yes. This section of the bill would have many leaders in college sports sweating. The bill states that an NCAA member school, its conference, and the NCAA national office "may not restrict the ability of a college athlete to receive payment from any source for transportation, room, or board for one or more friends or family members of the college athlete during any period in which the college athlete is addressing a physical or mental health concern or participating in intercollegiate athletics competition; necessities, including food, shelter, medical coverage, and medical expenses; or tuition, fees, books, transportation, or any other incidental expense that is not otherwise provided by an institution of higher education."
This section says a lot. The most critical component in this provision is three words: "from any source."
The concerns orbiting NIL conversations as expressed by college athletics leaders is the potential for recruiting inducements and exploitation of the amateurism and recruiting rules to run amok yet be disguised as legitimate NIL activities.
However, in this bill, there's no veil or pretense. Anyone, booster or not, could provide a college athlete (and, in some instances, their family and friends) everything from transportation and car repairs to free groceries to payments for rent or tuition and a slew of other expenses.
Could NCAA schools represent their student-athletes in NIL transactions?
No, for conflict-of-interest reasons, an NCAA school, its conference, the NCAA national office, or a corporate partner of any of these entities may not represent college athletes in endorsement contracts; regulate the representation of college athletes with respect to endorsement contracts; or engage in the certification of individuals for such representation. This presents an interesting overlay, especially for businesses that may have contractual relationships with universities that might also be in the market to serve or represent student-athletes in NIL matters.
For example, universities certainly have local and national law firms on retainer to handle a myriad of legal issues affecting their respective campuses. Those firms would need to run their conflict-of-interest and client-screening protocols if one side of the firm handles university representation while another side takes on college athlete agency work.
One adjacent issue tied to the permissive agent representation clause in this bill is how the NCAA or its member schools can monitor whether an agent or marketing firm is taking its representation in directions beyond the scope of NIL transactions. For example, how could a school reasonably monitor whether an agent of a Division I basketball student-athlete hasn't called overseas pro basketball teams to shop his or her client for potential contract signing with a pro team? If those distinctions are to be maintained, the monitoring of so many third parties will become a high hurdle if not outright untenable.
How does the bill address the debate on whether fair market value of NIL transactions can be determined or even part of NIL policy?
The bill states that NCAA member schools, their conferences, or the NCAA national office "may not coordinate or cooperate with any other institution of higher education, intercollegiate athletic association, or conference to limit or determine the amount of payment offered to a college athlete under an endorsement contract." Translation, the bill calls for excluding any fair-market value variable or consideration in the permissibility of the NIL transaction—the open market will dictate the compensation.