Social media is a necessary tool used to market and promote college athletics across the country. With social media serving as a primary resource for communication, news and entertainment, athletic departments are continually searching for ways to connect and inform their respective audiences.
Social media managers are the creators of these interactions. They are tasked with conveying information in a competitive, fast-paced environment, ensuring content is accurate, timely, engaging, and appeals to a diverse target market. Their skill sets cover a wide variety of topics, including photography, video editing, copywriting, marketing, data analysis and much more.
The sports industry is one of the most engaged consumer segments in all of social media. According to digital media analytics resource RivalIQ, sports team accounts maintain booming engagement rates on Instagram (2.33% engagement vs. 1.22% industry average) and Twitter (0.066% engagement vs. 0.045% industry average). As annual NCAA revenues exceed $1 billion, capturing fan engagement has never meant more for athletic departments.
ADU's first social media study analyzed over 290 NCAA Division-I general athletics social media accounts on Facebook, Twitter, Instagram and YouTube. Overall, Division-I general athletics accounts average a combined 200,000 followers over the four social media platforms. 
Using revenue data from the U.S. Department of Education, the chart below indicates the relationship between social media following and department revenue. For every social media follower on Facebook, Twitter, Instagram or YouTube, a university projects to earn approximately $496 in athletics revenue.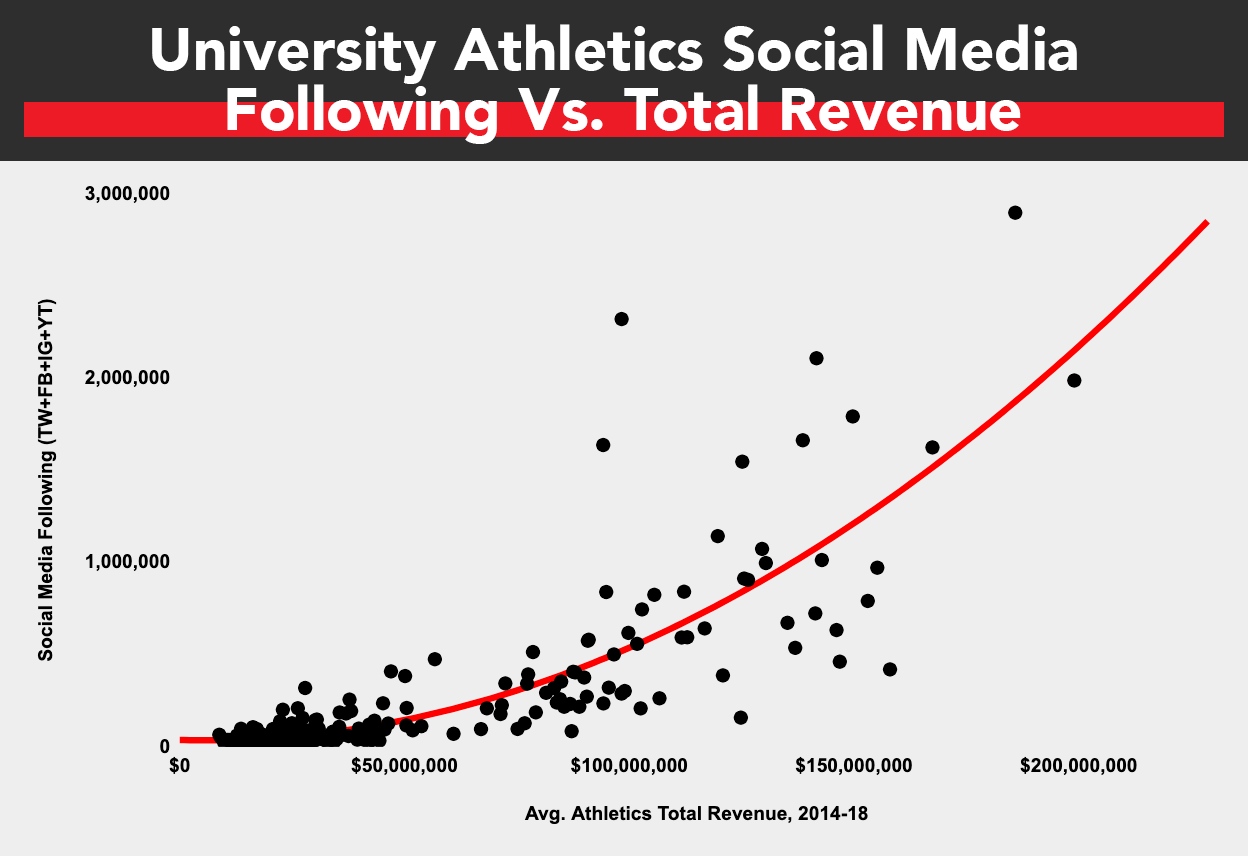 However, general athletics accounts might not always be the primary resource for information pertaining to a specific program. For example, Alabama football and Duke men's basketball own larger social media followings than their respective university's general athletics accounts. Individual team accounts provide deeper access to the team itself while general athletics accounts may focus on promoting the university's athletics as a whole.
With this in mind, the study below analyzes the importance of team-specific social media accounts and how university communications teams use social media to promote their programs.
Most universities employ at least one person whose primary focus is digital content development or social media management. But because of significant budgetary differences in Division-I, some universities may have far more resources to allocate towards communications and outreach than universities with smaller budgets.
As a result, nearly every Power-Five athletics department owns separate Twitter and Instagram accounts to cover their individual sports. However, outside of the Power-Five level, the results vary.
Overall, 51.5% of Division-I universities have unique Twitter, Facebook and Instagram accounts dedicated to each of the following sports: football, men's and women's basketball, baseball, softball, men's and women's soccer, and women's volleyball.
Twitter remains the most consistently used platform for interaction as 88.5% of universities have unique individual accounts for the aforementioned sports. Individual sports accounts are less common on Instagram (73.8%) and Facebook (56.9%), especially for non-Power-Five schools.
A consistent flow of engaging content is pivotal to an account's success. In ADU's first social media study, we discovered that managers of general athletics accounts post on Twitter an average of 44.1 times per week and on Instagram an average of 6.8 times per week.
These figures are fairly consistent with individual team accounts as well. Below are the average posting frequencies on Twitter and Instagram based on a sample of the most followed accounts for each sport.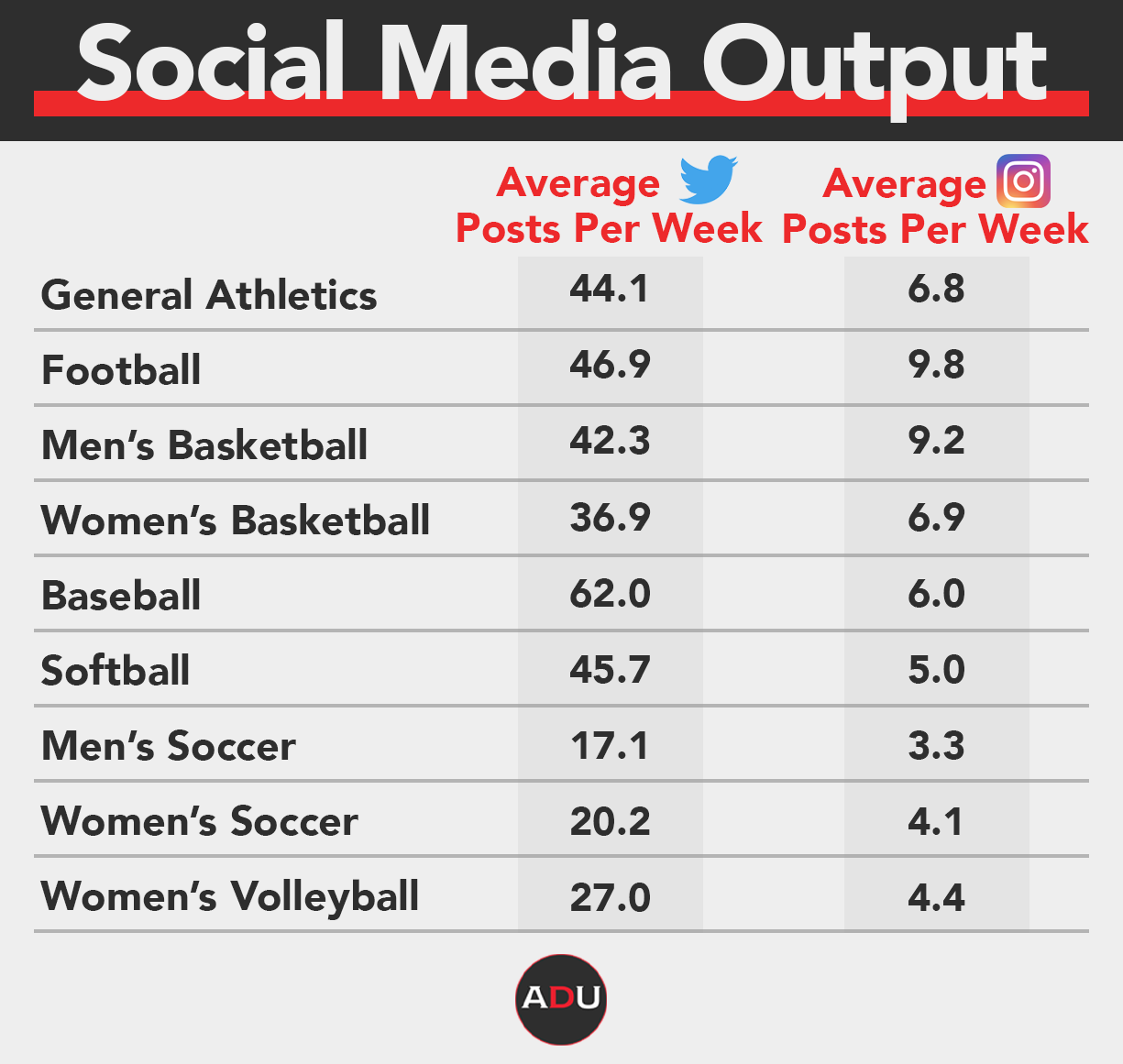 Football and men's basketball lead the way in Instagram volume with an average of more than nine posts per week. As for Twitter, baseball accounts average upwards of 60 posts per week, substantially more than basketball and football and more than three times the volume seen from soccer accounts.
While posting frequencies can provide a rough estimate of how social teams handle various sports, some accounts may have a greater emphasis towards graphics and visual content rather than sharing highlights or in-game updates. Overall account engagement and following — the primary factors in our account analysis — should still remain the primary social media performance metrics.
ADU performed social media account analyses for each of the eight primary college sports. The initial aspect of the study was to find the accounts with the largest combined reach from Twitter, Instagram and Facebook. Using social media analytics resources, we were able to also identify the accounts with the highest engagement on the two platforms. Finally, we identified trends, content themes and viral posts to further understand how various accounts have been successful.
Football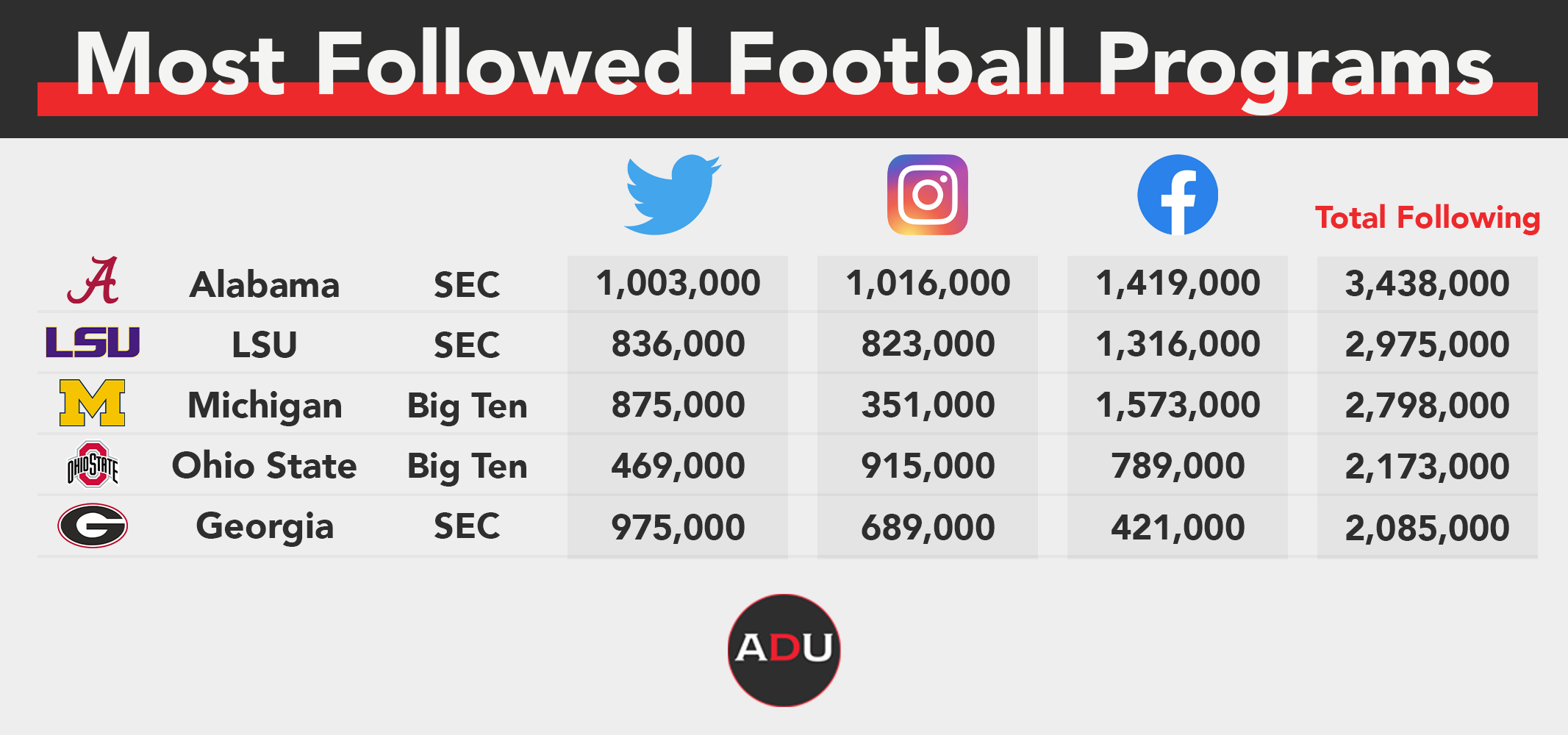 Alabama football is the only college athletics team account with over a million followers on Twitter, Instagram and Facebook. Its reach is especially dominant on Twitter where the Crimson Tide have the No. 2 engagement rate among college football accounts. 
A pair of AAC programs in UCF and Cincinnati are among the most engaged football communities on Twitter and Instagram. Cincinnati's Instagram account ranks No. 2 in college football engagement thanks to the account's dedication to sleek graphics using the university's primary color scheme.
Men's Basketball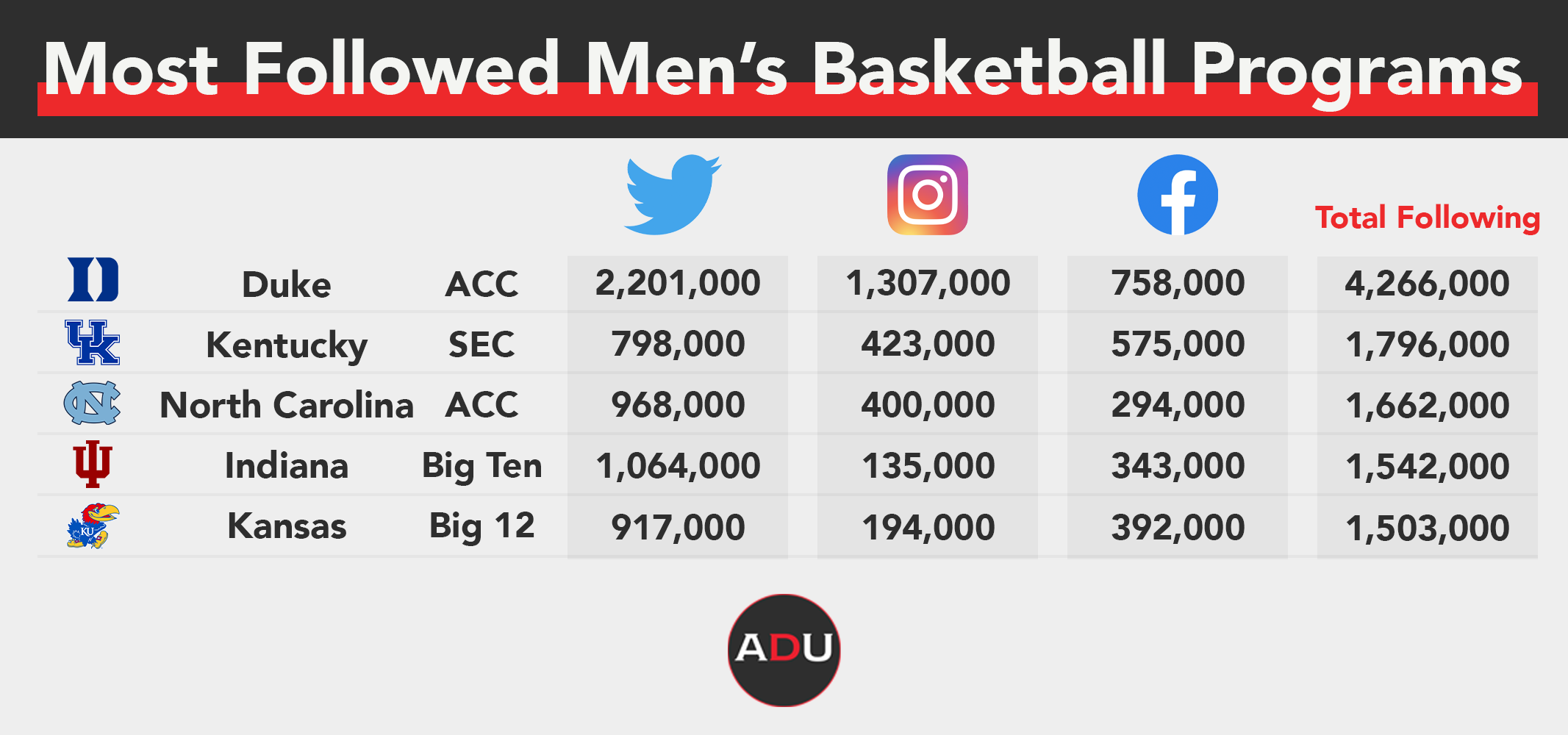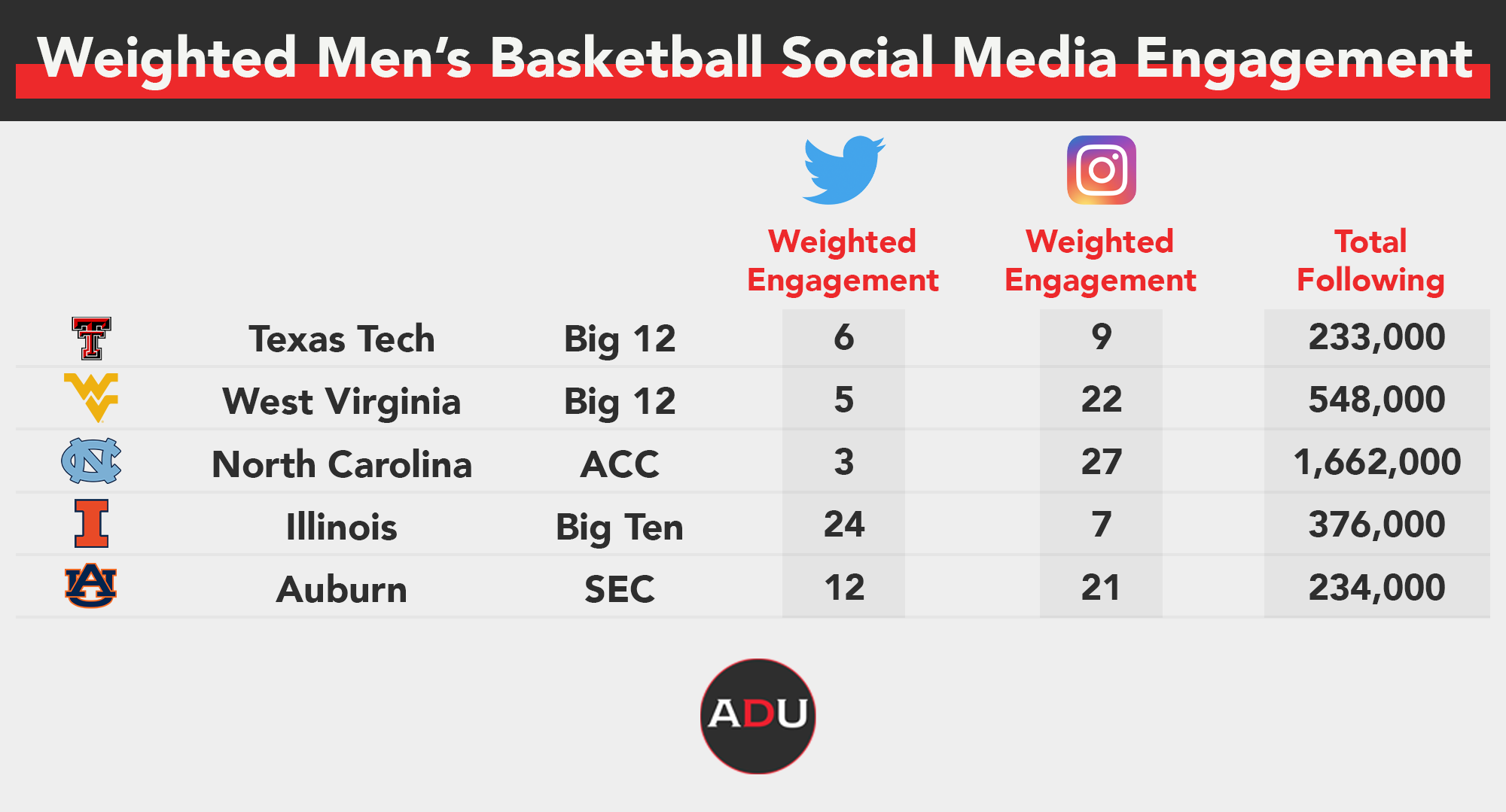 Duke men's basketball has the largest social media following in all of college sports. With over 4.2 million combined followers on Twitter, Instagram and Facebook, Duke's social media presence even rivals the combined following of a few small market NBA teams.
As far as engagement, Texas Tech is the only men's basketball program that ranks in the top 10 in both Twitter and Instagram engagement. Both accounts focus on high-resolution images and in-game highlights.
Women's Basketball
UConn women's basketball is the only program that has both the largest social media following and best overall engagement in its respective sport. Its following more than doubles any other program in all of women's basketball. With many former players on active WNBA rosters, UConn's social media accounts often highlight their program's biggest former stars with graphics and highlights.
Baseball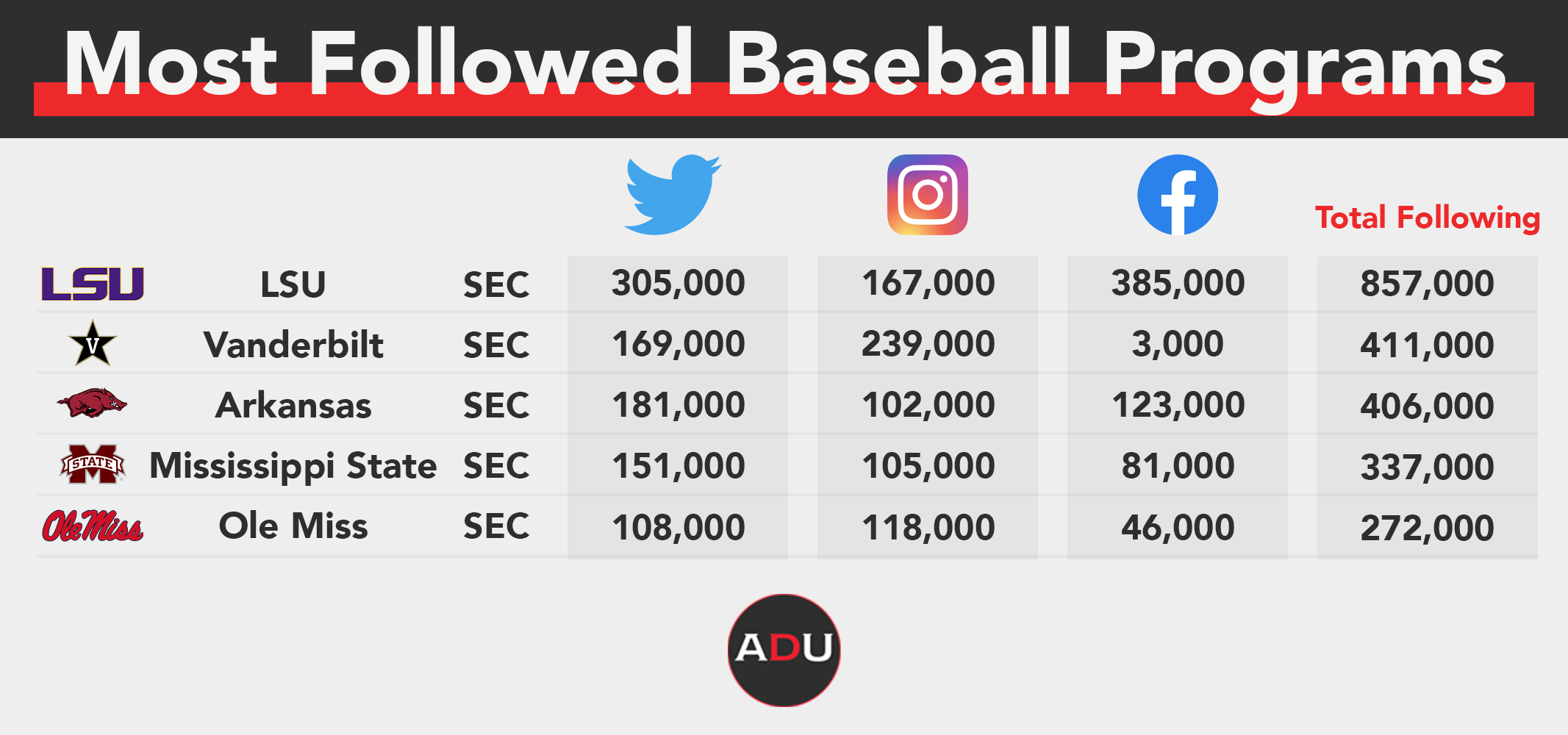 Much like Duke men's basketball and UConn women's basketball, LSU baseball's social media following is also twice as large as any other program in its sport. Mississippi State is the only program that ranks in the top 5 in engagement on both Twitter and Instagram, focusing on in-game graphics and video highlights.
Softball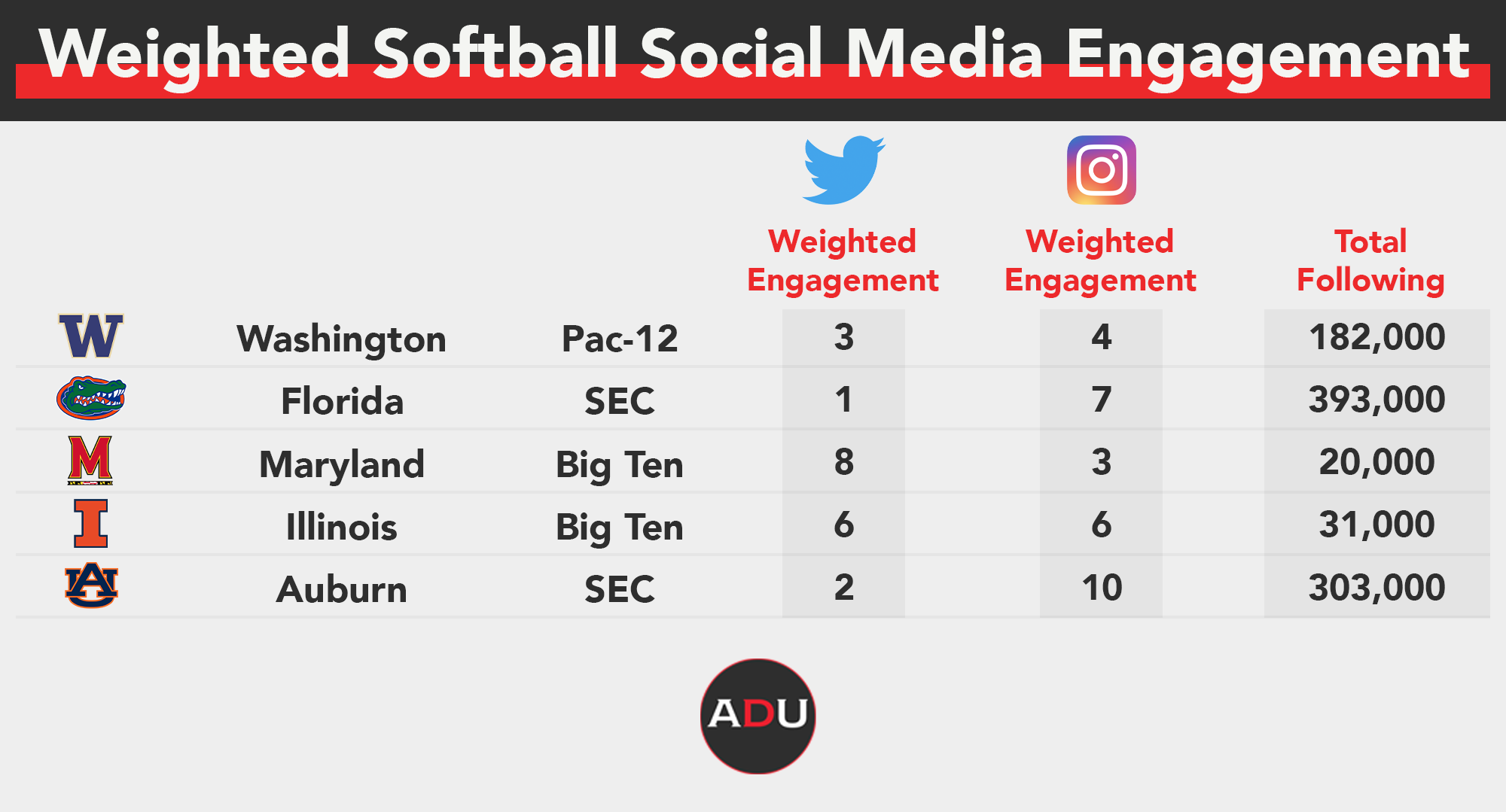 Florida's softball account ranks second in both following and engagement with a heavy emphasis towards in-game updates and information. 
Men's Soccer
Maryland, Louisville and Indiana dominate the social media environment on the men's soccer side with the accounts frequently posting high-resolution images to engage the user.
Women's Soccer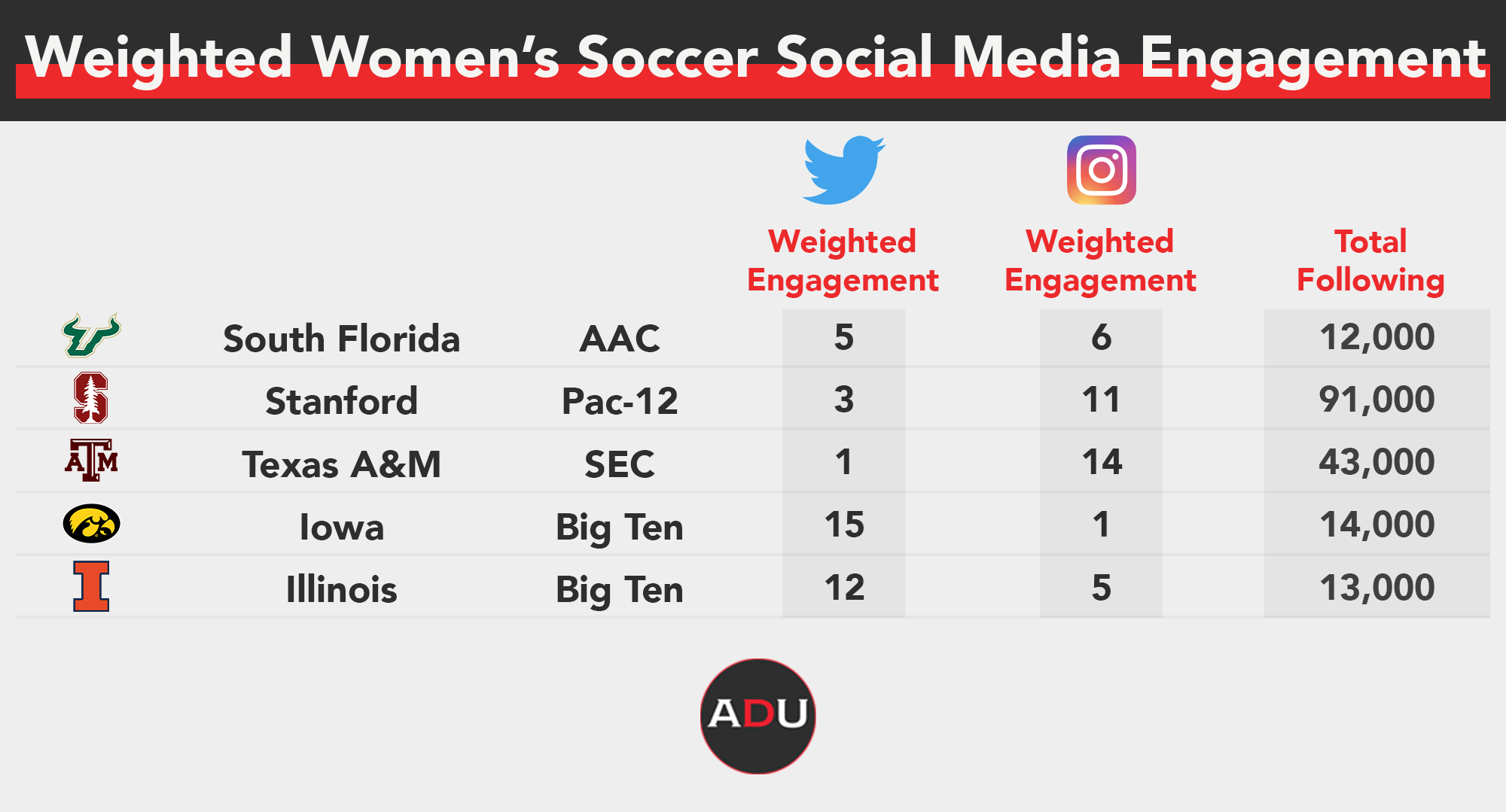 South Florida's women's soccer social media presence is one of the breakouts in college sports. USF head coach Denise Schilte-Brown has elevated the program to new heights in recent years and its social media presence has risen to the top of the sport as well.
Women's Volleyball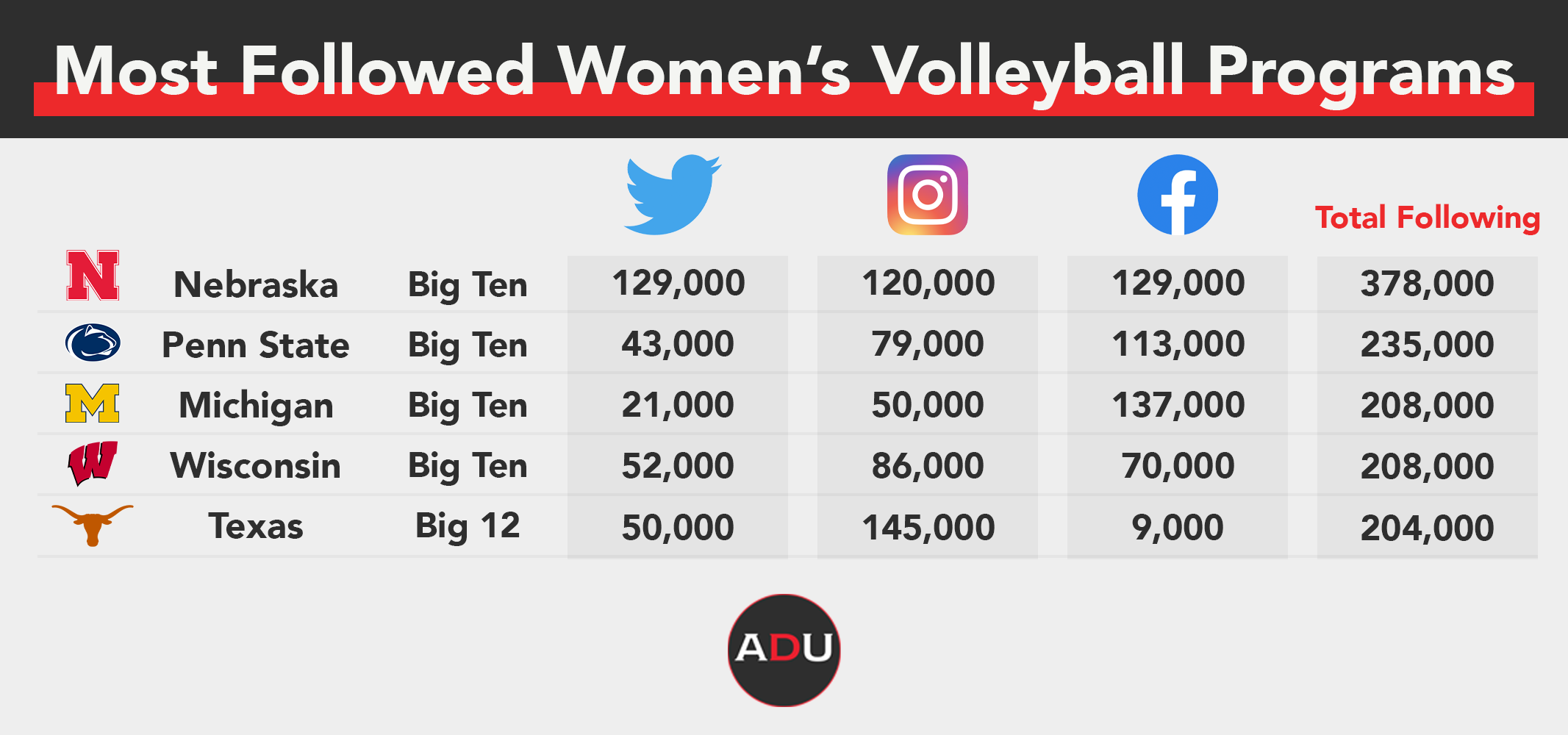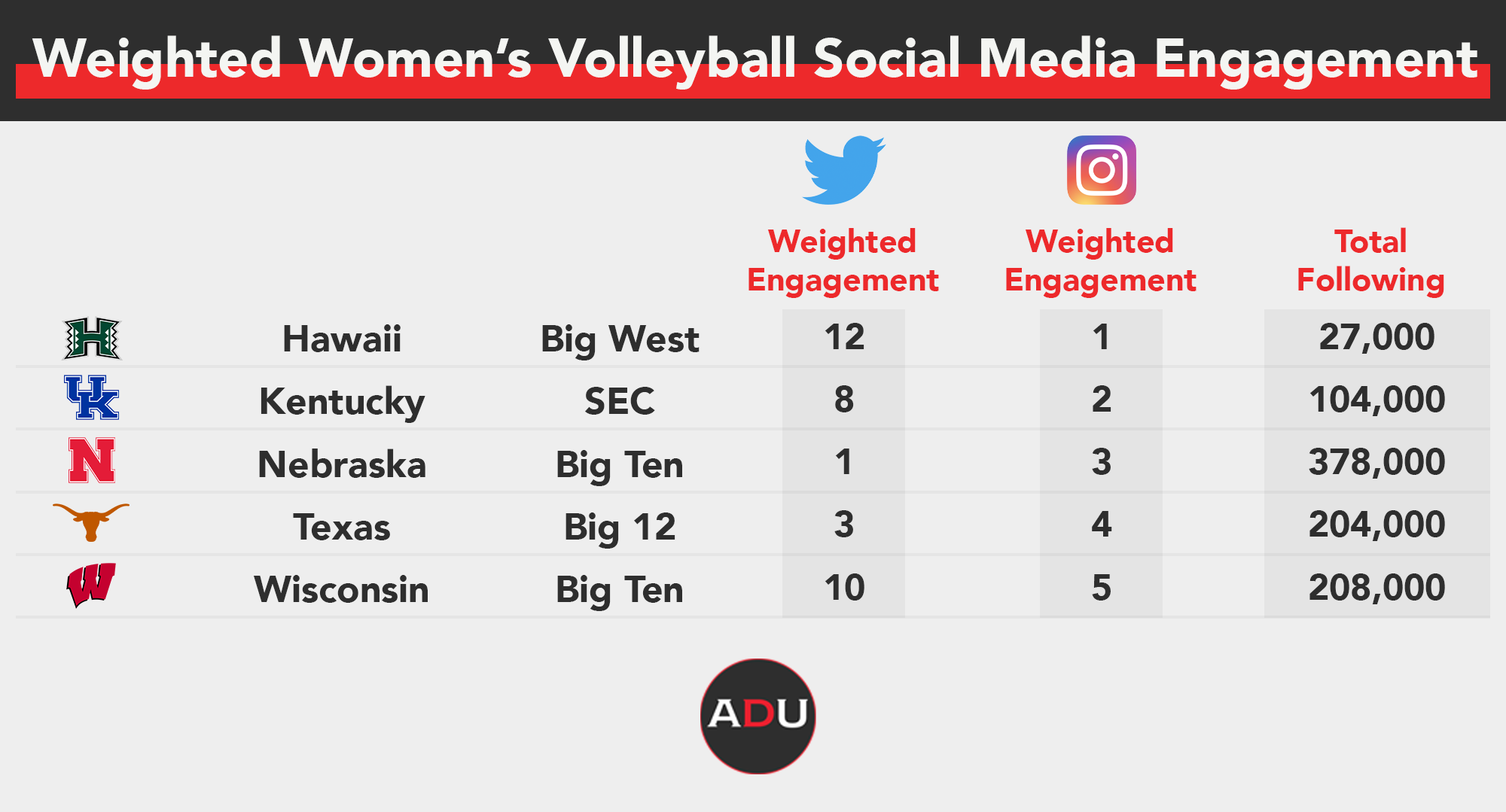 While its following pales in comparison to the larger programs, Hawaii women's volleyball has elite engagement numbers. Much of its social content plan is centered around highlighting the team's players and introducing them to fans.
The chart below showcases the top non-Power-Five social media program for each of the eight sports based on engagement rates.
Gonzaga's dominance on the basketball court has led to significant social media engagement, particularly on Instagram where the Bulldogs' presence rivals the country's largest and wealthiest programs.
The only non-Power-Five university that leads in multiple sports is UCF, which is the top engagement university in football, women's basketball and softball. Twitter engagement is UCF's calling card as the AAC power also ranks in the top 25 in Twitter engagement in baseball, women's soccer and women's volleyball.
Elsewhere, Coastal Carolina's frequent postseason trips and its 2016 national title have helped build the foundation for a strong social media presence. South Florida's women's soccer team and Hawaii's women's volleyball team are the only two non-Power-Five programs besides UConn's women's basketball that sit atop their sport's overall engagement rankings.
Overall, there isn't a particular formula that will immediately translate to a stronger social media presence. However, there are common attributes among the successful social teams that could shape other accounts looking for an uptick in various metrics.
Though it may be challenging to quantify, every social media team must address its brand voice. How posts are captioned and packaged to the audience will influence a user's enthusiasm about the content. Failing to meet the proper tone of a particular situation could be viewed as reckless or inappropriate. Over longer periods of time, an account's tone will be clear and should align with the target market.
A pivotal moment for many social media teams came this past year with athletes, coaches and universities across the country shining light on social justice initiatives. Many accounts from our study released statements or videos supporting social justice initiatives that drew massive engagement. Alabama football's video montage posted last June touched on the subject and is the account's most engaged post even despite an undefeated season and national championship in January.
Some social teams effectively engage with their audiences by developing creative content beyond standard highlights and still images. Nebraska baseball, which maintains strong engagement numbers by frequently interacting with followers, designed a fictitious EA Sports video game cover in February featuring the team's top players. Duke basketball, meanwhile, posted an April Fool's prank indicating that historic Cameron Indoor Stadium would be replaced by a retractable indoor/outdoor stadium, drawing nearly 40 thousand likes. 
While highlights and visuals may be the focus on gameday, the accounts with the highest engagement rates maintain steady content streams even when their teams aren't playing. The nation's most engaged football accounts produce 22.2 percent of their overall account volume on Saturdays with every other day of the week making up between 10.4 and 18.1 percent of the total volume. As opposed to an overflow of content on gameday, these social teams aim for consistent output to keep their followers engaged throughout the week.
Another engagement method is hashtags, which allow social media users to follow along with specific topics or trending stories. Most college teams identify with a university fight slogan like Alabama's "Roll Tide" or Michigan's "Go Blue." Individual team accounts often use these slogans as hashtags to draw further engagement. Nearly 70 percent of college athletics Twitter accounts use a hashtag in every tweet.
Georgia's content strategy calls for a heavy emphasis on its "GoDawgs" slogan. Georgia's football Twitter account averages 1.5 hashtags per tweet with #GoDawgs appearing in over 59 percent of the account's total tweets. The university's softball, baseball, football and track accounts lead the hashtag in overall engagement as well as former Georgia football star and NFL pro Benjamin Watson, who has over 280 thousand combined followers on Twitter and Instagram.
Much like the on-field action, social media is another hugely competitive platform in college sports. With thousands of individuals consuming college sports content on social media every day, social teams should hone in on content strategies that bring audiences as close to their programs as possible. 
As social media continues to grow as a resource for advertising and marketing, universities that prioritize social media interaction will increase fan support and reap financial benefits in the long run.