Since the term "esports" was coined to describe a particular type of competitive gaming, a philosophical debate has raged on about whether "esports" really are a sport, or something entirely different. Wherever you land on the semantics, however, nothing is less unambiguous than the trend in collegiate esports program adoption that has swept athletic departments and institutions across the country. This trend has accelerated over the last two years in particular, with more colleges and universities adding esports programs, often at the varsity level, to their roster of programs and teams. 
But why are institutions leaning into esports? And how fast is the collegiate scene really taking off? In this article, we explore:

the trends in esports program adoption

the concrete numbers and ROI driving growth 

the future for collegiate esports
A Short History Of Collegiate Esports
There is nothing new or surprising about students playing video games. Yet,  it was only in 2014, at Robert Morris University in Illinois, that students' zeal for gaming was harnessed into a formal esports program with varsity status and scholarships. Other programs followed and then the floodgates opened for varsity esports programs around the country. 
As of 2019, according to a tally by ESPN, more than 100 varsity esports programs could be found on college campuses around the country. In the last year, however, that number has grown considerably. LFGroup.gg, a searchable database with information about many of the nation's programs, lists almost 200 varsity programs. Uni Esports Group, a consultancy focused on helping colleges and universities start and grow esports programs, has worked directly with over fifty schools this year alone.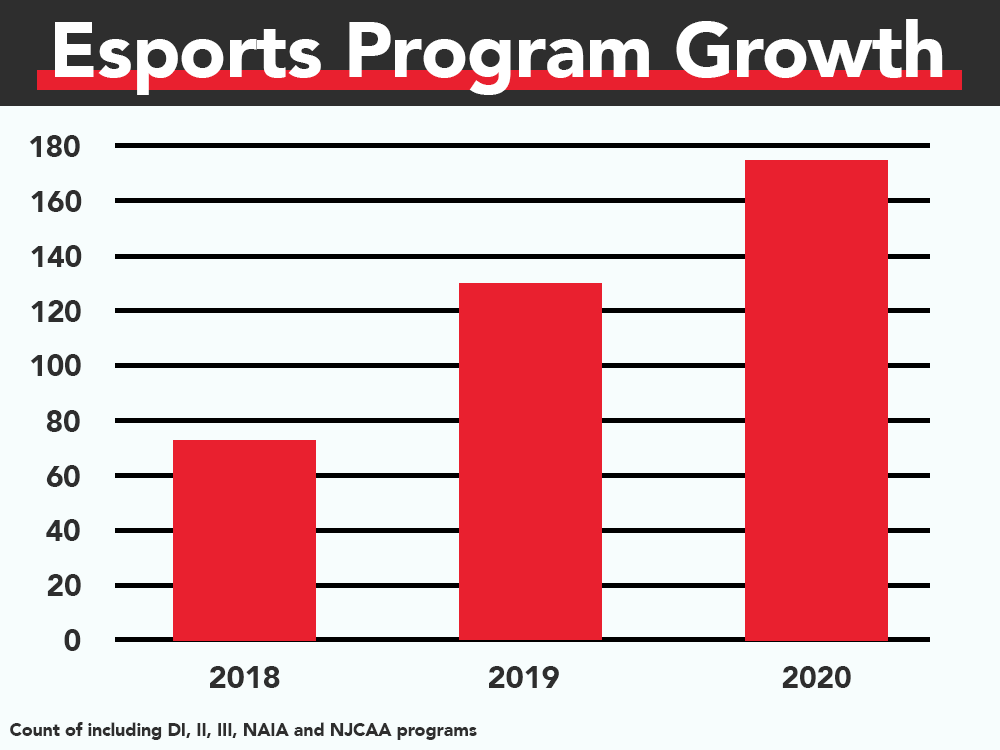 The growth in collegiate programs has been accompanied by a commensurate explosion in esports-specific scholarships. In the 2015-16 academic year, esports scholarships totaled $2.5mm nationally. By 2019, national scholarship dollars were up to 15mm–a 600% increase.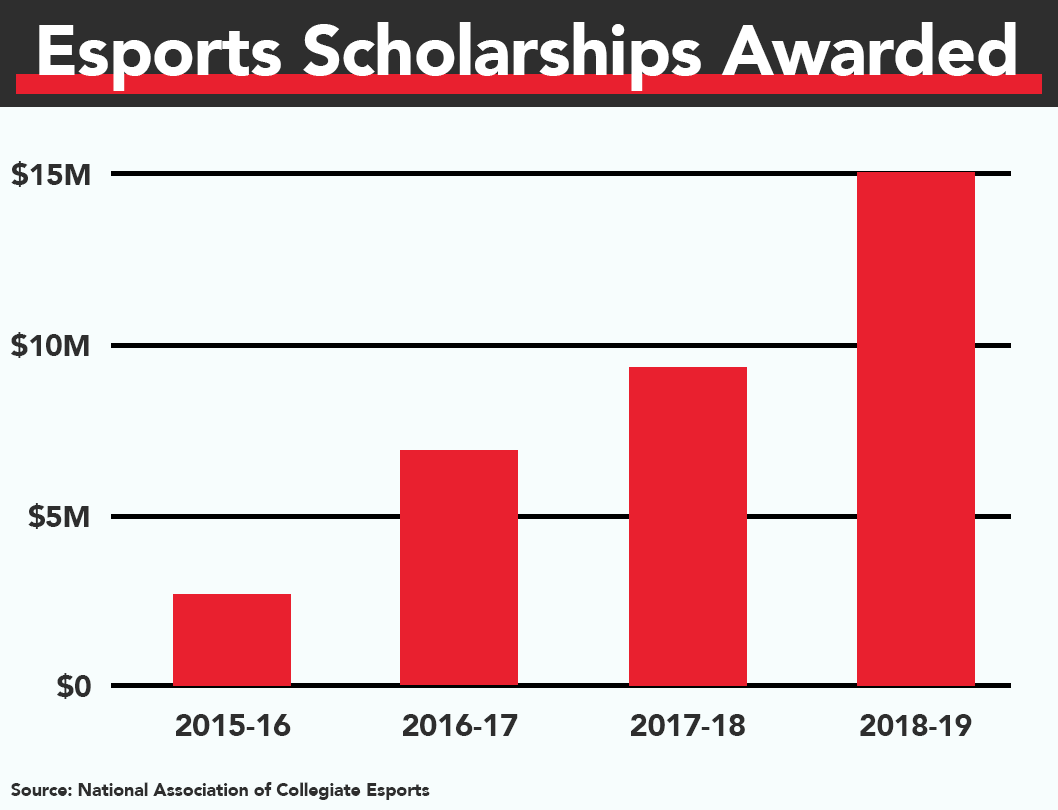 All this growth was enough to cause two of the longest-standing governing bodies in college athletics, the National Junior College Athletic Association (NJCAAE) and the Eastern Collegiate Athletic Conference (ECAC), to create esports associations with the full backing of their traditional sports leadership. Both the ECAC and the NJCAAE, as the only true governing bodies for collegiate esports at the 4-year and 2-year levels, respectively, are the only collegiate esports associations to offer and provide true governance, organized schedules and tournaments, and the awarding of true national championships. Both associations have increased their membership as schools, both within their athletic departments and club programs, found the governing bodies to be exactly what was needed to help tame the "Wild Wild West" of collegiate esports.
"Three years ago, we started with just 12 schools and three games," said Dan Coonan, Commissioner of the ECAC. "Today we host 340 different teams from over 100 schools. I do not see the growth slowing down anytime soon.  Within ten years, I believe virtually every university sponsoring a varsity athletic program will also sponsor a varsity esports program." The ECAC has hosted two LAN national championships as part of HV GamerCon in Albany, NY. 
This year the association's schools will be part of the Collegiate Esports National Championship (CENC). Hosted by Collegiate Sports Management Group, CENC is the first true esports collegiate national championship as both the ECAC and the NJCAAE will crown champions in multiple titles. The Collegiate Esports National Championship will be played from April 29-May 2, 2021, at the Raleigh Convention Center featuring 48 collegiate esports teams from across the entire collegiate esports landscape. The CENC is fully inclusive as participants will receive automatic bids from conference tournaments, play-in invitationals, and from at-large berths.  
The ECAC and the NJCAAE, through their leadership, have finally provided true structure and stability to collegiate esports. The CENC will be an opportunity for schools to play a regular season, a conference tournament, and then a national championship follows the model that traditional sport fans are most familiar with which will help esports continue to enter the mainstream on college campuses.
The Forces Behind Program Adoption
The desire for schools to create competitive esports programs is driven by the imperative for schools to create programs that align with student interest and capture ROI during one of the most challenging times in higher education. 
Every university professional is by now aware of the profound challenges unfolding in the United States higher education market. A decline in enrollment numbers has been a looming threat to institutions for years, creating intense competition to enroll students who can afford tuition. The recent financial setbacks created by the ongoing pandemic have exacerbated matters. 
These factors have sent university leaders searching for innovative ways to attract and retain new pools of students. Enter gaming and esports. According to Pew Research, 97% of people between the ages of 13-17, the prime college-aged demographic, play some form of video game. Importantly, not all of these students are esports players. (Esports, a subcategory of gaming, is defined by competitive play usually with an audience of spectators.) But a majority of this audience is engaged with esports culturally, holding the same relationships with professional and amateur esports teams that other students do with traditional athletics teams. 
Enrollment
One of the most promising dimensions of collegiate esports, at least from a revenue-generation perspective, is in enrollment. In a survey conducted with 97 small schools that had esports programs, it was reported that the median number of students enrolled partly or entirely due to esports in the first year of program operation was 10. Given the relatively low startup costs for a program (reported to be $36,000 by Uni Esports Group), many institutions are seeing their costs more than repaid in the first year of program launch. According to NJCAA VP Jeff White," Our members have shared stories of high school students deciding to enroll in college courses so they can participate in our collegiate esports programs.  One coach shared a specific example where a student flipped from dropping out to pursuing a 4-year degree due to their esports experience. This much is clear to the NJCAAE: Esports drives student engagement and enrollment in both primary and secondary education."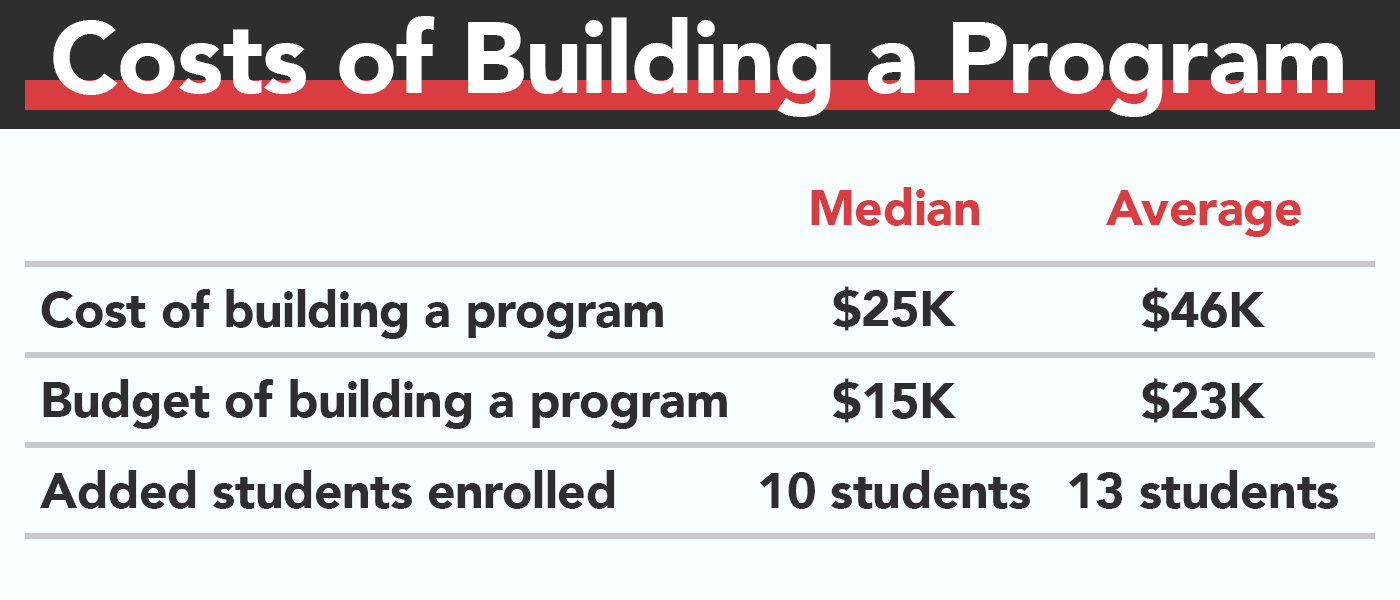 Retention & Community Engagement
Esports programs have provided a tool for institutions to meet students where they are; to provide student-gamers, many of whom have never had a formal place in institutional programs, with an opportunity to find community and a sense of belonging. Esports and gaming programs reach a demographic of current students who may not feel a strong sense of belonging on campus. "We look forward to participating in our first season of competition with ECAC. I think this is a solid step towards captivating the attention of our peers in the ACC and pushing them towards building their esports programs," said Jake Ford, FSU Esports Coordinator.
Academic Enrichment 
Esports programs have also been leveraged to deepen educational offerings, bridging gaps between the world of gaming and in-classroom learning. In 2019, Caldwell University established the first esports business management 4-year degree program in the State of New Jersey at. Caldwell has pioneered an esports curriculum that has woven esports into concentrations in business, digital marketing, sociological impacts, and event planning.
According to data gathered by Uni Esports, 77% of students are interested in exploring the connection between esports and classroom learning. ToniAnn Convertino, a former student and the current esports coach at Caldwell, provided, "Studying esports at Caldwell has given me the opportunity to understand the business side of the industry and has pushed me to follow my passion for esports into a career." More students now see a degree in esports as their gateway into the industry with job opportunities in marketing, media, production, events, facility management, and broadcasting.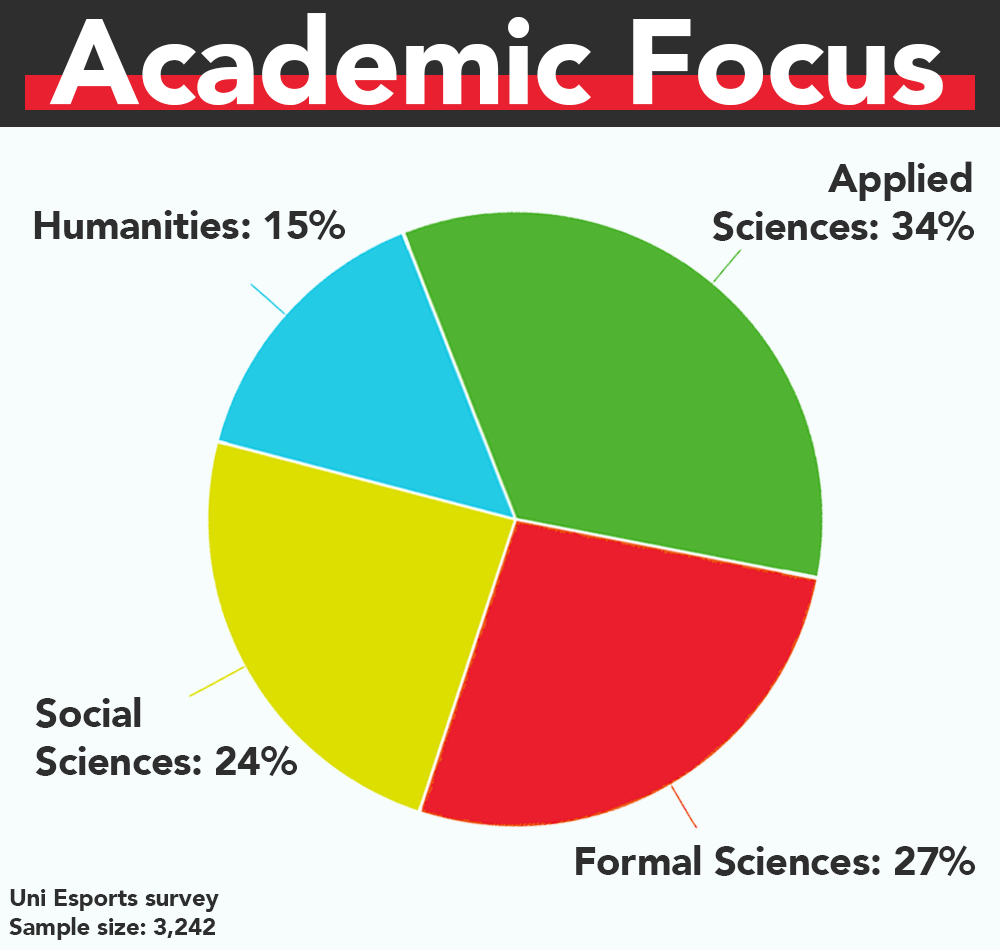 The Future of College Esports
When speaking with athletic directors and presidents across the country, a common question is, "Is it too late?" The answer remains the same: Not yet. Relatively speaking, collegiate esports is still at the beginning of the adoption curve. The last two years of development have seen the space begin to mature, which only benefits schools that enter the arena now. Some of the early problems that plagued the space (the lack of competitive venues, the shortage of peer programs) have evaporated. 
Schools and students are finding their stride and competitive niches, and, as the high school esports scene continues to develop, the enrollment pipeline is becoming more reliable. For example, CSMG, the rights-holder behind the development of ECAC esports and the NJCAAE, is building a coalition of organizations to create a pipeline of students flowing from middle school, to high school, to two- and four-year colleges and universities. 
As the number of programs that have esports programs continues to grow, the network effects of enrollment, retention, and academic innovation will continue to grow apace. The future is looking bright for collegiate esports, and there has never been a better time to get involved. 
Are you ready? Game on.