On April 29, 2021, Collegiate Sports Management Group plays host to the biggest collegiate esports event in the history of collegiate gaming, the Collegiate Esports National Championship. Skeptics may question the concept of "history" when talking about esports, but in fact, competitive collegiate gaming is quickly approaching its 50th year.  To many, surprisingly, collegiate esports had its beginning at Stanford University on October 19, 1972, when the first official collegiate video game competition was held in Spacewar!, the first video game to be widely distributed. That day, Stanford graduate student Bruce Baumgart took home the top prize: a one-year subscription to Rolling Stone. 
The Intergalactic Spacewar! Olympics was organized by Stanford alumnus Stewart Brand, who was then writing for Rolling Stone (which explains the subscription), as a way to settle the pecking order among Spacewar! players on campus, most, if not all, of whom were computer engineers.
"You had 50 desperate students trying to get their homework done, their thesis done, their regular work," Baumgart told PC Gamer in 2019. "So, using the time-sharing computer for Spacewar! was a really off-hours thing. For ordinary people, that meant they were giving up around 11 PM or 12 AM, which meant that the machine was free and could tolerate a Spacewar! game or two. There were only six of those displays that could handle it."
Now, nearly 50 years later, collegiate gamers from all around the country are preparing to compete in the inaugural Collegiate Esports National Championship (CENC) hosted by Collegiate Sports Management Group (CSMG). The showcase will feature student-athletes from colleges of all levels competing in Overwatch, Rocket League and Super Smash Bros. Ultimate. In total, 48 teams — 16 per title — advanced to the CENC through play-in tournaments, conference championships and by earning at-large bids.  CENC will have the best teams from esports associations such as the ECAC, EGF, CSL, and NACE along with teams from traditional sport powerhouse conferences such as the Big Ten, Big Sky, and the MEAC. Rounding out the field are teams from D-II and D-III conferences such as the ECC and the Atlantic East, just to name a few. "Our goal in creating the CENC was to ensure that the best teams could have the opportunity to compete for the right to claim their place as the true national champion, said CSMG's Executive Vice President of Partnerships and Chief Esports Officer, Neil Malvone. "In addition, CENC will have educational panels, international showcases, and NFL Alumni battling the US Army National Guard in a Madden gridiron showdown. CENC will be a 4-day esports event which will redefine college esports entertainment for years to come," Malvone added.
CENC will feature educational panels focused on the current state of college esports as well as the enterprise's future. The discussions, hosted by College Esports Expo (CEX), include "What it Takes to Power an Esports Program in 2021", "Name, Image, and Likeness in Esports", and "Player Mental Health and Wellness." Additionally, all participating teams will be awarded scholarship dollars. "CSMG is proud to offer a total of $60,000 in scholarships through their proprietary Skins Scholarship Fund," added Malvone. Every team competing in CENC will be awarded one skin (scholarship) and then will be eligible to win additional skins throughout the competition representing a portion of the $48,000 in scholarship funds to help programs with operating expenses, league registration fees, recruiting initiatives, and equipment upgrades. In addition, the NJCAAE will be presenting an additional $12,000 in scholarships to their teams.
While the CENC is a decidedly more sophisticated endeavor — with far more on the line than a subscription to Rolling Stone — than The Intergalactic Spacewar! Olympics, the tournament is hardly limited to those with access to the newest equipment and biggest budgets — although those things do not hurt. Like any emerging enterprise, college esports is still in the process of defining itself. At some schools, it falls within the purview of the Office of Student Services or its equivalent. At others, it is fully overseen by the athletic department. Still at others, esports is wholly funded and overseen by students.
At Akron, the esports program began in 2017 and has grown from "thinking about a varsity program or two" to a full-fledged program with 42 players comprising teams playing eight varsity games. The program also has 20-30 substitutes, coaches, managers, and dedicated support staff, bringing the total personnel to 80-90 people. Beyond its varsity program, Akron has a club team with roughly 700 students and a recreational component through which anyone on campus can come to a gaming cafe and play for free. In fact, Zips Director of Esports Nathan Meeker describes a program with infrastructure and support similar to the traditional sports teams on campus.
Akron begins recruiting students for esports 12-18 months before they graduate from high school, offering scholarships from a pool that is funded mostly through private donations and sponsorships. Once on campus, students benefit from tutoring, class support and the ability to schedule classes early around practices and games. They are also given individualized physical workout plans through the School of Sports Science and are provided with mental health resources, particularly in the areas of conflict resolution, anger management, teamwork resolution, and preparing for victories and losses.
"We find that the vast majority of the folks that play for our varsity teams have not engaged with traditional athletics within their high school field," said Meeker. "So, they're not really familiar with what team sports really looks like. While esports is different, there are a lot of similarities when you are sitting in the same room with the same people day in and day out and you are competing with them. So, we prepare ahead of time for the issues that might pop up."
While there are obvious advantages to being affiliated with the main campus, student-led teams throughout the country are utilizing their own strengths as they continue to find success. At Wake Forest, the esports team started as a general gaming club and remains fully funded, operated, and organized by students and team members. Wake senior and President of Esports Josh Goodman explained the autonomy of being student-led has given the Demon Deacons club program room to grow. "Our biggest strength is the innovation and excitement of our students because we feed off of them as much as they feed off of what we can provide them. If tomorrow 17 members say we want to play a game, we can make that happen. In a more structured setting, you don't have that flexibility."
However, the lack of structure, Goodman continued, "means we don't have a lot of funding or support from the university. … A lot of times they give us the space, and we have to do the rest. Last spring, we were doing a [Super Smash Bros.] event in our library where we had to bring in all the monitors ourselves, all the consoles ourselves, and I had to buy an HDMI splitter. … One thing we have wanted is a dedicated space where we can meet. That can't happen without the support of the school."
Despite differences in resources and infrastructure, both teams are preparing to compete in the CENC. CENC is unique in that schools received their bid either through conference tournaments, at-large bids, or due to their membership in the ECAC. "By bringing all of the teams together from across the entire collegiate esports landscape, CSMG has positioned CENC as the only event that an undisputed champion can be recognized," stated Ray Katz, Chief Operating Officer at CSMG.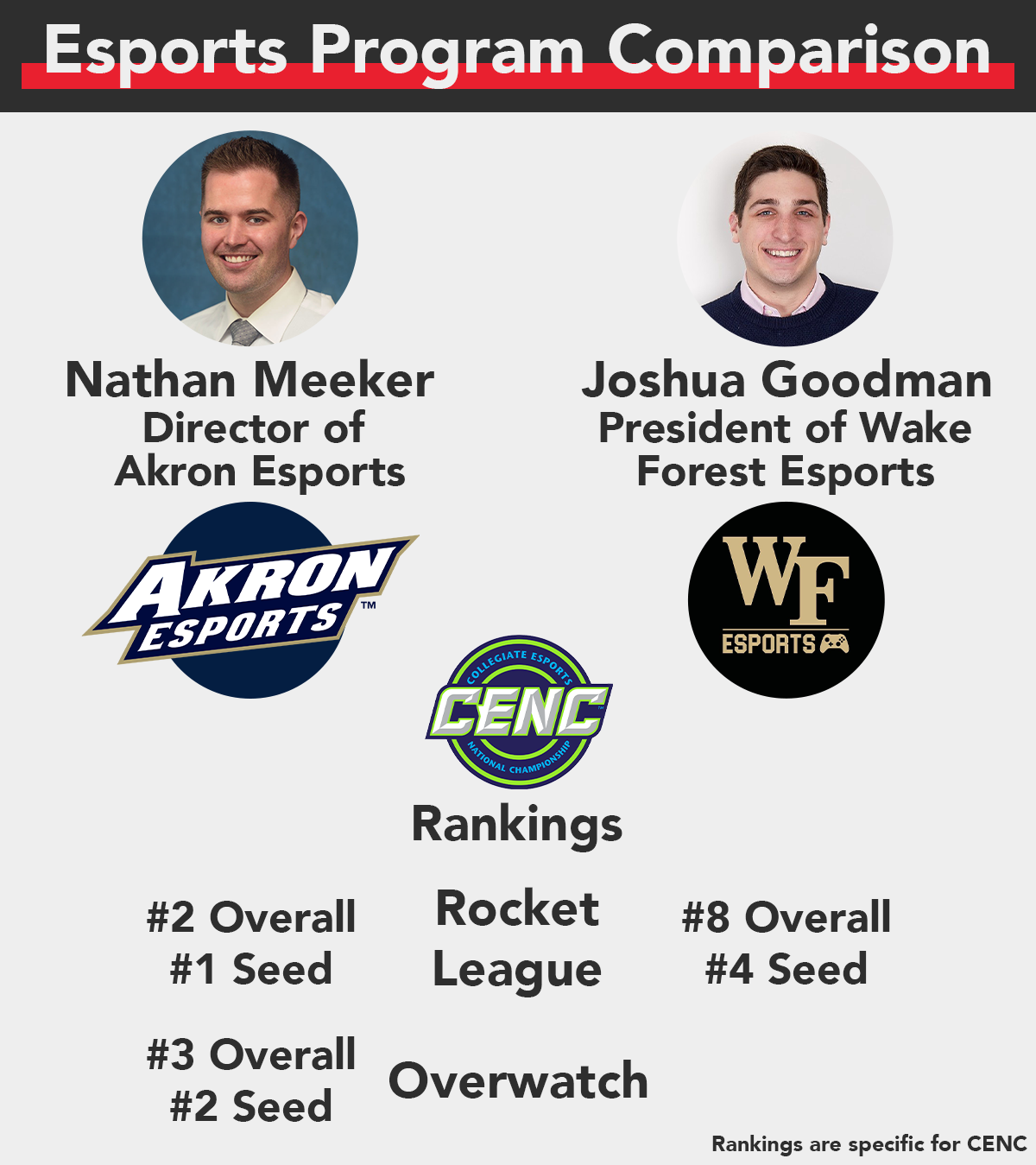 But in the end, it will not matter. Once the players switch on their monitors for the CENC, their paths to the championship will look the same. They began in bedrooms, dens, and family rooms the first time these student-athletes became mischievous groundhogs, deadly assassins, or portly plumbers. Gamers have spawned one of the world's fastest-growing industries, which has since given rise to its own thriving cottage industry, and on April 29, with the launch of the CENC, the world of esports will blaze yet another trail.
"We are incredibly privileged at CSMG to run the first true multi-game collegiate esports national championship," expressed Katz. "Excited for what the future holds as our all-inclusive event covers all types of institutions from Power 5 to Division III powerhouses, as well as the increasingly important NJCAA.
 In December of 1972, less than two months after the Intergalactic Spacewar! Olympics, Stewart Brand wrote a recap for Rolling Stone (free to read for Bruce Baumgart, who would go on to create the Stanford Artificial Intelligence Laboratory, preserving most of the lab's records from the 1970s and 1980s). In it, Brand observed: "Ready or not, computers are coming to the people. That is good news, maybe the best since psychedelics. … Reliably, at any nighttime moment (i.e., non-business hours) in North America hundreds of computer technicians are effectively out of their bodies, locked in life-or-death space combat computer-projected onto cathode ray tube display screens, for hours at a time, ruining their eyes, numbing their fingers in frenzied mashing of control buttons, joyously slaying their friend, and wasting their employers' valuable computer time. Something basic is going on."
And it has not stopped.

Достаточно просто перейти по
ссылке
, и оформить любой совершенно займ за 15 минут.