Collegiate athletics is amongst the most dynamic industries in the American economy – and not just in sports. Few feature the combination of business growth, legal challenges, cultural implications, and tradition that college sports embody. This ever-changing landscape has shaped athletic departments in numerous ways, including the type of leaders sought by institutional administrators. In particular, the position of the college athletics director (AD) has undergone substantial shifts in the last decade, morphing from a sports-centric job to one with heavy business and legal responsibilities.
Understanding the transformations of the AD position is a critical indicator of the real-world impacts of the external forces on the collegiate athletic industry. It's also important to current professionals in the industry looking to advance their careers, as well as institutional Presidents/Chancellors, their hiring committees and organizations looking to provide executive education
In this first of what will hopefully be a regular series on AD trends, educational background, and career development of Division I ADs, we provide an overview of the most recent data gathered on this cohort of athletic administrators (this data was gathered from public sources only, and is updated through June 2017).
Key Findings:
Female AD Numbers at All-Time High
2017 represents a high-water mark for female ADs: As of June 2017, 11.2 percent of Division I ADs were female – the first time the number has risen above 10 percent since at least 2013. In 2016, only 8.9 percent of Division I ADs were female. The overall ethnicity breakdown, however, remains largely unchanged from previous years. Currently, 82.6 percent of Division I ADs are Caucasian, and another 15 percent are African-American, with Hispanics and Asian Americans comprising the remaining 2.5 percent. These shares have remained fairly similar since 2013, when the breakdown was: 83.4 percent Caucasian; 14.2 percent African American; 1.8 percent Hispanic; and 0.9 percent Asian American.
AD Turnover Continues to Impact Tenure Numbers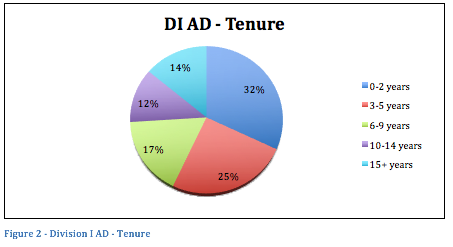 The average tenure of all 348 Division I ADs is 6.83 years, down from about 7 in 2016. Since January of 2016, over 18 percent (64) of all Division I AD jobs have turned over, and there are competing arguments on if that number will climb even higher in the future. Some have argued that the combination of increased revenue generation, litigation, and the resulting media attention have placed white-hot pressure on athletic departments, and therefore campus leaders are more likely to have a short leash with underperforming ADs or departments. Others, though, have posited that because of the immense value athletic departments can bring to institutions, it is wiser to have continuity in leadership. Overall, the data is inconclusive, and the issue requires further tracking and evaluation.
The Coach-to-AD Career Path Becoming a Relic of the Past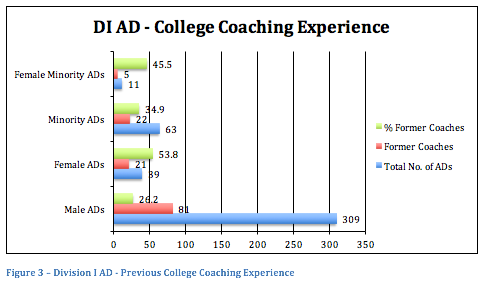 Unlike a generation ago, the well-worn coach-to-AD path is being less and less traveled. As of June 2017, only 29 percent of current Division I ADs were former college coaches. Interestingly, however, over half of female ADs are formerly coaches, suggesting that the coaching ranks may be an important tool for aspiring female administrators in gaining career legitimacy.
The last two years of Division I AD hiring have contributed to this already-in motion phenomenon. Only 22 percent of the ADs hired since 2016 have previous coaching experience  proving that it's acumen in law, business, and education institutions are seeking when filling AD vacancies. (John Cohen of Mississippi State stands out amongst the group – Cohen was the head baseball coach at Mississippi State from 2009-16 before being hired to replace Scott Stricklin)
Despite Increase in Litigation, Business-Side Experience Still of High Value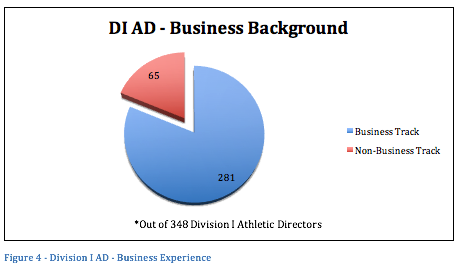 Athletic departments may be hiring lawyers at a higher rate in response to internal (Title IX, coaching disputes) and external (concussions, antitrust) litigation threats, but make no mistake: Running an athletic department is, in many respects, akin to running a business, and the overwhelming majority of Division I ADs have some type of business experience prior to assuming the AD chair. Over 80 percent of sitting Division I ADs took a business-side track to the AD chair, reaffirming once again how important business acumen – especially fundraising and revenue generation – is to institutions when seeking athletic department leaders.
The Importance of Previous AD Experience
Four in 10 current Division I ADs had previous AD experience prior to entering their current role. Of those, the average length of their previous AD experience was 8.5 years. So, while it is certainly important, it is not absolutely necessary to have previous AD experience to be hired into the role. Those numbers change, however, when the Power 5 conferences are isolated: In those conferences, 64 percent of the current AD had previous AD experience prior to entering their current role. This wide gap is demonstrative of a principle that has long been evident in the business world: The more lucrative and powerful a business enterprise, the more experience and proven success is valued. Translating that principle to collegiate athletics can help explain why Power 5 schools tend to place a premium on experience when looking to fill vacancies in their departments.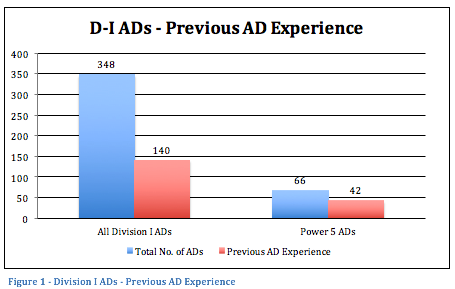 Anecdotally, however, it deserves noting that a share of the ADs hired made at the end of 2016 and first half of 2017 have been pulled from Deputy/Associate ADs from other institutions. Most recently, Mississippi State Deputy AD Scott Wetherbee was hired as Eastern Michigan's AD; USC-Upstate tabbed Pittsburgh Deputy AD Julio Freire as its new AD; and Louisiana-Monroe hired East Carolina's Executive Associate AD Nick Floyd to its open AD position.
Further, a few Division II ADs have made the jump directly to the Division I AD chair. These include Presbyterian's hire of Danny Sterling and Saint Mary's hire of Mike Matoso.
The Stark Differences Between the Power 5 Conferences and the Remainder of Division I Extends to the AD's Chair
Across both gender and ethnicity, Power 5 ADs are older than the entire pool of Division I ADs. The most pronounced difference can be seen with minority (non-Caucasian) ADs: The average age of minority ADs in all of Division I is 51.5 years, but 58.4 years in the Power 5 – a 13.4 percent jump. While a variety of factors are likely to account for the age disparities between Power 5 and all Division I ADs, the simplest explanation may be this: Power 5 athletic departments, by nature of their competitiveness, TV contracts, fan affinity, etc. have the greatest opportunity for revenue generation. Campus leaders recognize the need to have a financially stable and successful athletics program, and place a higher premium on individuals who have shown the ability to do just that. Given the nature of the collegiate athletic administration career ladder, experience tracks closely with age, and institutions searching for candidates with successful resumes are more likely to be looking at an older pool of candidates.
The Other Impact of Litigation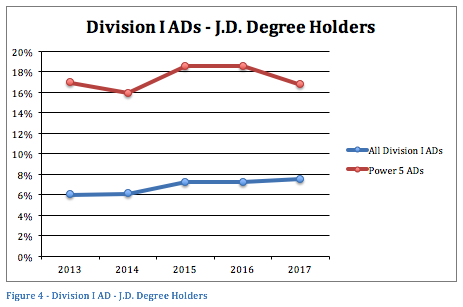 Besides the impact of recent college sports-related litigation on the financial operation and risk-mitigation strategies of athletic departments, there may be a personnel aspect of the effects. The data reveals that Division I athletic programs have been hiring lawyers at a higher clip over the past few years – perhaps reflecting the increasingly litigious nature of collegiate athletics. Of the 64 Division I ADs hired since the beginning of 2016, 8 (13 percent) hold J.D. degrees, while just 2 (3 percent) earned an MBA. The total number of Division I ADs holding a J.D. degree as of June 2017 was 7.5 percent, with MBA holders representing 11 percent of the total pool. This should not be viewed as a reflection on the relative importance of business in college athletes – it remains of singular significance – but rather indicates that the flood of lawsuits facing the NCAA, conferences, and institutions may be causing institutions to tweak their criteria for the leaders of their athletic enterprises.
Conclusion
The face of the Division I AD continues to be transformed by the myriad forces reshaping college athletics. From the overwhelming focus on revenue generation, diversity and inclusion to the increasingly litigious nature of collegiate sports, the industry is always in motion. AD hiring trends in Division I reflect this dynamicity, and there is no doubt that the position will continue to evolve as the business itself does.