COVID-19 has created a great number of uncertainties around college athletics, but in regard to university capital construction projects, there is a silver lining: the positive bond market combined with an emerging competitive construction market. As a result, colleges and universities should consider leveraging the current market conditions for projects going to bid in Q1-Q2 of 2021 and get the most for its investment by queing up the highest priority projects now. 
Why start now?
Favorable project bond finance interest rates combined with anticipated construction costs savings over the next nine to 12 months could result in significant benefits for institutions. 
Facility projects have two phases. The first is the planning and design phase, which commonly lasts six to 12 months. The second is the construction phase, which can take six months to two years, depending upon the size of the project. A project "bid" establishes the construction cost, which is also referred to as a Guaranteed Maximum Price (GMP). In order to be able to establish the construction cost/GMP for the project, the majority of Phase 1 has to be complete. 

Example: 
A university needs a major capital project completed within the next two years:
Phase 1 (planning and design) starts in June 2020 and lasts until February 2021 

The project construction cost/GMP is established during the anticipated downturn in the bond and construction markets

Phase 2 (construction/buy-out) starts in June 2021

Because of the cost savings due to this anticipated downturn, the university is spending $90M and getting the same project delivered that would have cost $100M a year earlier
Right now, market conditions are primed to allow universities to take advantage of the lowest construction costs in a decade. Working strategically, universities could be positioned to take advantage of the significant predicted cost savings and without substantial risk.
Given the current environment, is it worth pushing projects forward?
The short answer is yes. The exact right time to bring GMP projects forward for construction bidding is difficult to define, given the uncertainty of what's currently playing out in the global marketplace. However, educated predictions can be made based on trends within the construction industry and information provided by public finance underwriters and national contractors. We know that moving forward now will allow universities to take advantage of both a favorable financing position and construction costs savings.
Here are the known factors related to project timing:
Many construction projects were put on hold

The majority of these projects were in the hotel, tourism and entertainment business (funded by tourism taxes)

These projects will not all come back at the same time, and some won't come back at all

Many of these projects will not restart at their original size or budget

All of this can be attributed to changes and delays in project funding and finance
These factors lead to a decrease in construction demand. A decrease in construction demand impacts materials and labor, which are the two biggest factors in construction pricing. When materials costs drop, the pricing during the bidding process also drops, which is a benefit to universities. And when demand for labor drops, there is more available skilled labor in the workforce and increased competition for jobs, which also leads to better pricing.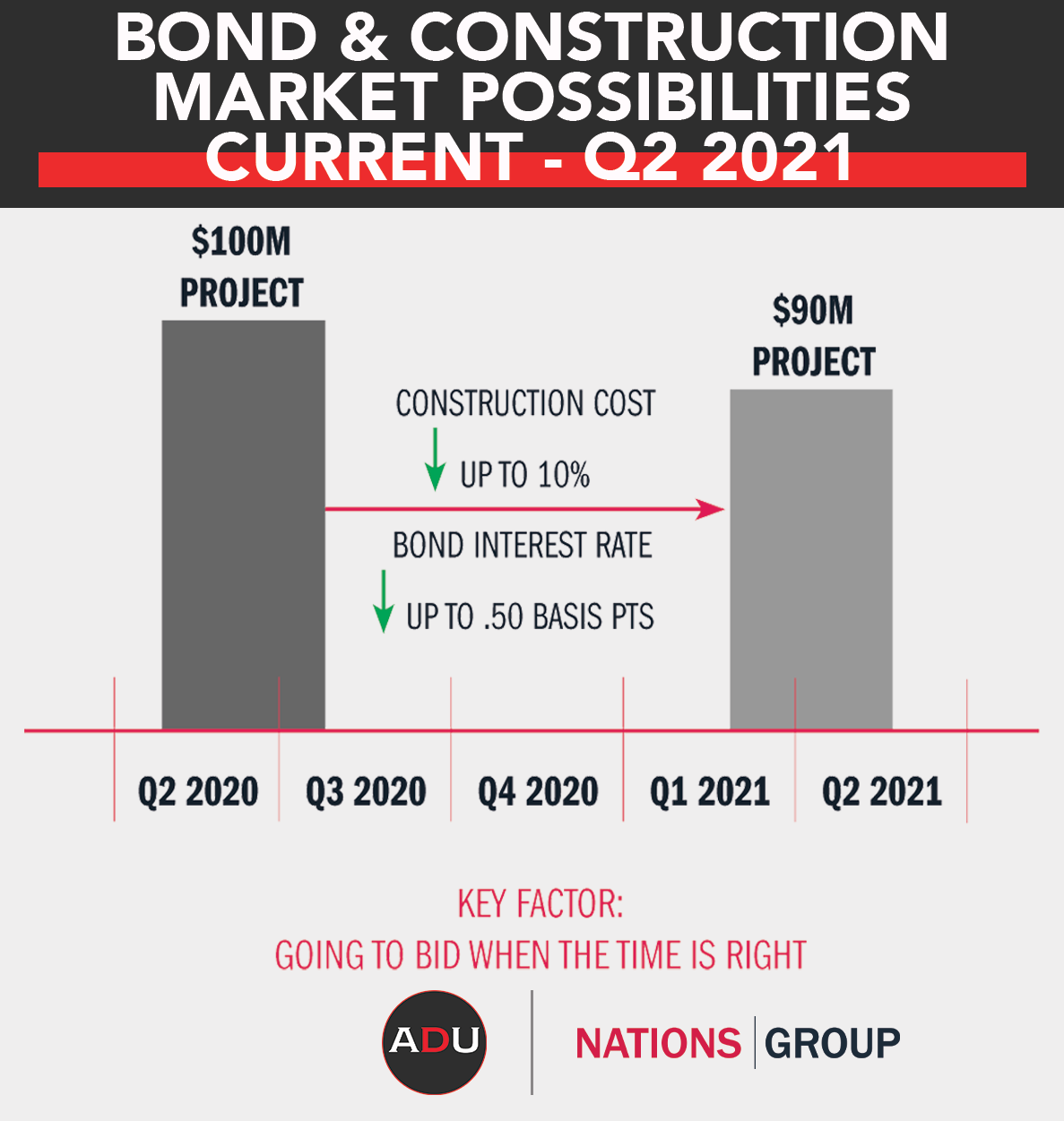 What difference does the bond market make?
Most university projects are bonded and backed by the university with philanthropic pledges and revenues created by the project, such as premium seating options and ticket sales.  
Here are the known factors related to finance:
Low-yield bond interest rates, the traditional finance tool for universities, are trending lower

These rates are predicted to remain low for the next 12 months, based on the US Treasury

High-yield bond interest rates, which historically fund hotel, tourism and entertainment projects, have drastically increased

Due to the risk profile of high-yield bonds, many bond investors are shying away, which will provide ample available capital in the low-yield bond market for university projects
Where does construction cost savings come into play?
Specific to construction cost savings, here's what we know now: 
Materials pricing, such as steel, petroleum, wood, concrete and glass, is trending down 

Escalation will reduce, if not be completely eliminated, for the next 12 months
Example of de-escalation:
Prior to April 2020: a $50M project would include 4-6% ($2-3M) of escalation into the project for each year of construction

After April 2020: a $50M project would see a savings of 4-6% ($2-3M) of de-escalation for 12 months

End result: the same project for $47-48M instead of $50M
Subcontractor margins are dropping due to less demand in the market, so bidding will be much more competitive

There will be more available labor in the market, so the available labor pool will be more highly skilled

Cost increases around on-site regulations and restrictions due to current COVID-19 conditions could be temporary. Actions such as requiring on-site temperature checks, new regulations related to social distancing and temporary loss of workforce due to sickness or fear of sickness may ease as more is learned and guidelines are updated.
All of these factors could result in up to 10% project savings due to construction de-escalation, labor, materials and lower interest rates. An arena or stadium project that was estimated to be $100M and open in 2023 could now be $90M. A training center project that was estimated to be $50M and open in 2022 could now be $45M.
What's the key takeaway?
In order to capture the most savings, it's crucial to spend the necessary money now on planning and design. Although this could be $1M-$3M in immediate expenditures of project costs, doing so will save an even more significant amount when the construction costs are bid since construction costs are commonly 70% of project costs.  
Athletic directors are facing political perception challenges and cash flow issues that are at play on nearly every campus. These obstacles can potentially be overcome by taking a closer look at the available information that illustrates the project benefits and potential savings to the university, and sharing that information with other internal stakeholders. What's spent on planning and design will not go wasted even if construction is paused or unable to move forward since those plans and documents can be bid when the project is again viable, or when funding is in place.
Since it is unknown how long this window for financing value and construction pricing will last, Phase 1 – project planning and design – should be completed within the next six to nine months, and universities should be ready to go to GMP by Q1 or Q2 of 2021. 
The benefits of these unprecedented market conditions cannot be underestimated – and the time to act is now.