I agree with Pac-12 Commissioner Larry Scott on how he views his role as head of the Pac-12. He isn't just the head of a non-profit collection of colleges that play athletics, he's the head of a media network. As much as college sports is about athletics, it's also big business.
Specifically, big "entertainment" business.
If you need news about college athletics, you subscribe to D1.ticker. But what about the stories you need to read to understand the entertainment landscape? You probably don't check in with Variety everyday like I do, and if you do, you mainly know about box office results, TV ratings and random castings for big films. That doesn't really help you.
My goal, with today's article, is to distill down the biggest stories in entertainment and how they will influence the business of college athletics. First, I'll explain what happened in the news, then provide my take on the situation, and finally I'll link to the best articles to learn more.
1. Carriage Wars Heat Up
Even if you don't care at all about the business of entertainment, you probably heard about the latest channel blackout, this time CBS going dark on DirecTV and AT&T U-verse. This has just been the most recent channel blackout in a string of blackouts including:
– Dish is still not carrying HBO, with a blackout extending over a year.
– Univision was blacked out on Dish.
– Viacom and AT&T almost went dark earlier this year.
– Broadcast station group owner Meredith went dark for Dish customers recently.
– FX/National Geographic are facing off against Dish Network.
Is this a blip in the current landscape, or a true signal of more media blackouts to come? When in doubt, I love to go to the data to see what it says, and in this case Bloomberg has us covered, with data from S&P Global and an industry trade group:
Yes, media blackouts are increasing, and most media observers expect this trend to continue. The question is why. I see a few reasons:
– Debt load. You probably expected cord cutting to be first on this list. But one of the common denominators in the media blackout equation is that the entertainment conglomerates of the world have lots of debt. AT&T has $170 billion. Comcast has $114 billion. Disney has $54 billion. For Comcast and AT&T, this means they want to pay less in subscriber fees to boost the operating income of their cable/satellite groups. For Disney, this means continuing to milk as much revenue from ESPN as possible, while launching their own streaming platforms.
– Cord cutting. Customers have more non-cable options than ever before. Thus, the value of specific channels is lower than it ever has been. With over 500 scripted series produced each year by dozens of streamers and hundreds of channels, customers don't find any particular channel "must have". Exclusive content is no longer the draw it once was.
– Satellites. In the DirecTV/CBS squabble, everyone assumes that CBS has to come back by the first week of the NFL season. That's because historically DirecTV was THE of choice for sports fans because of NFL Sunday ticket. Yet, they might leave CBS blacked out as the preseason starts and may let NFL Sunday Ticket go too.
Dish too has taken aggressive lines on retransmission and subscriber fees. The challenge for satellite operators–unlike cable companies–is that they can't keep driving revenue from customers cutting the cord the way cable companies can by boosting internet fees. As a result, they're fighting harder to eke out the margins they can as cord cutting grows.
The Economics for College Athletics
In this case, it's a direct line from subscriber fees to media rights deals. To stay the worldwide leader in sports, ESPN has paid larger and larger prices for rights to the SEC, ACC, Big10 and Pac-12 football and basketball games. To become a rival to ESPN, Fox Sports paid similarly large prices. Both channel groups absolutely need the subscriber fees to continue to grow if they want to pay the same or higher prices in the next round of renegotiations.
This applies to the broadcast channels as well. I agree with Steve Dittmore that CBS could pay $300 million per year for the rights to SEC games. The challenge for CBS is if they stay dark on DirecTV. Even the broadcast channels increasingly rely on "retransmission" fees to boost their bottom line.
At bigger risk than either those two revenue streams may be the conference channels. Especially those unaffiliated with a major channel group. (*cough* Pac-12 *cough*). Even for the affiliated channels, though, there is a compromise world where MVPDs increasingly decide they only want ESPN, and don't want ESPN's other channels. That could mean eliminating the conference channels. (Or, as reported in the Sports Business Journal, not adding the ACC Network when it launches.)
Read more:
"TV Blackouts Growing More Common, Even If Subscribers Get Angry" by Brian Steinberg in Variety
"Disney and Charter are talking about carriage fees, and the outcome could affect how much you pay for cable in the streaming era" by Alex Sherman at CNBC
2. AT&T/Time-Warner Merger Turns One…and AT&T struggles to figure out the next step.
Last June, the collective entertainment world held its breath as a lone judge in the District of Columbia ruled on whether or not to prevent the merger of Time-Warner and AT&T. A year on, it's worth checking in on AT&T to see how trying to swallow the third largest media conglomerate is going.
– Debt load is crushing. As mentioned above, AT&T leads all entertainment and communications companies in debt. As a result, it has mulled selling HBO Europe and regional sports networks and is cutting costs in other areas.
– Losing subscribers. Meanwhile, AT&T's previously huge acquisition of DirecTV continues to not pay off as DirecTV is losing subscribers and DirecTV Now's is hemorrhaging subscribers after using too many promotions to artificially boost numbers.
– Losing executives and re-organization. Meanwhile, AT&T tried to re-organize all their content groups under new leadership, which has seen the departure of the head of Time-Warner, the head of HBO (with multiple of his lieutenants leaving too), the head of Warner Bros. ousted in scandal and the head of TNT (who was point person to the NBA). It remains to be seen how much this brain drain hurts AT&T's future content dreams.
– HBO Max dropped with a thud. Those content dreams are basically a new streaming platform called HBO Max, which has been the worst roll out of a new streaming platform since Apple's. First, AT&T couldn't decide on a price. Second, it may mostly be HBO content, with more movies. Third, the launch date keeps bouncing around. Fourth, the name confuses more than it clarifies.
The Future for College Athletics
The biggest impact for the NCAA is that the home of its major revenue driver–March Madness–is split between CBS and Turner broadcasting (TNT, TBS and TruTV). Right now, my biggest question is what happens to that sports programming. On their earnings call this week, AT&T said that HBO Max will someday have news and live sports, which could mean new deals are required with all their partners, including the NCAA. If AT&T sees sports as serious driver of growth–which is somewhat confusing since HBO has been moving out of sports— this could be a new revenue stream for the NCAA and the conferences.
Read more:
"AT&T Redefines Messy as It Slogs Through Its Media Merger" by Tara Lachapelle at Bloomberg
"What's Ailing AT&T's stock? One year after Time Warner, investors worry about debt, Disney and Netflix" by Mitchell Schnurman at Dallas News
3. Broadcast Ratings Continue to Decline
With the end of May comes the end of the "broadcast season". For TV observers, this means we can judge the winners and losers of the previous season. The feeling across the business is that broadcast TV is losing. It continues to hemorrhage average viewers for their primetime series.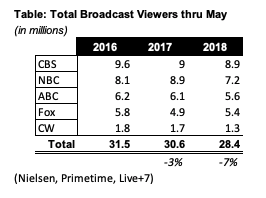 Source: Nielsen data via Deadline
While still able to demand high CPMs for their primetime shows, the broadcast channels are struggling to keep viewers in the first place. The situation on cable TV is roughly the same, with general declines across the board.
The Economics for College Athletics
As the Big Lead article below emphasizes, live sports is seen as the savior of the traditional TV bundle. Which is true, but how long it can last? For college athletics, the health of their broadcast partners will be key to keeping huge media rights deals coming. If sports alone are propping up the broadcast model, then it's unlikely that the broadcast model will stay on its feet.
Read more:
"A Party Like It's 1969: The Remarkable Resilience of Live Sports on Broadcast TV" by Ryan Glasspiegel in The Big Lead
"100 Most-Watched TV Shows of 2018-19: Winners and Losers" by Michael Schneider in Variety
4. The FASTs keep growing.
Meanwhile, alternatives to the cable bundle continue to add users. Specifically, the "free-ad-supported streaming TV streamers", which Alan Wolk at TVRev dubbed "FASTs". These are even cheaper alternatives to the cable bundle than Netflix like PlutoTV (owned by Viacom), STIRR (owned by Sinclair), IMDb TV (owned by Amazon) and Tubi. They're cheaper because they're usually free to customers, but have advertising. Two pieces of news caught my attention:
– The users keep growing. STIRR is over 1 million users, Tubi has topped 20 million, Xumo is at 5.5 million and PlutoTV is over 15 million users. Now, these numbers require a bit of skepticism since, as free platforms, the barrier to entry is lower for customers versus subscription services. Still, the FAST movement is clearly gaining steam.
– Fubo is going to launch Fubo Sports TV, a FAST just for sports. It remains to be seen what content they will feature, but will likely start with highlights and smaller sports, and then move up the value chain.
The Future for College Athletics
The challenge for the FASTs is that the majority of their current offering is ad-supported, which means lucrative subscription fees aren't an option. But these platforms could still be a good option for customers who want "kick back and watch" content. Sports can fill that gap. The FASTs will likely start with smaller sports that don't demand subscriptions and highlight shows, and NCAA sports could qualify.
As the media landscape evolves, a key question going into the 2020s is which direction sports programming goes in the digital era: direct subscription like ESPN and DAZN or FAST like STIRR and Fubo Sports TV? Both could support college athletics, depending on the sport and conference.
Read more:
"Week In Review: FAST Times At TV High: Tubi Tops 20 Million Viewers, FuboTV Launches Sports FAST" by Alan Wolk at TVRev
"Sinclair And FloSports Poised To Reshape College Sports Content Distribution" by Dr. Steve Dittmore in AthleticDirectorU
(The Entertainment Strategy Guy writes under this pseudonym at his eponymous website. A former exec at a streaming company, he prefers writing to sending emails/attending meetings, so he launched his own website. He's also a product of the Pac 12 system, twice. You can follow him on Twitter or Linked-In for regular thoughts and analysis on the business, strategy and economics of the media and entertainment industry.)