The ultimate goal of every team in every sport is to win a championship.  At the professional level, winning enough games in the regular season to make the playoffs is the first step. As Bill Parcells once said, "You can't win a championship if you don't qualify for the tournament." In college, winning your conference is certainly a reason to celebrate. But for most college basketball programs, this is just the first step in qualifying for the post-season and competing for a national championship.  Making it into the NCAA Tournament is not only an important goal for these teams, but it is also critical for sponsoring brands who hope to maximize their return on investment.
Background – The Value of the NCAA Men's Basketball Tournament
For brands like Under Armour, Nike and Adidas, the exposure value of outfitting intercollegiate sport programs is the primary driver behind their investment. As explained in a previous article, those programs that are the most successful have the most value. Furthermore, in the sport of Men's Basketball, those teams that make the NCAA Tournament provide the greatest return on investment. Over the course of the 2018-19 regular season, college basketball averaged less than 1M television viewers per game across all networks with ESPN broadcasts leading the way with 1.2M viewers/game.  Not surprisingly, the Zion Williamson led Duke Blue Devils averaged 2.14M regular season viewers/game, tops amongst all NCAA teams.  The UNC-Duke game was the most watched game with 4.34M viewers and only five games in total received a viewership of over 3M.
By contrast last year's NCAA tournament averaged 10.5M viewers across all 67 games with the championship game being witnessed by almost 20M people. That's more than 10X and 20X the regular season average. In addition, even the casual sports fan becomes engaged in the tradition of filling out their bracket in office pools and the like. An overabundance of pre-game coverage and post-game highlights make the NCAA Men's Basketball Tournament a true American sports spectacle. It is a space where the major sports apparel brands simply must be involved in order to be considered relevant.
The problem for Under Armour in 2014 is they were very much irrelevant during March Madness, which is when it mattered the most. From a sales perspective the basketball category, and basketball shoes specifically, was a focused growth driver for the brand as a whole.  Consequentially, in addition to a brand exposure problem, UA's lack of presence in the NCAA Tournament also negatively impacted its ability to sell a specific product that was critical to driving sales.
I was one month into my new role managing college sports marketing at UA in March of 2014 when the NCAA Tournament bracket came out. The Sporting News published a version that had apparel brand logos in place of the school's names representing what was being worn by those participating teams. There was a single Under Armour logo on the bracket.  The Sports Business Journal also published a cartoon bracket illustrating Nike's dominance in this space. We were so irrelevant that we weren't even part of the joke. It compelled our CEO to put the bracket on my desk and asked me why we only had one team in the tournament.  I clearly didn't have a good answer at that moment, so I pulled my team together and we went to work on a strategy to fix it.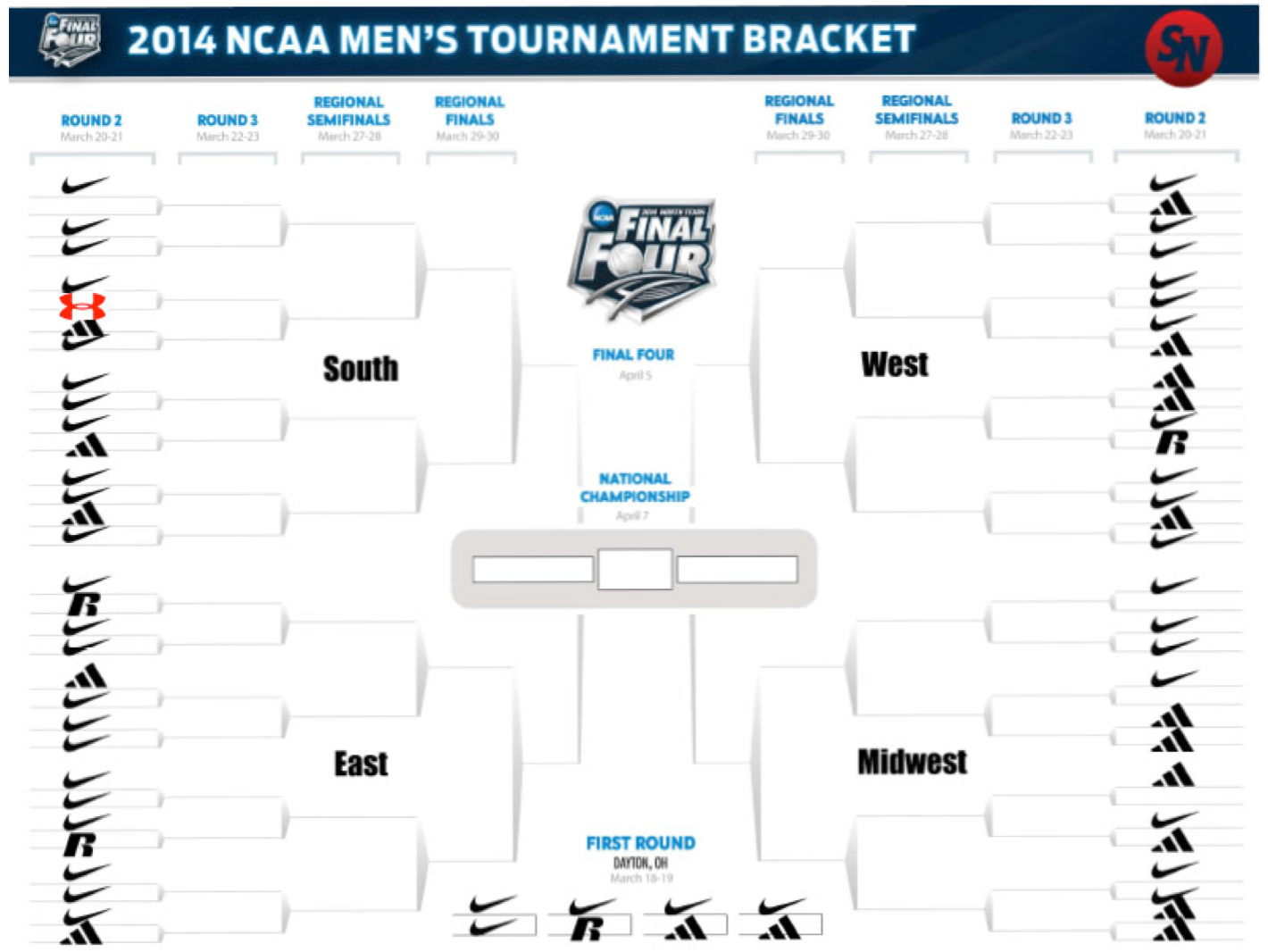 Challenge – Increasing our Exposure in March Madness
The obvious problem was that Under Armour only outfitted 25 out of 351 Division I basketball programs in 2014.  With 68 teams making the tournament annually, as a straight percentage UA could have only expected to get 4-5 teams in.  So in addition to such few partnerships, the teams that they did outfit were also under-performing.  Some strategic planning was clearly needed.
While the simple solution was to sign more schools, the challenge was really two-fold as we; (1) had to identifying which potential new partners would most likely qualify for the tournament, and (2) figure out how we were going to fund them all.  This effort to bulk up our collegiate roster was an exercise in both quantity and quality. Our stated goal was to grow our number of Division I partnerships from 25 to 50 over a 3-year period and increase our number of tournament teams from 1 to 10.
Solution – Strategy & Teamwork
From a marketing perspective, Under Armour was prepared and committed to sign some big name college programs as sports marketing assets to help build its brand.  But as we assessed the list of schools whose partnerships with competitor brands were set to expire, it was clear that targeting only the national level programs was not going to work.  Due to long term contracts, only a limited number of those schools were available in a given year. Some of them may not be a great fit for the brand while others would prove to be impossible to lure away from a competitor. Moreover, signing 25 schools as true marketing assets was going to be cost prohibitive. Marketing budgets for a brand like UA are typically between 10-12% of the total annual gross revenue. After brand and retail marketing campaigns, rights fees for professional athletes across all sports, grass roots efforts and funding our current roster of colleges, signing more than two dozen new schools was simply not going to fit into the marketing budget.
Instead, we tapped into an internal resource – our team sales department.  This group at UA has been an overachieving, underappreciated unit for years.  They annually set records in the team sales categories and their annual sales growth routinely outpaced that of the brand as a whole.  They utilize incentive programs to sell to teams from the youth level through high school and to lower level intercollegiate athletic programs. Not only do they generate revenue, but they put more of our brands shirts and shoes on young athletes across the country. Team sales efforts do not get enough credit for having marketing value. In a perfect world, team sales and team sports marketing would function together in a self-funding model. But for now, the college sports marketing team simply partnered with the team sales group to help increase our overall Division I collegiate roster.
We targeted two types of schools – the major collegiate brands were recruited by our marketing team while the mid-major schools were handled by our team sales group. Our marketing budget was used to fund the acquisition of the major programs based on a multiple of factors such as brand fit, conference affiliation, geography and of course a history of success in the sport of men's basketball. The team sales group focused their efforts on any school that could generate revenue first and foremost – that is their job after all. But they also partnered with us in identifying those mid-major men's basketball programs that had a history of success and a high likelihood of making the NCAA tournament.
It is interesting to note that executive leadership did not embrace this strategy at that time it was implemented. They felt that the marketing team was wasting time on these mid-major programs, even though they were a solid sales play. Big bets on big partners was a saying often used around UA headquarters and we agreed fully with that mindset.  That being said, what many did not understand at the time is that the big partner was the NCAA Tournament as a whole.  In order to make this big bet it required factoring a bunch of smaller partners into the equation. As you will see later, the popularity of this strategy within the walls of UA would ultimately change.
Implementation – Targeting and Signing the Right Schools
In both our sports marketing acquisitions as well as our team sales deals, we relied heavily on our men's basketball success ranking discussed in a previous article. As stated earlier, it is more than simply increasing our roster that we hoped would lead to success. With no guarantees for exposure from year to year, we focused on the schools that had a history of success and thus the best chance to participate in the tournament.
Schools like Cincinnati, Wisconsin, UCLA and Seton Hall were targeted and signed using funds from the overall marketing budget. In the most recent five-year period, those four schools combined for 16 tournament appearances. From a mid-major standpoint, we targeted the schools from one-bid leagues that finished in the top 3 of their conference in our data analysis. As we all know, 32 out of the 68 spots in the tournament are reserved for conference champions. And at the mid-major level, we found that the same 2-3 schools were routinely representing their conference in the tournament each year.
Results
As a result of this strategy and the hard work and teamwork of the college sports marketing team and the team sales group at Under Armour, the goal of 50 schools in 3 years was achieved. That number continues to grow and is now at 82 schools in the 5+ years since the strategy was implemented.  More importantly, the number of Under Armour outfitted schools in the Men's Basketball tournament grew to our goal of 10 teams in just 2 years, 12 teams in year 3 and an amazing 17 teams after just 5 years in this most recent 2018-19 tournament. To further emphasize the impact of this strategy, only 5 of those 17 teams were on the UA roster back in 2014. Of the 53 teams on the current UA roster that compete in one-bid leagues, over half (27) were ranked in the top 3 of their conference in our basketball performance rankings. This was no coincidence – solid data, strategic planning and focused execution were the keys to our success.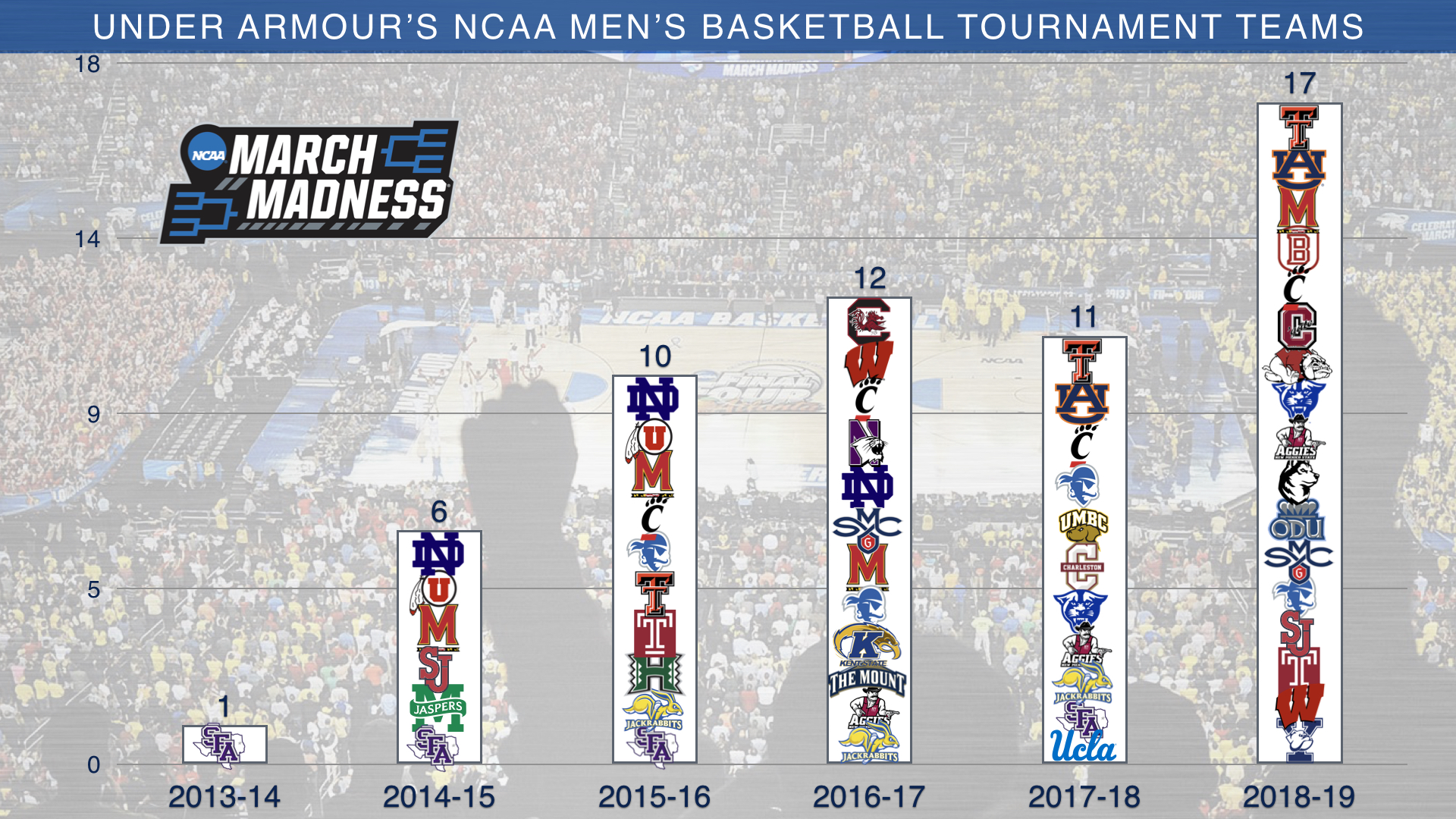 The bracket by brand that the Sporting News produced in 2014 looks a lot different in 2019. Not only did the number of participants grow from 1 to 17, but the more teams participating increased the opportunity for teams to win and advance into the later rounds where the exposure value is even greater.  In 2014 our one team won a game and then was eliminated.  In 2019, two of our 17 teams (Auburn & Texas Tech) made it to the games pinnacle moment – the Final Four – with Texas Tech advancing to the final game. Needless to say, the executive leadership team now felt that this was a pretty good strategy and appropriately spent significant assets celebrating and promoting this accomplishment.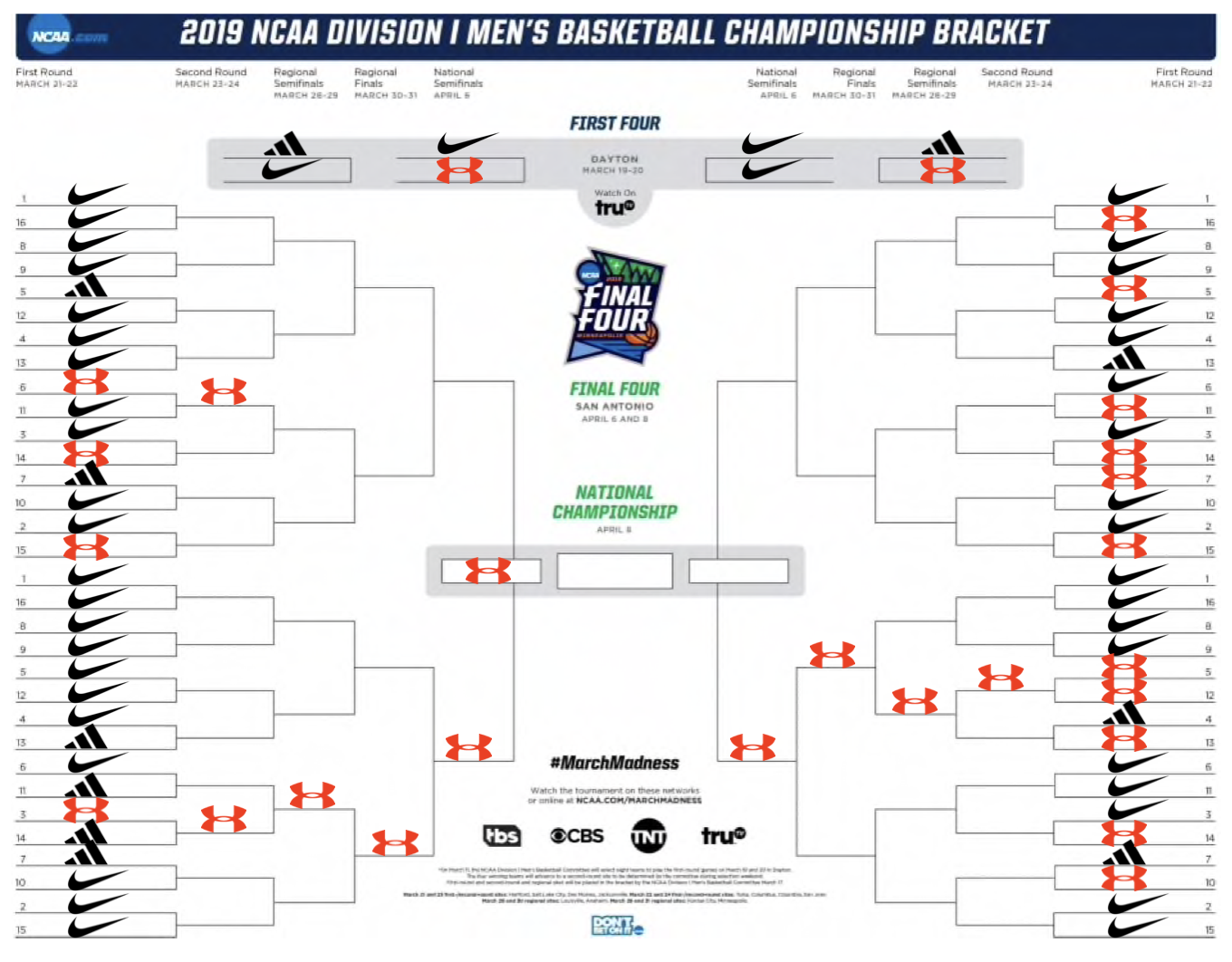 Measuring Success – The Value of this Exposure
While our goal was to increase the number of Under Armour teams in the NCAA Men's Basketball tournament in order to increase brand exposure, we admittedly did not know what value that would give us in the end.  Once our number of teams began to grow after one and two years, we solicited the help of Optimum Sports to attempt to quantify what we had done.
It is an ongoing challenge to calculate ROI for any marketing investment.  A true ROI of our collegiate partnerships — dollars spent = dollars earned — is a task that until recently Under Armour had not dedicated the resources to even attempt to calculate. However, the exposure value was something we thought we could figure out. We worked with Optimum to consider the length of time our brand was visible during the NCAA Tournament broadcasts, the cost of a :30 second ad during same, as well as the number of viewers watching. They developed a standard average value for each round of the tournament and applied it across each game in each year. We realized that the value may vary slightly from game to game and year to year, but we did not feel it was significant enough in this short time frame to sacrifice consistency of comparison.
In 2014 UA's one team that advanced and played a total of two games, earned $2.6M in exposure value for the brand. Five years later, UA's 17 teams made a total of 27 appearances, earning over $40M in exposure value – roughly 4 times the exposure value provided by all of UA's teams combined in the entire regular season.
Summary
The NCAA Tournament has tremendous value for any school and sponsoring brand that participates. For apparel brands, a presence in this event has to be earned by the schools that it chooses to partner with. It was critical for Under Armour to be relevant in this space given the tremendous exposure opportunity that it represents and because the sport of basketball was so important to the future growth of the brand.  Now, UA has a significant platform to showcase and promote their latest and greatest basketball shoe annually in college basketball's pinnacle event.
It was only through the utilization of relevant data, a sound strategy and internal teamwork that we were able to accomplish something so impactful in such a relatively short time-frame. I was proud to be a part of this story and appreciate everyone who helped make it happen – even those who doubted its validity. As it often does, doubt helped fuel our determination and maximize our satisfaction in the accomplishment.
Final Note
It is interesting to keep tabs on the total number of Men's Basketball programs outfitted by each brand and how it has evolved over time. Below is the breakdown of the 351 Division I schools and how the numbers have changed from 2015 to 2017 to 2020. While a lot can be read into these trends, they are not by chance. Each brand has its own unique business strategy that led to these significant changes in their collegiate roster of partnerships.
Click Here For Under Armour's College Basketball and Football Rankings
The views and opinions expressed in this article are those of the authors and do not necessarily reflect those of AthleticDirectorU. Any analysis performed within this article is for example purposes only.