As Bowl Season rolls on, athletic directors across the country are taking a hard look at their seasons and asking themselves if their coach has delivered on expectations. If the answer is "no," then it's time to start crunching the numbers associated with making a change. 
Firing a coach is expensive and bringing on new talent is a serious investment. Look at what happened in been in Baton Rouge this year. LSU AD Scott Woodward decided to part ways with head football coach Ed Ogeron just two years after he brought a CFP title to the Tigers. The parties agreed to a separation that paid Ogeron his full buyout of just under $17 million. Six weeks later LSU announced Brian Kelly as their new head coach. The deal is set to pay Kelly an average annual salary of $9.5 million for ten years. 
LSU is not alone, a recent ESPN report found that FBS schools spent "$533.6 million in dead money [payments to coaches no longer at the school] in the 11-year period from January 1, 2010, to January 31, 2020." The total balloons to $633 million when the buyouts from the last 18 months are added. Administrators must weigh the potential upside of a new hire against the buyout they owe an outgoing coach. Ultimately, they are tasked with supplying return on investment, in the form of on-field success, while maintaining financial responsibility.
The country's largest Power 5 athletic departments aren't the only ones inking eye-popping contracts. As an example, Liberty University, which has only been an FBS member since 2018, recently agreed to an extension with head coach, Hugh Freeze, that will see him earning more than $4 million a year through 2028. Group of 5 schools have paid more than $60 million in buyouts over the last decade.
Is this sustainable? Misty Soles, a professor at Clemson's Department of Athletic Leadership, expressed concerns about the current state of spending in college sports, "It's a dangerous time right now, especially for a lot of smaller athletic departments. Showing you are serious means spending money, often money you don't have."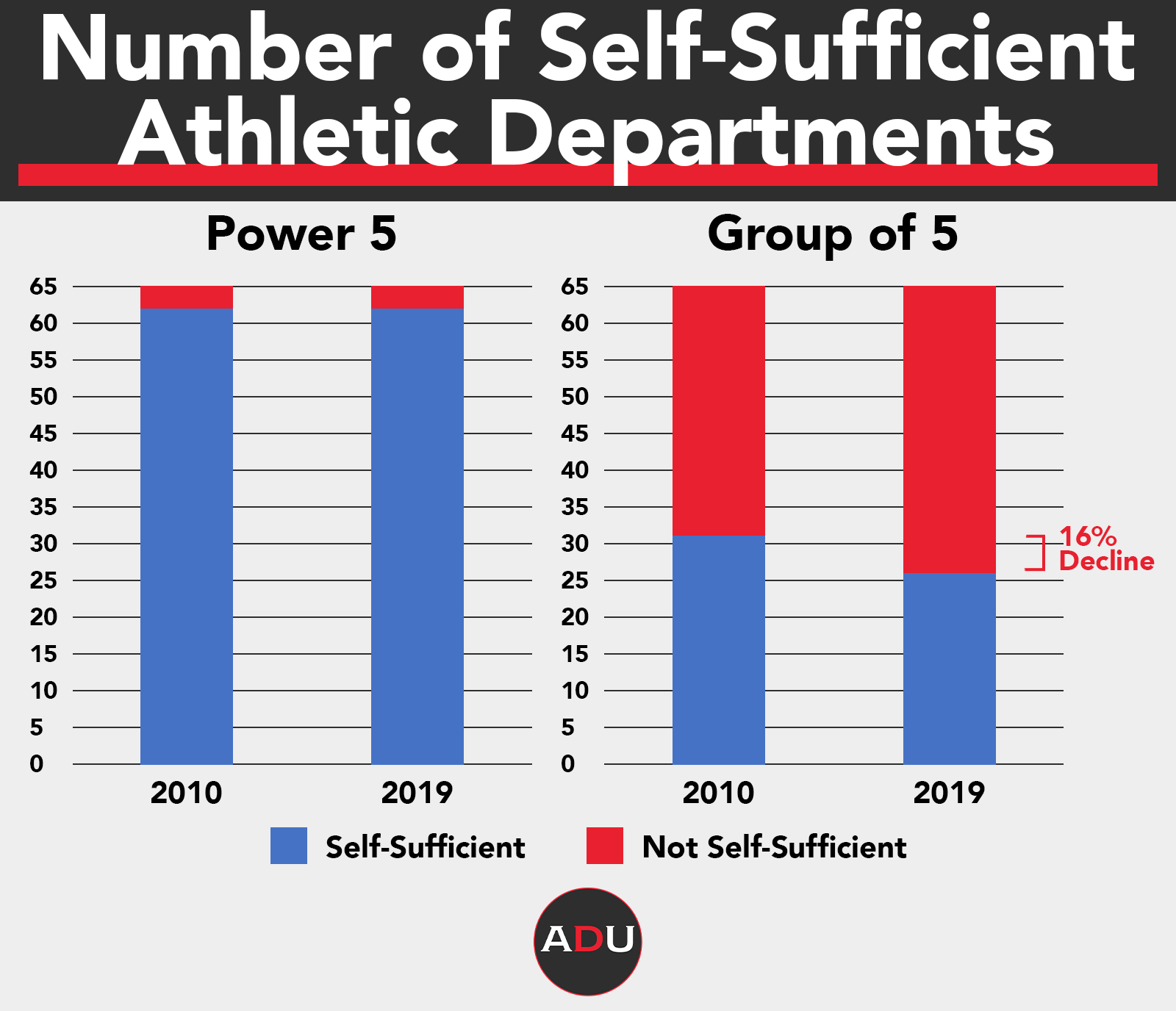 There is however a growing group of innovative AD's and financial experts that believe there is a better way. Together, they're finding success by shifting the paradigm away from 'how we compensate coaches' to the nuanced and individualized 'how do I create value for and incentivize this coach.' 
This approach can be the foundation for ensuring great talents stay put at a school or take a chance on joining a program to build the next G5 Cinderella story. Four of these visionary AD's, Doug Gillin Appalachian State University; Mike Hill UNC-Charlotte; Matt Hogue Coastal Carolina; and Scott McDonald University of Louisiana-Monroe each shared their perspectives as well as key insights on how changing their compensation structures reinforced their culture, connected with their values, and impacted the success of their coaches, programs, and universities.
As is often the case with innovation these leaders saw a need to be addressed in the current moment and an opportunity to set a new direction for the future. That moment presented itself to Scott McDonald at ULM in 2020. A local son that featured on the Warhawks '83 NCAA playoff baseball team, McDonald took the helm in 2019 and for him it was personal. Monroe was his hometown and he always knew it was a special place where he fit. The football team flirted with bowl eligibility in 2019, but a couple of missed field goals in the game of inches left the ULM community wanting more and McDonald decided the team needed a change in leadership.
He knew who fit and he knew that coach would bring type of change the ULM community needed, but the former community bank executive knew one more thing; he couldn't afford him, at least he couldn't in 2015. That game changing coach was Terry Bowden. Yes, the same Terry Bowden that prior to joining the ULM staff was receiving dead money from the struggling department at Akron. The same Terry Bowden that was a perfect 11-0 at Auburn in 1993 and was named coach of the year by pretty much everybody.
"We needed to energize our community, we'd been selling hope, now we have a coach with 175 wins." McDonald said of the decision to bring Bowden to Monroe. But how had the numbers changed in 5 years to make it happen? "The numbers did change, but the individual did as well," McDonald shared, "we don't use cookie cutter contracts, we individualize the contracts by determining what is of highest value to this coach, in this moment and work to create the maximum value. This is done without overleveraging the university's position and limiting financial exposure. Instead we are enhancing the incentive package to reward performance and make the compensation meaningful."
A NEW WAY TO PAY
The ability to create such a contract requires a special type of partner, enter COO and founder Jack Hall and the team at Game Point Capital. This group of passionate sports fans saw an opportunity to support the unique financial situations that sports teams faced by applying their expertise in finance, risk management, and analytics to help create custom solutions for success. Hall explained how he and the team Game Point team can increase buying power for a school while eliminating risk. Echoing what we heard from the AD's, "Our goal is to build each plan for the individual meeting the specific needs of the school and the coach. We ask a lot of questions and work to create an incentive plan that clearly defines excellence, is progressive, and transparent to all parties." 
This incentive structure brings NCAA coaching salaries structure more in-line with leaders in the business world, where, according to Salary.com "Only about 20 percent of a CEO's pay is base salary; the rest is made up of incentives based on the company's performance." 
It seems to be working. "We've had success," Hogue said, "Our baseball team won the College World Series in 2016. Our women's golf team won the Sun Belt Championship last season. When it comes to retaining those coaches, you have to get creative with finances. Continuity means a lot to me and the rest of the university. We pride ourselves on taking an entrepreneurial approach." 
Instead of loading up on guaranteed money, ADs are striking a balance between competitive base salaries combined with lucrative bonus packages. Then, they're purchasing insurance to cover the potential payments. This strategy allows schools to offer coaches substantial financial upside, while simultaneously limiting the endless increases in guaranteed pay and associated buyouts. 
A key aspect of this approach is schools' ability to insure the bonus packages. Game Point's Hall explained how the process works and benefits their clients, "Bonus insurance works just like any other insurance policy. Athletic departments pay an upfront premium based on the odds of teams achieving the specific performance milestones. When teams hit their targets, we cover the bonus payments."
"This means that schools are able to offer much larger bonus packages than they'd otherwise be able to afford because they don't have to carry the risk on their balance sheets."
Hall provided a simplified example of an insured bonus plan to illustrate the concept in the above breakdown. Option #2 allows the coach to earn $300,000 more, while lowering the athletic department's annual fixed cost by $60,000 and reducing its buyout liability by $500,000.
According to Hall, "Some ADs are even looping in donors to fund the insurance premiums to support bigger bonuses. They'll go to a donor and say, 'If you chip in $20,000, we can offer our softball coach an additional $200,000 bonus for winning the conference championship.' Donors love it because they're contributing to a tangible goal for the program and ADs love it because they can attract and retain their coaches." Hall added. "We're not saying coaches should be paid less, but they should be paid differently." 
Hill has implemented this strategy at Charlotte. After a successful 2019 campaign for the football program, first-year head coach Will Healy's name was in the mix for several Power 5 jobs and Hill was looking for options to retain him. Recognizing that it would be tough to compete on base salary alone, Charlotte purchased an insurance policy to cover a $500,000 bonus for winning 21 games over three seasons. "We couldn't pay $1.3 million in salary," Hill said, "but we could put $60,000 towards a big bonus." Healy decided to stay at Charlotte.
Hogue has also deployed a performance-driven pay model at Coastal. "We insure our coaches' incentives across all sports," he said. "This technique allows us to pay more and we look at all possible angles to create value for our coaches." 
AN UNDERDOG MENTALITY
Incentive focused contracts have not just helped the financial situations at these schools, but they have played a large role in transitioning schools from underdogs with a lot of potential to schools realizing their potential- NOW. For Hill, finding coaches who reflect Charlotte's culture is a priority. "We're trying to prove ourselves and recalibrate our expectations of what we can be. It's the challenge of being a challenger and incentives are part of realizing that potential. High expectations can create pressure or inspire." Hill is searching for coaches who will be inspired by high expectations and lead their athletes to achieve them.      
This is not just a football and basketball conversation this approach creates upside for all coaches across all sports. Gillin shared a similar outlook: "At Appalachian State, we're at the top of our league and incentives are a major driver of that. We want to compensate success [in all sports]." Their focus on success (fiscally and on field) has been the driving force to be fully funded in all sports by 2023.
Like most G5 schools, the majority of Coastal's funding comes from institutional support and student fees which is a stark contrast to the P5 schools that are heavily funded by media rights.  Hogue noted the importance of the administrators and coaches being on the same page as the university community when it comes to standards and metrics of success. "We (undercapitalized schools) bear a different, more personal financial responsibility to our community." As he put it, "We must find a coach that understands our reality and will do all they can within that reality. The first goal for all of our programs is to make the postseason. Then, we go fight!"
McDonald plans to include insured bonus packages for other coaches as their contracts come up for renewal. "Enhancing the incentives to reward performance makes the compensation meaningful. Incentives give coaches ownership, and I want to find coaches that buy in, so I don't end up paying buyouts." 
Ultimately, as the next $100 million contract or $20 million buyout for a coach makes headlines, in will not deter these innovative Group of 5 ADs. There is that old quote concerning the size of the dog in the fight and the size of the fight in the dog. One has to believe these AD's have decided to find a way to increase the level of fight through a culture focused around rewarding success. Hogue emphasized this mentality, saying, "We see ourselves as the underdogs." 
…And who doesn't love a good underdog story?
Craig Vanderoef, MS Clemson | Soundrunning.run

До 100 000 рублей в виде онлайн займа на ресурсе
credit-n.ru
без залога и поручителей, на карту онлайн.