ESPN has certainly grabbed its share of headlines in the past few weeks, from the announcement eliminating approximately 100 jobs, to last week's upfront presentation announcing plans for a greatly revamped daily lineup of shows. No shortage of analysis exists on what precipitated those decisions – declining subscriber numbers, high rights fees, being pro-LGBT, and being too liberal.
And while all those things may have contributed to ESPN's decisions, I think the underlying reason ESPN is struggling in today's technological age is this: there is limited value in devoting resources to information and facts which consumers have already seen on team websites, Instagram feeds, and/or Twitter.
ESPN recognizes this, and has decided to put its resources into live content and analysis. In so doing, ESPN is moving away from traditional journalism, and toward "personality-driven" content. In many ways, this is actually the premise upon which the company was founded – to be the Entertainment and Sports Programming Network.
Quoting ESPN anchor Rob King, Yahoo's Daniel Roberts wrote, "Still, for some sports fans, "personality-driven" sounds like a dirty phrase. As King correctly notes, it evokes opinions, perhaps at the expense of news and information. In the roiling realm of sports media, where a pithy, aggregated post about an athlete's controversial comment is a commodity every website offers, many fans have noticed the rise of so-called "hot take" sports journalism."
This shift away from information and facts is potentially good news for athletic departments, particularly those in a conference with an ESPN rights agreement. More on that in a bit, but first I think it is important to understand how we arrived to the point where information and facts in sports have little to no value.
In 1918, Supreme Court Justice Mahlon Pitney, writing the majority opinion in International News Service v. Associated Press, stated a news "article, as a literary production, is the subject of copyright . . . . But the news element—the information respecting current events contained in the literary production—is not the creation of the writer, but is a report of matters that ordinarily are publici juris; it is the history of the day." The Court also recognized a limited property right for the news organization as it had expended human and financial resources in obtaining the information. But, the Court, nearly a century ago, noted the "history of the day" was not copyrightable.
This was reinforced in the NBA v. Motorola, Inc. (1996) case. The court relied heavily on the International News Service ruling and the lack of case law following the Copyright Act of 1976, when making its determination about whether the defendant was infringing on the NBA's copyright by transmitting score updates and statistics from NBA games via subscription pagers. Because Motorola transmitted only facts, and not descriptions or expressions of games, the court dismissed the misappropriation claim. Judge Ralph K. Winter wrote, "We believe that the lack of caselaw is attributable to a general understanding that athletic events were, and are, uncopyrightable."
There is no question the broadcast interpretation and representation of a sporting event is copyrightable. Owning broadcast rights is highly coveted, highly valuable programming. ESPN is not going to exit the live events business. Sure, it may be more selective in the future by, perhaps, not re-upping its MLB agreement when it expires in 2021. But college programming seems safe, as evidenced by long-term agreements with the SEC Network, ACC Network, and College Football Playoff, among others.
Because facts of an event are not copyrightable, there is no economic value in pursuing them, or reporting on them several times per day. Since those facts are widely available through multiple sources for free, there is nothing to be gained by trying to monetize them.
Not everyone subscribes to this thesis. In a recent Recode Media podcast, The Information CEO Jessica Lessin bemoaned "a dearth of original reporting" and argued for news outlets to charge for the information and facts it publishes, rather than give it away for free. Similarly, James Mirtle opined for the Chicago-focused The Athletic that, "Free content online, of varying levels of quality, has hurt job security for almost everyone in this business."
It appears, however, that free content for fans is here to stay. Consider how a typical sports fan, say, me, consumes information and facts about his or her favorite team. As a lifelong Los Angeles Dodgers fan born in Redondo Beach, I consume a lot of content about the team on a daily basis, and none of it originates from ESPN, especially now that ESPN has laid off Doug Padilla. On Twitter, I follow Dodgers beat writers who break news from team press briefings each afternoon. I read SBNation's Dodgers site, as well as independent blog sites like Dodgers Digest. I follow the Dodgers official Twitter feed, and read its blog, Dodger Insider, along with posts from the lead writer for Dodgers.com. Often, the most interesting and original content comes from Alanna Rizzo, the reporter for rightsholder SportsNetLA, who actively uses the Instagram stories function. I don't pay for any of that news and information (I do, however, pay, for the MLB Extra Innings package because live sports has value).
While consumers need to be cognizant of Mirtle's comment regarding "varying levels of quality" of free content, consumers don't need the media's traditional gatekeeping function to tell them what content to think about. Individual consumers can make decisions about what content adds value and what content does not.
And this is where we find ESPN today – competing against team sites, independent sites, other rightsholders, and more. As a result, ESPN is recalibrating its business away from things which have no economic value – scores, highlights, information and facts – and toward analysis, interviews, and takes. While this may challenge the current status quo for how we conceive ESPN's role as the worldwide leader in sports, it represents an opportunity for athletic departments to play a greater role in content creation.
Athletic departments have already become the "go-to" source for information and facts about their teams. Items such as game stories, press conference recaps, and practice reports are increasingly the domain of the athletic department. By ceding this role to universities, ESPN is allowing, and perhaps hoping, the universities will expand on the amount of content universities produce. Specifically, I foresee at least three ways athletic departments can "feed" any void created by ESPN's revised approach.
First, I anticipate a heavy emphasis of content focused on properties with which ESPN has a rights arrangement. ESPN will deny this, as anchor Bob Ley did to Sports Illustrated's Richard Deitsch in a recent podcast, noting that the network operates independent editorial and programming departments. But let's consider the practical side of things. If ESPN is already spending resources on covering the College Football Playoff, doesn't it make sense for the network to devote additional programming to the subject? Scott Van Pelt's show live from the Rose Bowl seems like a no-brainer.
By devoting resources to this remote broadcast and prioritizing this event over other sports news of the day, ESPN is setting the national agenda about sports, teams, and athletes the public should care about. I think it only makes sense for them to dedicate more time to those sports with which it has an economic investment. The network's decision to shutter Baseball Tonight and devote 30 minutes of airtime to simulcast MLB Network's Intentional Talk suggests a movement away from MLB programming. Meanwhile, the revamped daily lineup effective Jan. 2, 2018, includes 90 minutes per day of NFL Live and 30 minutes of College Football Live.
If your university is lucky enough to have entered into a rights contract with ESPN, I see an opportunity to aid ESPN in its agenda-setting role by supplying interesting content and story ideas which fit naturally into ESPN's existing business partnerships.
Second, I see ESPN's emphasis on personality-driven content as an opportunity for athletic departments to gain exposure for personality-driven coaches. We could see a lot more of colorful interviewees like Jim Harbaugh, Bret Bielema, and Mike Gundy this fall as ESPN staff seek to fill nearly eight hours of daytime programming. While I am sensitive to the idea that coaches may not be keen on spending 15 minutes a week talking to Mike Greenberg, think of the recruiting advantages present here.
Consider the advantages Harbaugh has when he enters the home of prospective midwest recruit who lives on a farm. When the recruit talks about chores and milking cows, Harbaugh can say, "Let me tell you about the time I delivered a baby calf." Having a coach not afraid to show this personal side may be the difference in landing that four-star recruit especially when it is backed up by actual stories online.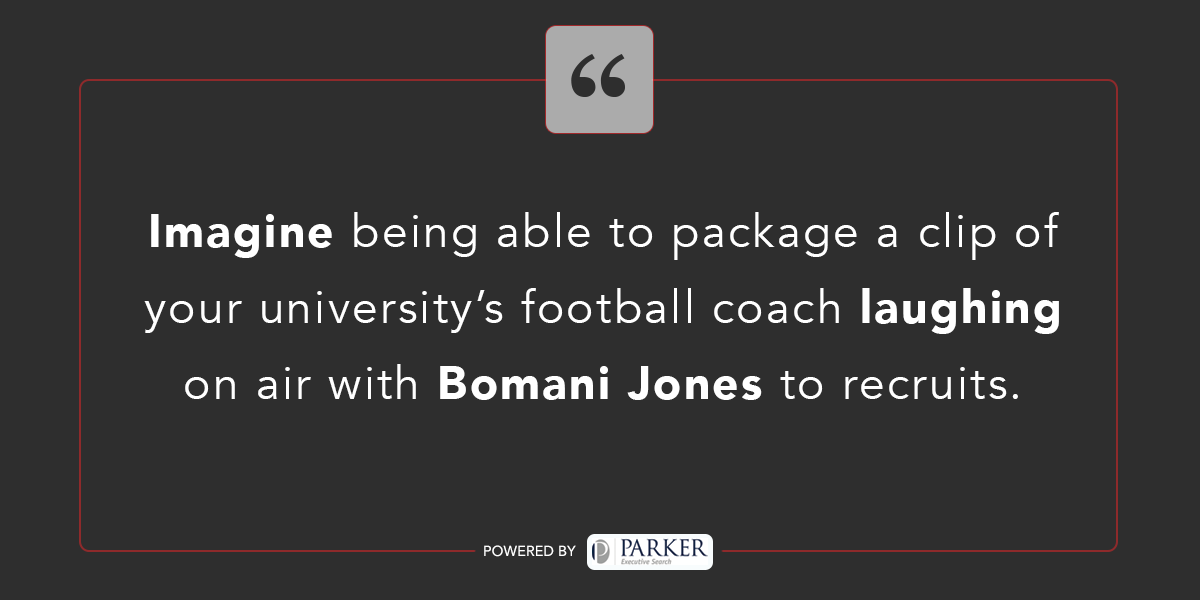 As more football programs hire their own dedicated new media director to work exclusively with the football staff, there will be increased competition to create content which appeals to recruits. Imagine being able to package a clip of your university's football coach laughing on air with Bonmani Jones to recruits. This may require programs to invest in more media training for coaches, particularly for those coaches who shun the spotlight. But in the era of coach-as-celebrity, I would argue athletic departments should be doing this anyway.
Third, athletic departments should follow ESPN's lead and emphasize to their sports information or media relations staff the creation of personality-driven storytelling. SIDs have long engaged in the tactical news and information role, and this is not to suggest that should end. There still exists a need for that. Indeed, athletic departments should, if they don't already, view themselves as THE source for information and facts about their programs.
However, rather than dedicating resources to developing 50+ pages of game notes each week, an SID's time could be better spent on developing compelling narratives about athletes and coaches which personalize them and allow fans an opportunity to develop a stronger connection with the brand. These narratives can be pitched to local media thirsty for their own unique content. Or, they can be shared directly to the university's fans on university platforms. Coaches may need to be convinced this is a worthwhile use of an athlete's time, but if positioned as part of the competitive recruiting process, I would think most coaches would readily agree.
Here at Arkansas, wide receiver Jared Cornelius gained a lot of attention throughout last year's football season not just for his on-field performance, but also his skills as a DJ. Yes, the story was told multiple times during telecasts, but that is the point. Each week brings new talent and new production staff to campus. For that crew, it is the first time they have told the story, even if the TV audience has already heard it.
This may also necessitate a reconceptualization of the SID's role on campus – is it tactical or strategic, or can it be both? In a piece for AthleticDirectorU last December, I raised the question of how athletic directors perceive the role of their top communications person – is it tactical or is it strategic? Empirical research from Ruihley, Pratt and Carpenter (2016) into the question seems to reinforce the idea that communications personnel serve largely a traditional, technical role within athletic departments. This finding fell in line with previous research from Ruihley and Fall (2009) in which athletic directors suggested working with coaches and athletes and maintaining media contacts as the top tasks in which they had confidence their public relations' officer ability to perform.
The real story here is the recognition by ESPN of the rapidly changing world of sport media content delivery and consumption. Give credit to the network for not accepting the status quo, instead attempting to reassert itself as the worldwide leader in sports programming. Perhaps it will work, or perhaps it won't.
This isn't a case where information and facts are completely dead. I'm confident someone out there wants to know when the last time a coach went for it on 4th-and-7 from his team's 43-yard-line, down by four in the fourth quarter. But, what's more compelling, and thus lends itself to personality-driven content? That statistic, or the fact that Ed Orgeron drinks 8-10 energy drinks a day?