Team roster issues are central to collegiate sport teams and are prominently featured within media coverage and social media conversations. In fact, there may not be a more readily discussed topic among collegiate sports fans – except maybe for the outcomes of games. Nowhere is this more evident than within collegiate football, which yields frequent discussions of recruiting and transfer websites (e.g., Rivals, 247, ESPN), commitment announcements, signing day festivities (e.g., Michigan's annual "Signing of the Stars"), and depth chart updates. Simply put, sporting publics are highly invested in these team management issues.
Team membership officially begins when student-athletes sign a grant-in-aid, which pledges up to four years of eligibility to their academic institutions. However, student-athletes may conclude their team membership prior to exhausting their eligibility – a concept that a team of researchers from Clemson University, Texas Tech University, and Kennesaw State University recently termed early exit. Early exits may take the form of retirement, transfer, or declaration for a professional league. Such departures continue to become increasingly common within collegiate football (and most other sports), with early enrollees in the NFL draft increasing 141% since 2005 and graduate transfers increasing 1,141% from 2011-2017. With recent rule changes, such as the institution of the nationalized transfer database and four-game redshirt rule, it is reasonable to expect that these trends will continue to occur.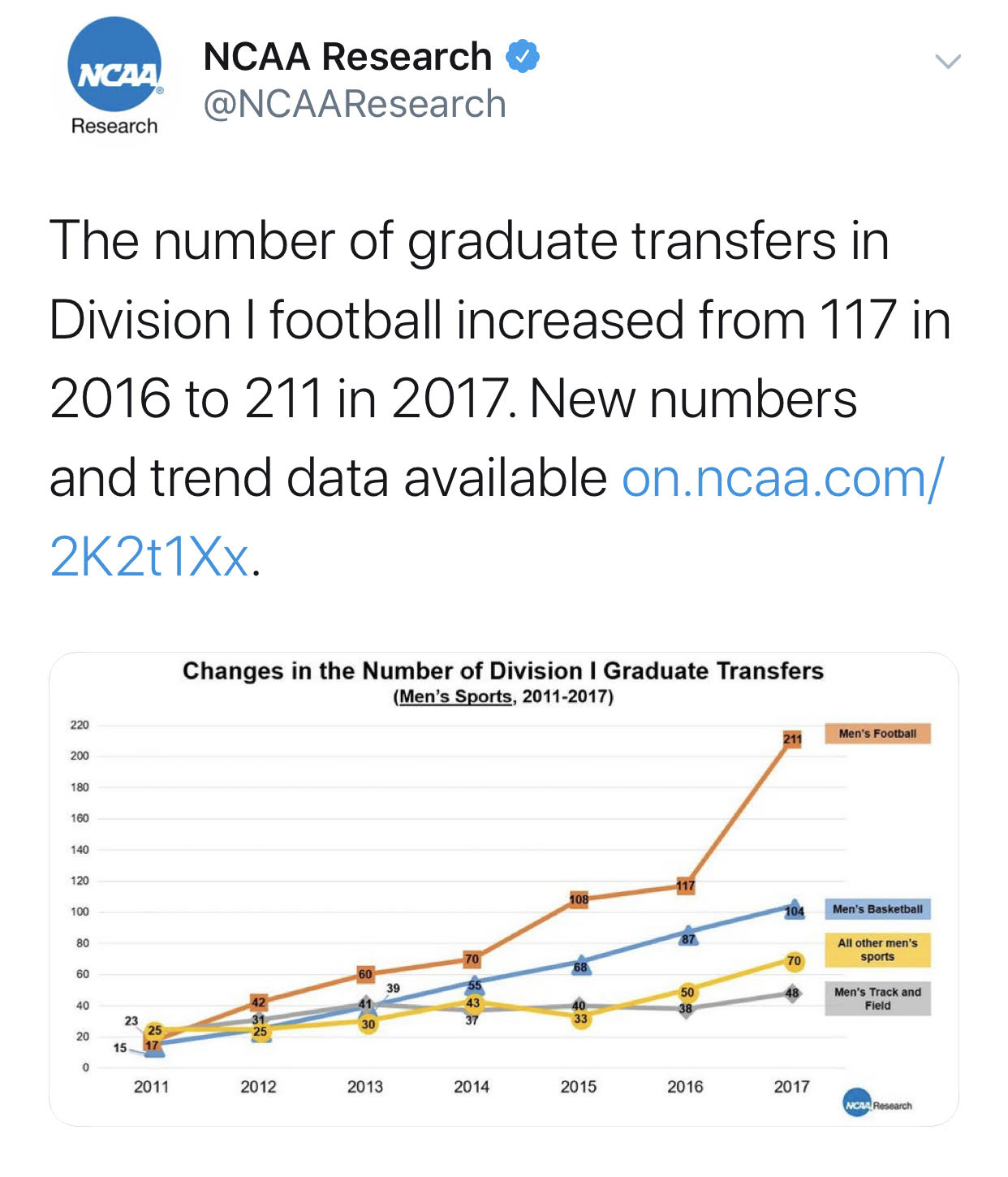 In a recently published article in Communication & Sport, this research team examined social media conversations around the early exits of six Power-Five football players prior to the mid-point of the 2018 football season. The authors of the study argue that college football fans are continually monitoring for, and evaluating, information relevant to their teams (e.g., coaching changes, award announcements, facilities upgrades, or rival's misfortunes). They evaluate this information in a similar way that they process wins or losses and respond in a way that protects or enhances their own egos. Most often they will emphasize connections and events that reflect favorably upon them (e.g.., a process known as basking in reflected glory) or diminish those that present ego threats or are unpleasant (e.g., a process known as cutting off reflected failure).   
The researchers evaluated over 2,000 direct social media responses to student-athletes' public announcements of their early exits. The findings revealed four common responses to student-athletes exit announcements and identified the role of fandom in stakeholders' responses. The majority of public comments were supportive of student-athletes' decisions, especially those from individuals who publicly expressed fandom for the former team of the student-athlete. These messages conveyed good will, reinforced the continued connections with the university, and defended student-athletes from detractors. These messages also included comments that justified the student-athlete's decision to exit by attributing blame to coaches (e.g., not using the player properly) or suggesting that the player was a poor fit for the coach's scheme. Others, especially those who were lower identified fans, discussed the significance of the student-athlete's decision by providing career commentary (e.g., noting the significance of the player's accomplishments and contributions to the program) and shared statements of loss (e.g., talking about how much a player would be missed). 
A less common response came from those who expressed strong disagreement with student-athletes' decisions, including a concerning portion of disparaging and vitriolic attacks on student-athletes' character, abilities, and humanity. Finally, some messages sought to capitalize on the announcements, especially in comments from fans of other teams, by recruiting student-athletes to another team or seeking social resources (e.g., private messages that shared links of graphics fans created for the student-athlete or endorsements of the school they were a fan of, such as talking about the team's need at the same position which the student-athlete played). 
These findings have utility for those in athletic management and student-athletes who are negotiating the process of early exit. Below are some tips to consider throughout the process of creating an early exit announcement and managing its aftermath.  
Tip 1 ~ Accept that conversation about a student-athletes' early exit cannot be prevented. Co-workers are the primary stakeholders who discuss departures within traditional workplaces and organizations. However, collegiate athletics is subject to sports media's attempts to create engaging or controversial content, as well as the interests of passionate and engaged fans who seek team-related information. In other words, team rosters are closely monitored and eventually all exits will become topics of public conversations. For instance, even in the middle of the 2018 season, stakeholders were readily discussing exits of student-athletes – most of whom were not key contributors to their teams' efforts. As such, this issue is about the strategic communication of organizational information more than it is about the management of access. 
Tip 2 ~ Coordinate with student-athletes in the creation of a unified message/narrative about their exit. Utilizing a direct approach that announces the exit can help reduce speculation about student-athletes' exits. As fans, media, and other stakeholders speculate about the reason for student-athletes departing, a unified, direct statement can help offset competing narratives and prevent misinformation from circulating. While organizational circumstances may vary, it may be beneficial for these messages to include a statement that the head coach endorses the student-athlete's decision and wishes him/her well in his/her future endeavors.
Tip 3 ~ Use messaging strategies that soften stakeholders' ego threats. The announcement of an early exit may be a source of ego threats for fans of particular teams; in essence, it marks a student-athlete's rejection of a shared group identity. Announcements that use messaging strategies that minimize these threats decrease potential negative reactions from the public. Some potential means of accomplishing these aims are to express affection for a university, location, or fan base. Such sentiments may offset feelings of inadequacy or rejection that an early exit, especially a transfer, may inspire. 
Tip 4 ~ Rationalize student-athletes' decisions to engage in early exit. The announcement of an exit via a written and shared statement can be the first public indication of a departure and may serve as a starting point for subsequent discourse among media and fans. Part of shaping the public narrative and facilitating the acceptance of an exit among external stakeholders is to rationalize its purpose. Such explanations allow for the understanding of why a departure occurs and may hinder strong, antisocial reactions. Appropriate and effective explanations include how the decision may contribute to the achievement of long-term goals (e.g., focusing on the NFL draft), avoidance of unpleasant realities (e.g., seeking more playing time), or attainment of unique opportunities (e.g., being closer to home). 
Tip 5 ~ Focus on the future. It may be beneficial for an institution's announcements to have a future focused approach. While the majority of reactions from fans to early exit announcements are supportive, these individuals also downplay the significance of such loses. In other words, although fans may express positive regard to student-athletes are leaving; they also downplay the significance of such departures. As such, announcements may provide an opportunity to reunify sporting publics. 
Tip 6 ~ Utilize notions of fan identity to offset antisocial reactions. While it is impossible to prevent negative reactions on social media, messaging strategies can be used that help mitigate hateful and vitriolic responses. For example, utilizing the shared group identity of fans and stakeholders, messages can be expressed that indicate antisocial and hostile behavior is not consistent with the values of the organization, its fans, and stakeholders (e.g., True fans do not engage in such behavior). Such messaging can empower some fans and stakeholders to manage social conversations and address those who are posting harmful messages. 
Tip 7 ~ Provide social and psychological resources to departing student-athletes. Although the majority of observed responses were supportive, there was a notable minority of comments that were hostile and attacked student-athletes. The infrequency of these messages should not justify disregarding potential detrimental effects. Receiving threats and disparaging messages often results in decreases in desirable emotion states and overall wellbeing. As such, announcing an early exit may render student-athletes susceptible to stress, self-doubt, anxiety, or depression. Provided student-athletes are still enrolled at their universities in the immediate aftermath of their exit announcements (e.g., finishing a semester before transferring), there is an obligation to ensure their wellbeing with institutional resources. University counseling services or access to a sport psychologist may help student-athletes cope with and overcome antisocial messages. 
Early exits are likely to continue to be a standard part of intercollegiate athletics. Early exits influence athletic department personnel, coaches, student-athletes, fans, stakeholders, and the media. As such, these announcements should not be left to chance, and should incorporate coordinated, strategic approaches such as those strategies mentioned in this article. For example, most fans are generally supportive of student-athlete's exiting under NCAA guidelines, Thus, athletic department personnel may need to be cautious in public commentary about student-athletes who exit, to avoid encouraging negative interactions between the exiting athlete and the public.
Although there are a variety of reasons that student-athletes exit, it may be helpful for athletic departments to evaluate their culture, organizational turnover, and other factors that may be prompting student-athletes to depart.
Based on:
Cranmer, G. A., Cassilo, D., Sanderson, J., & Troutman, B. (2019). Social Media Discourse About Division-I Football Players' Early Exit Announcements: The Role of Expressed Fandom. Communication & Sport.