We reviewed all forms of compensation for the athletic directors at National Collegiate Athletic Association member institutions of the Football Bowl Subdivision ("FBS"). We analyzed these employment agreements and related documents (the, "Contracts"), which were obtained in partnership with USAToday, and created a sortable database of primary compensation (click here to view the FBS Athletic Director Database, the "Database").
Unlike the market for college coaches, there is not a traditional hiring period for college athletic directors. Consequently, the awarding, termination and administration of their Contracts, including adjustments to the duration and compensation prescribed by those Contracts, occurs throughout the calendar year.  Thus, total compensation for college athletic directors is typically more difficult to normalize at any given time relative to compensation for college coaches. An independent methodology (described in the Database) was consistently applied to the analysis of each Contract in order to normalize the economic data derived therefrom and enhance its comparative utility.
From the foregoing analysis, we respectfully submit . . .
Ten Economic, Competitive and Demographic Takeaways and a simple observation:
1. Average Total Compensation
A. By Division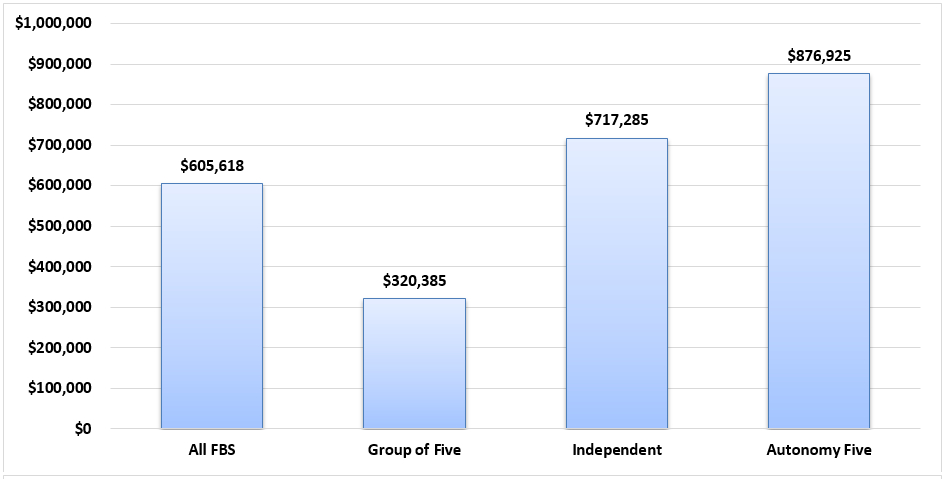 B. By Conference (Autonomy 5)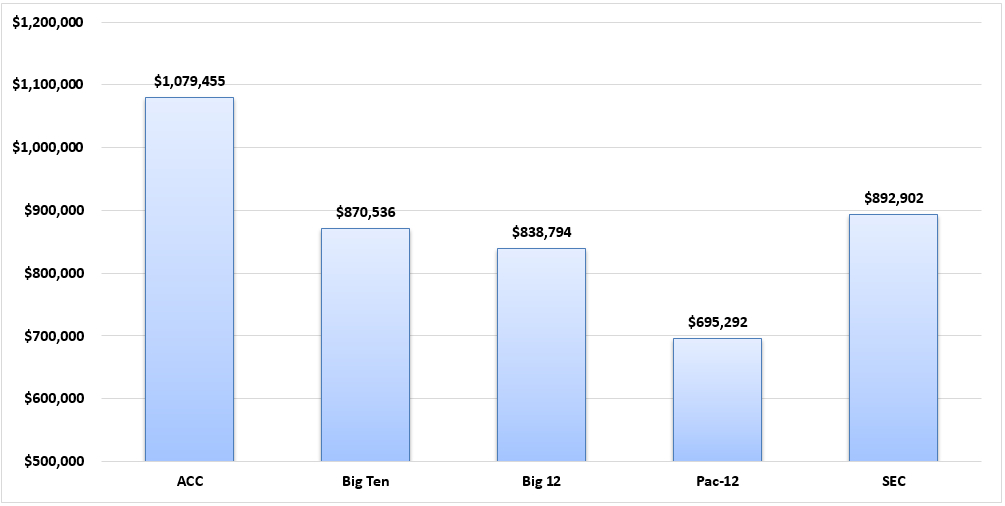 2. Total Compensation Relative to School's Athletic Department Revenue and Expense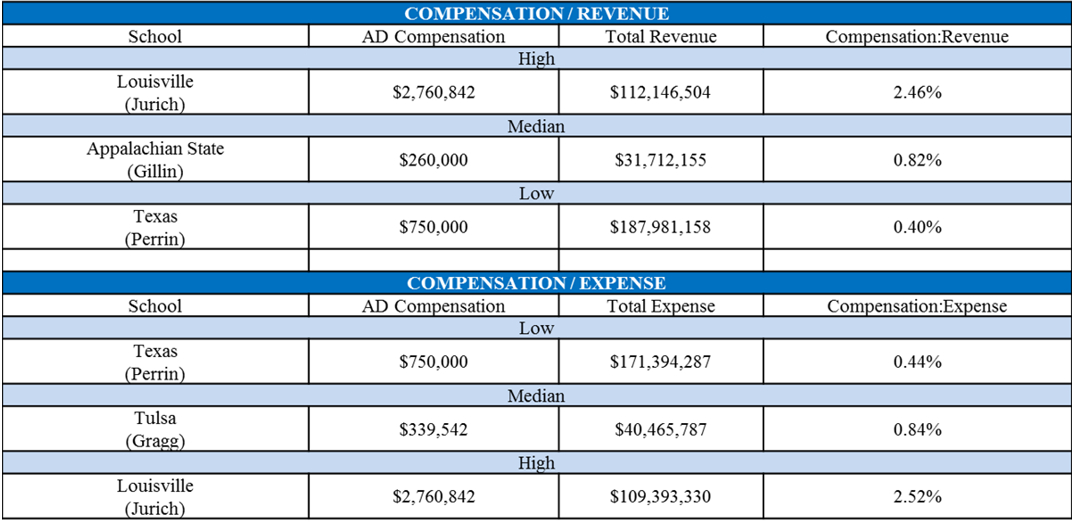 3. Increase in Compensation within the past 5 years
Over the last five years, average compensation across the FBS has increased by 31.90%.  Among athletic directors who have maintained the same position for the last five years, compensation has increased 25.66% on average.  The largest increase is Kirby Hocutt (97.18%).  David Williams' compensation has decreased by 73.82% over that same period, consistent with the multi-talented and multi-tasked athletic director's more focused role for Vanderbilt.
4. Bonus Compensation 
The average bonus compensation available to an FBS athletic director is $134,409.  Perhaps surprisingly, Autonomy 5 athletic directors have more opportunity to earn bonuses than their peers at Group of 5 schools, to wit: the average maximum bonus for an Autonomy 5 athletic director is 24.83% of average total compensation, whereas Group of Five athletic director bonuses represent 23.10% of average total compensation.
34% of all contracts reviewed included bonus opportunities for fundraising.  Notably, 83% of the contracts providing for such bonuses were executed in the last five years. Notwithstanding the frequency of such bonuses, their relative recency is reflected in those provisions' untested terms.  For example, a fairly standard fundraising bonus provision reads as follows:   "Athletic Director will receive a bonus of $10,000 if the athletics department's annual fundraising goals are met or exceeded."  This may be an acceptable provision if the goals and standards applicable to their achievement are well considered and expressly stated  (e.g., pledges booked or cash received, within the contract year, calendar year or university's fiscal year, subject to collection risk or guaranteed, etc.). A more definitive provision might state that: "Athletic Director shall earn supplemental compensation in the amount of 5% of her then current Base Salary if actual in-cash donations received by the University's Department of Intercollegiate Athletics reach the following levels (described below) at the conclusion of a Contract year, as defined herein. Payment of this Fundraising Bonus shall be received within 60 days of the end of the applicable Contract Year and requires the athletic director's continuous employment during the applicable Contract Year and payment window."
No bonus provisions examined based on a balanced budget or fiscal stewardship contemplate, let alone expressly account for, industry disruptions such as augmenting athletic grants in aid to cover the full cost of attendance or any number of virtually unpredictable outcomes that are the result or residue of pending or potential litigation (e.g., O'Bannon v. NCAA;  Alston v. NCAA,  et. al.; Spielman v. Ohio State., et. al.,) legislation (e.g., the elimination of two-a-day football practices likely resulting in the earlier start of training camp and the addition of a 10th  assistant football coach) and competitive trends  (e.g., the seemingly boundless positions created for off-field football analysts and operations staff).
5. Term, Tenure & Age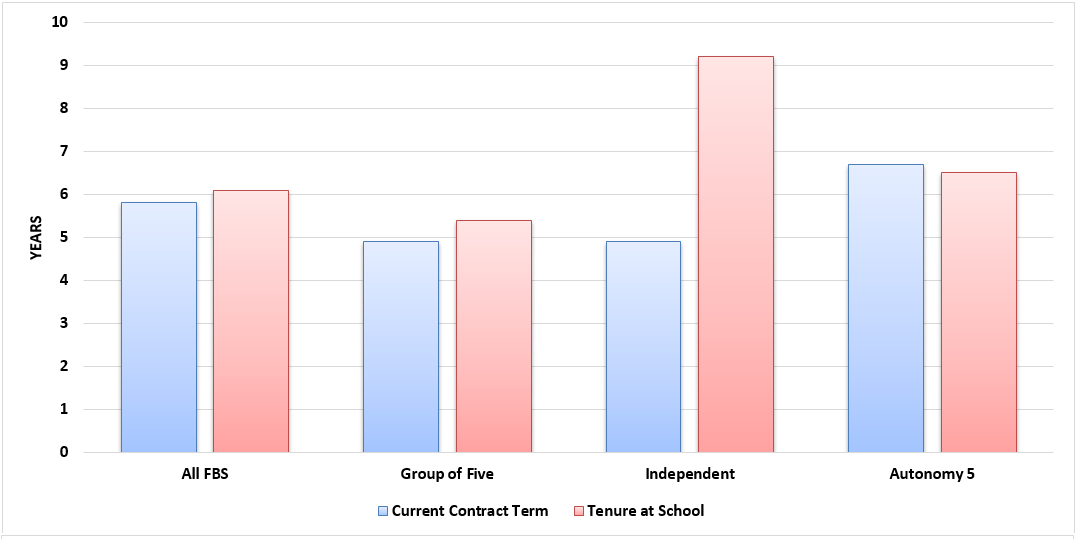 The average age of an FBS athletic director is 54 years old.  Not surprisingly, Group of Five athletic directors are a bit younger, on average (51) than their Autonomy 5 counterparts (56).  Similarly, Group of Five athletic directors get hired at a younger age (46), on average, than their Autonomy 5 counterparts (50).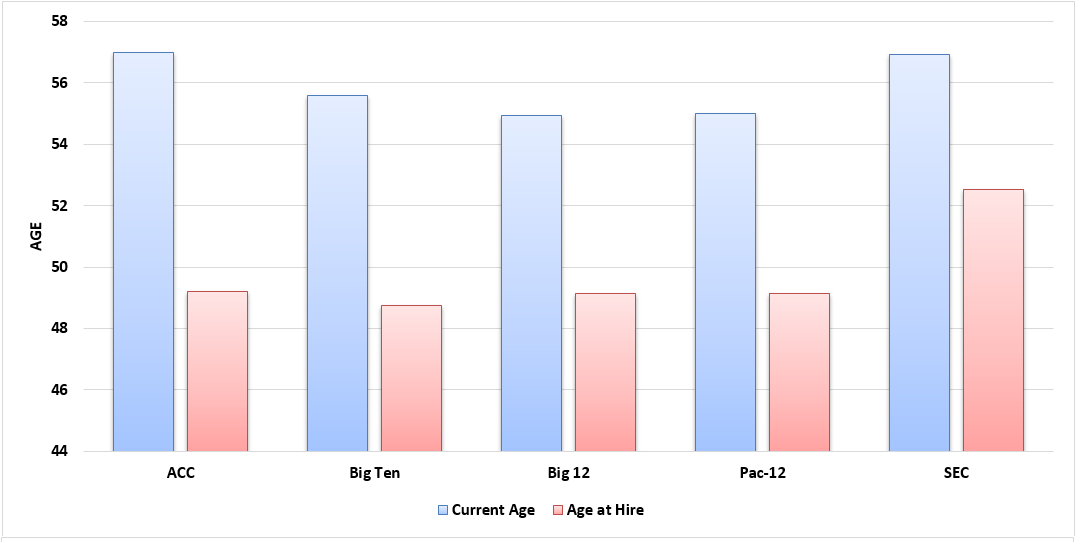 6. AD Compensation relative to Coach Compensation (Autonomy 5 FB, MBB & WBB Head Coaches)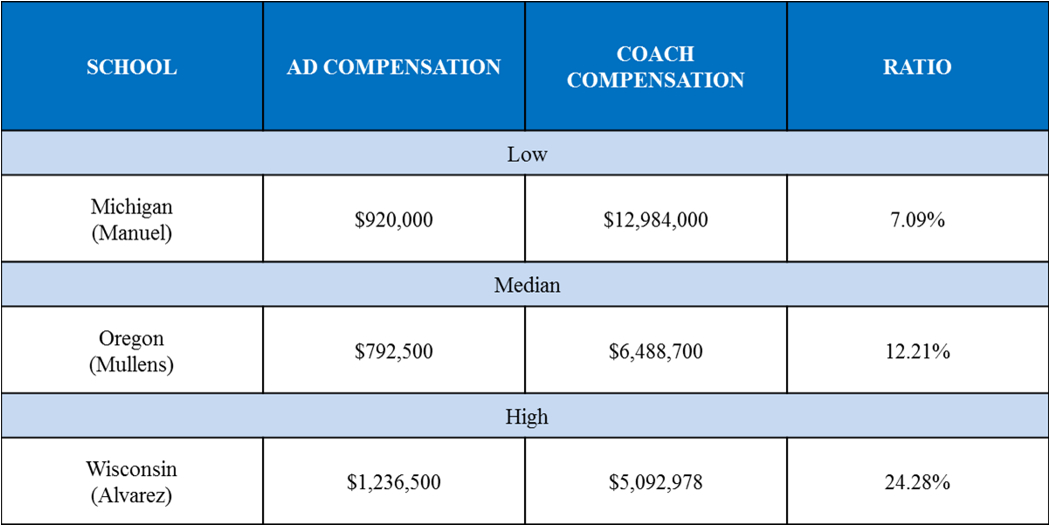 7. Hiring Velocity
With a respectful nod to Athletic Directors Alvarez, Tanner and their cohorts, it is becoming increasingly rare for athletic directors to ascend (formerly read as: "retire") from the coaching ranks to the head of  athletic departments. Just as college coaches have seen their professional responsibilities and compensation explode, so too have athletic directors.  And, like the coaches they employ, their increased visibility and expense impacts their job security.  It follows then that the tenure of athletic directors is likely to decrease.  Whether that's a productive development, particularly given the industry's current climate, is as debatable (dreadful?) as the velocity with which college coaches are replaced.
8. Fruit of the AD Tree
Mike Alden, Barry Alvarez, Mitch Barnhart, Joe Castiglione, Gene Smith and Kevin White and their former staff members make up over 25% of the current class of FBS athletic directors.
9. ADs' Previous Positions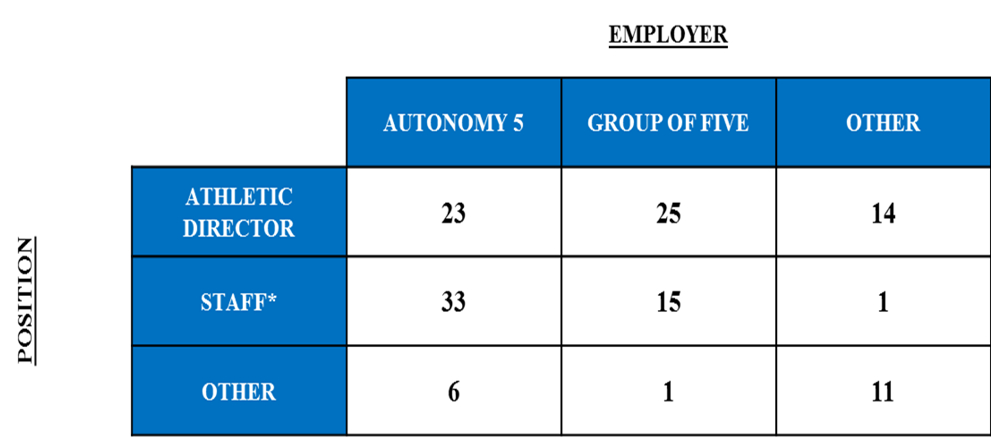 10. AD-U
10 of the 129 current FBS athletic directors hold an undergraduate degree from the University of Notre Dame.  12 Ohio University graduate school alums are current FBS athletic directors.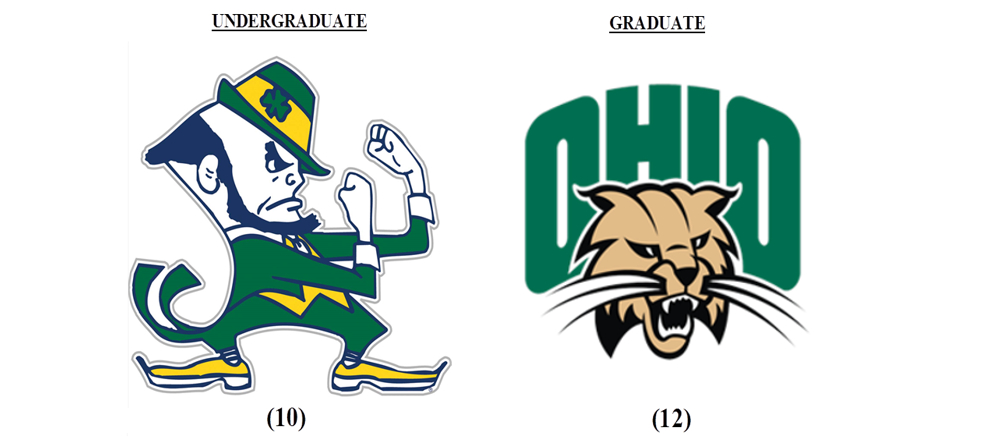 Observation:
Recent turnover of athletic directors  in the Southeastern Conference coupled with recent amendments to that conference's incumbents have driven salary escalation; a truism in almost any top-down compensation market.  The hiring of skillful and accomplished athletic directors in the Group of 5 schools has also spurred compensation increases as those schools jockey for the best talent to navigate further conference alignment, endeavor to earn a seat at the Autonomy 5 table and formulate effective responses across a host of pending and anticipated industry disrupters with the potential to create a sea change in how these schools (and perhaps the industry at large) conducts its business.
Postscript:
Athletic directors' increasing responsibilities are a catalyst for the escalation of their compensation.  As a corollary, college athletic departments continue to grow as assistant athletic directors are hired to meet emerging, growing and specialized needs.  In the coming months, we will provide data and reporting on athletic departments' human resources and their compensation.