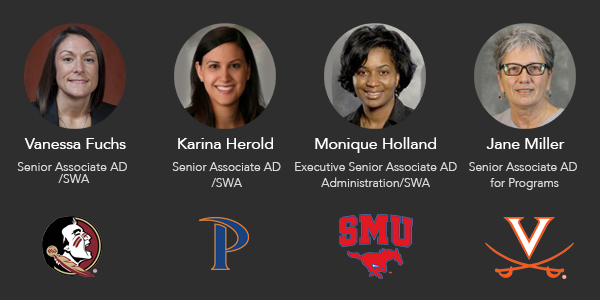 In 1989, the NCAA legislated the Senior Woman Administrator (SWA) position at each NCAA athletic department and member conference. The designation goes to the highest ranking woman on staff. While the responsibilities vary at each institution, the significance of the assignment has remained constant. In this Experts' Roundtable, four leaders from within college athletics share their thoughts on four questions connected to the SWA designation.
Why is the role of Senior Woman Administrator (SWA) important to the Student-Athlete (SA) experience? Do you believe this designation is still necessary in the college athletics industry?
Jane Miller (Senior Associate AD for Programs/SWA – Virginia):
The Senior Woman Administrator role was established to ensure that women's interests in the athletics department were being addressed in a substantive way (i.e., a woman was at the decision making table). Although widely accepted, this may not be the case at every institution. In addition, while women's athletics has grown to unprecedented levels, there are still inequities to be addressed and those that have been addressed need a caretaker. Therefore, It would be a big mistake to eliminate the SWA position. Rather, we need to educate people on the role and shore up the responsibilities tied to the designation. As a whole, the athletics industry should acknowledge its value and understand that the SWA assignment is just one aspect of person's job in athletics.
Monique Holland (Executive Senior Associate AD for Administration/SWA – SMU):
The designation of an SWA at all NCAA member institutions was a historical moment as it was created to ensure female representation on the leadership team of each athletics department. For this reason alone, I believe the designation of the SWA remains necessary in college athletics.
In addition to a reserved seat at the table, the position allows women to have a viable role in the Conference and NCAA governance structure. Although, at most institutions, the SWA serves as an advocate for all student-athletes, she typically speaks on behalf of other women and women's sports. Most importantly, women serving in leadership roles inspire other women (Student-Athletes included) to aspire to be leaders in athletics administration.
Although the role has evolved to a point where those with the designation have more experience, there are still concerns regarding the responsibilities that have traditionally been appointed to the SWA position. Specifically, Senior Woman Administrators are primarily given gender-specific roles and sports assignments. This can have an impact on advancement within the organization or consideration for athletic director positions.
Vanessa Fuchs  (Senior Associate AD & SWA – Florida State):
Our collegiate Student-Athletes must have a diverse group of role models both inside and outside of their institution's athletics department. This needs to be people who look like them, can relate to them, and help them grow into society's future leaders. At Florida State, we value having a staff that reflects the makeup of our SA population. It's critical that our young men and women see females, as well as minorities, in positions of leadership within athletics. This is vital to helping them find a vision for their own lives and careers.
Whether through the SWA designation or some other means, it is essential that women are involved in the highest levels of making decisions within college athletics. This should be true in conference offices, as well as on NCAA governance committees. Also, the NCAA is studying the SWA designation currently so I am very interested to see what recommendations result from that work.
Karina Herold (Senior Associate AD, SWA – Pepperdine):
The beauty of the SWA designation is that every campus and/or conference office has its own unique interpretation of its function. I am incredibly proud to hold the designation at Pepperdine, however, I believe that my value to our department and to our student-athletes comes primarily from my own experiences as a businesswoman, wife, mother, and former student-athlete. I am fortunate enough to help build programming centered around enriching the holistic experience for all of our students and my perspective as a woman influences those decisions. While I serve as a resource for all of our Student-Athletes, coaches, and staff, I do actively engage with the women in our athletics community as a part of my SWA duties. It is my job to ensure that the interests of our female Student-Athletes, coaches, and administrators are at the core of our decision making philosophy.
As we celebrate the 45th anniversary of Title IX, we have to acknowledge how far we have come and how deeply the culture has changed in college athletics administration. There are still some areas that need work, but I hope we have reached a tipping point. The SWA designation has played a crucial role in giving women an opportunity to develop and perfect skills that allow us to advance to the highest levels. Philosophically, I think we have evolved enough to remove a mandated seat at the table for women. However, in the practical sense, the SWA designation continues to open doors for women. This is specifically true for positions of leadership within conference offices and NCAA governance committees.
What aspects of your career, do you believe, were the most instrumental in getting you to your current position?
Holland (SMU): I believe the aspects of my career that have been most instrumental in getting me to my current position are my faith in God, my passion for people, and most importantly, an understanding that I represent more than just myself. My family, mentors/teachers/coaches, and my current institution are all reflected in my daily walk both personally and professionally. This has had a very positive impact on my career.
Herold (Pepperdine): I arrived at Pepperdine in a marketing and sales role with a focus on corporate partnerships, ticket sales, and events. The ability to build relationships with different constituent groups has been one of the most important factors leading into my current role as Senior Associate Director of Athletics. While I am still very involved with our external units, I focus a lot of my time on sports administration duties as well as on growing our SA development and academic support programs. My relationships with coaches, administrators, student-athletes, and faculty members are deeply important; building trust and rapport helps navigate the everyday bumps and twists in the road. I am also not afraid to ask corporate partners and donors for money!
Fuchs (Florida State): Throughout my career, I have always relied on advice given to me as a collegiate student-athlete: "Do the little things that set you apart and make you an asset to the team/organization." I've always been willing to take on responsibilities that may not have been very popular and as a result, those experiences made me an asset. I also credit the life-long skills gained while participating in sports. These have have had a tremendous impact on my career: teamwork, communication, relationships, accountability, performing under pressure, work ethic, how to be coachable, and leading within your role.
Miller (Virginia): In my case, there was a need at the institution to designate an SWA (mid '90s) and I was approaching the end of my coaching career. For three years, I held a dual role of coach and administrator. Certainly the transferable skills from coaching were a factor in my selection but timing played a role as well.
Of all the responsibilities you hold in your current position, which one would you consider primary? And what goes into executing that primary responsibility on a daily basis?
Herold (Pepperdine): A few years ago, I had an epiphany – the most important part of my job is to be present and available to our staff and Student-Athletes. My door is open and I always stop what I am doing to visit with whomever takes the time to come by. I also make it a point to walk around our offices and check in with everyone. Building relationships with my colleagues is my favorite and, what I consider, the most important part of the day. During the rest of my day, I help our athletics department reach and exceed our goals by working on policies and programming.
Fuchs (Florida State): I view my primary role at Florida State as being an advocate for our Student-Athletes and coaches. This means making decisions that are grounded in Florida State's mission & core values. These decisions must protect the well-being of our Student-Athletes and ensure they have an exceptional experience as a Florida State Seminole. We are responsible for ensuring our Student-Athletes graduate, have resources to compete at the highest levels, and are being prepared for life-long success. Each day, I strive to help FSU be better than we were the previous day.
Miller (Virginia): Although there are many important aspects of my job – membership on the senior staff being one of them, my primary responsibility is sport supervision. I supervise women's soccer, field hockey, women's basketball, baseball, men's golf, and men's & women's lacrosse. As a sport supervisor, I am responsible for oversight of the coaching staff. This includes evaluating the head coach and reviewing the evaluations of assistant coaches. I work with each coach on budget, scheduling, programmatic projects, and issues related to their respective sport. It is also very important that I have strong relationships with the coaches and Student-Athletes as I serve in a supportive role. I attend all home events for support and, if necessary, troubleshooting. I also travel to conference and NCAA championships in the same capacity.
Helping coaches and Student-Athletes achieve their goals is the most rewarding aspect of my job. Student-Athlete health and welfare is paramount to my position, but I also have many other responsibilities such as working within the department, at the university, in the conference, and nationally.
Holland (SMU): As the Chair of the Sport Administrators' Council, I provide oversight, guidance, and support to the Director of Athletics, as well as our sport administrators. Our group meets regularly to discuss areas of SA welfare, personnel, compliance, finance, equity, and Title IX. Our ultimate goal is to ensure every athletic team receives the same or a comparable level of service.
What are the challenges you see the college athletics industry facing in the immediate and long-term future?
Fuchs (Florida State): My answer relates to what we read about each day in the D1.ticker – the rising costs of funding intercollegiate athletics. Data demonstrates that the growth in expenditures is outpacing the growth in revenues. It has become paramount for athletics administrators to continually strive to implement fiscally responsible budgetary practices. This includes identifying creative funding strategies and making spending decisions that align with the foundation on which college athletics was built.
All in all, we must be relentless in the pursuit of new revenue sources. It seems to be a growing trend for athletics departments, FSU included, to have one or more staff members solely dedicated to new revenue generation.
I don't claim to have all of the answers to this issue but as a leader in college sports, I believe we all have a responsibility to remain well-versed on issues impacting our industry and give thought to how we can be a part of the solution. With that said, the Knight Commission's 2010 report, Restoring the Balance: Dollars, Values, and the Future of College Sports, includes some interesting recommendations for how to reform college athletics.
Holland (SMU): Below is a list of challenges that we face in the immediate and long-term future of college athletics:
Health & safety concerns, especially those not easily discerned (i.e. mental health)
Widening of the financial gap between the autonomy five and the group of five
Threat on the collegiate (amateurism) model
Perceived barriers for ethnic minorities and women in collegiate athletic careers
Unintended consequences of Time Demands Legislation
Communication gap between coaches and Millennials
Herold (Pepperdine): Beyond the obvious – the media rights bubble and finding new revenue/funding sources, one of the challenges Pepperdine has identified and embraced is understanding the complexity of today's Student-Athletes. We are tasked with teaching, motivating, and molding a group of students who face challenges beyond our comprehension. The majority are coming to us physically and mentally exhausted. This causes us to give them more attention than we have ever had to give before. We have to coach differently, teach more directly, and provide support systems that develop positive experiences that will eventually translate into competitive greatness.
Miller (Virginia): There are numerous challenges facing college athletics. These include (among other things) public perception, transfer issues, early recruiting issues, amateurism, and finances. One of our biggest challenges is finding the balance of providing enhancements to the SA experience (e.g., cost of attendance, unlimited meals, insurance), while still preparing them for life after college athletics. I think we are at a tipping point regarding that balance and trying to maintain the ability to provide broad based programs because sustainability is proving to be formidable.