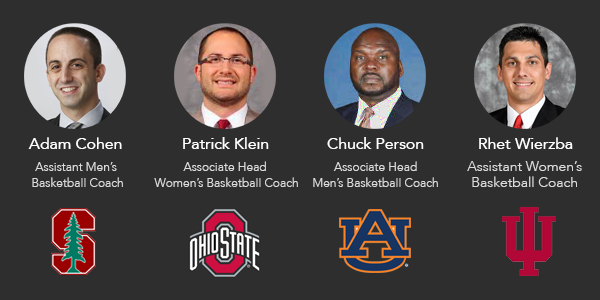 In the college basketball coaching world, the July recruiting period is an essential function of the profession and industry. The intense evaluation time frame can take its toll, but is crucial for competitive success. In this Experts' Roundtable, we've asked four assistant coaches for insight on the process.
How much do you think Athletic Directors (ADs) know and understand about recruiting? Do you think they appreciate the intensity of the process?
Rhet Wierzba (WBB Assistant Coach – Indiana University): I think most ADs have an understanding of recruiting and appreciate the time commitment necessary to be successful, but I'm not sure how many know the extent of preparation and follow-up involved with the July recruiting period. This includes an incredible amount of logistical groundwork before the period begins, especially at the beginning of each day. Most likely, we won't know where a certain recruit is playing until the actual date of their game. Included is the chance that we will have to watch multiple games back-to-back that require 30 or 40 minutes of travel time in between each one. The schedules and locations of these tournaments can be quite the challenge to navigate.
Chuck Person (MBB Associate Head Coach – Auburn University): If an AD has collegiate coaching experience, then they are almost certainly familiar with the complexities of recruiting. But few outside the basketball fraternity truly understand how grueling the month of July can be for coaches. That being said, our AD and administration are very supportive of our program and don't ask much of us during times of heavy recruiting when it comes to outside obligations. Recruiting is a huge factor for long-term success, and it starts with thorough player evaluation during the summer.
July is an important month for teams to form identity and build chemistry with new players. How does the time away for recruiting affect that process?
Adam Cohen (MBB Assistant Coach – Stanford University): It's definitely a challenge with a number of different layers. Arguably the biggest issue is that most freshmen move to campus just a few weeks before we hit the road. This means we are leaving them when they have barely had anytime to get acclimated to college life. Moreover, there is an underlying dynamic in which you are telling your current players that they have to take a backseat while you are out searching to fill the future roster. To address this situation at Stanford, we make sure our head coach remains on campus at least one day during each recruiting week. This way, the players know they are as much of a priority as anything else we, as coaches, are doing. It also allows our head coach to continue to develop that all-important rapport with his team.
Rhet Wierzba (WBB – Indiana): This is a big obstacle. It is very important for incoming freshmen to feel connected to the coaches and team while making the transition to college. A basketball program needs good support personnel to take care of the players, especially freshmen, during the times when the coaching staff is gone. Coaches must be intentional in planning team building and team cohesion exercises. This should include players-only chemistry building activities while the coaches are gone, and then full team building events when everyone is in town.
Chuck Person (MBB – Auburn): In many ways, the summer recruiting period does not differ from what you see in the professional world. Once the season is over, NBA players will rarely have interaction with their coaching staff other than those who participate in the Summer League. Indeed, most players rarely stay in the same city they play in, as it may be months before they will see their fellow teammates and coaches again. This is also why many NBA teams face chemistry issues when the season starts – something we strive hard to avoid on the collegiate level. At Auburn, we work hard to identify great talent, in addition to properly managing the roster we have. When the season starts, it's easy to tell what programs were successful at balancing their recruiting obligations with team building activities.
How does the July recruiting period affect you as a coach, physically and mentally?
Patrick Klein (WBB Associate Head Coach – Ohio State): Recruiting in general is exhausting, but the summer is especially so. You're away from home for long periods of time with long days and little communication with family. Moreover, once you return, the process is far from over as recruiting calls and visits begin. Having a good understanding of your current roster, needs for the future, and where to concentrate your efforts helps make the process more efficient. Also, staff cohesion is very important. At Ohio State, we strive to make sure everyone understands what we look for in student-athletes from a talent and behavioral standpoint. This ensures we use our time wisely when we are out recruiting.
Rhet Wierzba (WBB – Indiana): July recruiting is incredibly taxing with days beginning at 6:00 a.m. and ending after 11:00 p.m., sometimes sacrificing meal breaks. At times, running from game to game and city to city can be a logistical nightmare. But the importance of seeing players in person is invaluable, especially when it comes to identifying under-the-radar talent. All that being said, it is very important that coaching staffs take time to recharge their batteries when they return. Once the school year begins, coaches will have very few opportunities to take time off.
Are their any advantages/disadvantages to having an AD with previous coaching experience?
Adam Cohen (MBB – Stanford) : I think athletic directors who have previously coached on the collegiate level are likely to be more emphatic when it comes to understanding what their coaches go through on a daily-basis. People tend to relate better to those with common experiences. However, I wouldn't consider it a significant disadvantage if an AD didn't have previous coaching experience. As long as they understand and appreciate the sacrifices that coaches make when it comes to managing a program and balancing their own personal well-being, I think everything can work out. I have worked with administrators who come from strictly business backgrounds and they provided viewpoints on coaching issues that never crossed my mind. Coaches often become laser focused on their teams and seasons, so a change in prospective can be invaluable.
Patrick Klein (WBB – Ohio State): Collegiate athletics departments, much like large corporations, have become incredibly complex operations. The CEO of a technology company doesn't necessarily have to be an engineer to run an effective operation. Similarly, not all ADs have to have coaching experience to ensure athletic success. That being said, there should be someone in the executive leadership of any organization that has an understanding of what frontline employees (e.g., coaches) do so they can provide insight and bridge the gap between employee and management.
Are there ways ADs can help basketball coaches during the July recruiting period/with recruiting in general?
Adam Cohen (MBB – Stanford): I believe July offers incredible opportunities for department administrators and Student-Athletes to develop relationships during a unique time that may not be available during the school year. For instance, while coaches are on the road, administrators can hold a series of seminars with the players discussing their roles and the various functions of the department. This allows the coaching staff to rest easy because they know that while they are off campus, the Student-Athletes are productively engaged. This could help the players get acclimated and learn valuable insight about the bigger picture in which they participate.
Chuck Person (MBB – Auburn): In the professional world, general managers and coaches work close together to identify the right players for their teams and then cultivate that talent to be successful. In college sports, the vast majority of both of these functions are left to the coach. I believe that ADs should definitely be more hands on in the recruitment process of Student-Athletes. While talent evaluation should remain within the auspices of the coach, ADs should try to learn about as many Student-Athletes as they can before coaches make an offer. At the very least, they should always be aware of the types of individuals their coaches are trying to bring to campus.
Patrick Klein (WBB – Ohio State): We're fortunate at Ohio State that Gene Smith and our administration provide incredible support. We want to recruit the best Student-Athletes in the world, both athletically and academically, and we want to ensure they fit into our institutional values. While our administration will always give us deference on talent, they are very much involved in meeting recruits and trying to help us determine whether they fit the culture of our university. That's something that all AD's should strive to do with their programs.