After a tumultuous year in college basketball, programs have had to re-evaluate their approach to the recruitment of student-athletes. In this Experts' Roundtable, three coaches and an industry insider discuss how the world of college basketball recruiting has evolved heading into this summer's evaluation period.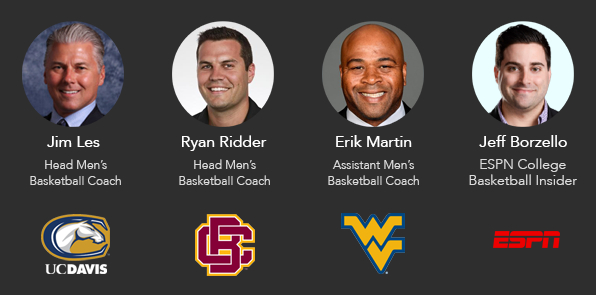 In what ways has the recent investigation by the FBI into college basketball changed your programs approach to recruiting prospective student-athletes?
Ryan Ridder (Head Coach – Bethune Cookman) – While it hasn't really affected our approach to recruiting, it certainly has made us reevaluate how we're vetting the student-athletes we've chose to recruit. Although we aren't involved in the caliber of player that would likely be caught up in the type of investigations that are ongoing, even at our level you have all sorts of people insert themselves into the recruiting process. Even when it's second-chance kid or transfer, the minute they start playing well, all sorts of people come out of the woodwork and try to attach themselves.
Yet regardless of what happens in the larger college basketball ecosystem, we've already made our choice about the type of player we're willing to recruit.  At Bethune Cookman, we're going to have to make sacrifices, but we will not sacrifice character and attitude of a student-athlete for physical performance, no matter how much of an impact that player can have on the court.  If we fall that rule, in the end it will always work itself out.
Jim Les (Head Coach – UC Davis) – For us, it really hasn't. Being at an elite academic institution, we are focused on recruiting individuals who are truly interested in the real student-athlete experience. Ironically, I think some of the recent controversy is making the process easier for us, as it has made prospective student-athletes more cognizant of their eligibility; leading them to ask more questions to ensure they are in-compliance throughout the process.
It is our duty, as stewards of the game, to make sure we operate our programs with integrity. The GAME is bigger than any one person and while we know that in a competitive landscape we are judged by our wins and losses, we should also strive to set an example that character and ethics matter. Those qualities make the journey to success so much more rewarding. Making this a foundation of your team culture will attract the right recruits.
Erik Martin (Assistant Coach – West Virginia) – We have not changed our approach to recruiting; many of the young men we recruit are 3 and 4-star players that are unlikely to leave in the first several years of their college careers. We have always been conscious of educating our student athlete about dealing with agents and other people around them. You can't be around your student athletes 24/7, but you can make them aware of those that prey on opportunities to get close to them and their families.
It's usually easy for us determine who's "in it" for the right reasons… many of those individuals who are willing to compromise their eligibility are so clear in their intention to get to the next level, that they immediately raise a red flag in the recruiting process. Moreover, as the process the recruiting process reaches its conclusion, we can sometimes gain deeper insight into who we're dealing with by the type of schools (ones known for cheating) that he's involved in at the end.
Jeff Borzello (College Basketball Insider – ESPN) – It doesn't seem to have changed too much. Top prospects are still being recruited by top programs, mid-major prospects are still being recruited by mid-major programs, and so on and so forth. I think there is more due diligence being done in some cases, and I think some programs are little more risk-averse, especially ones that were connected to the FBI investigation. That's understandable, but at the same time, shoe companies and agents are not going anywhere when it comes to recruiting high-level prospects so there is a limit to how much can really change in that sense.
Is the current recruitment structure (e.g. grassroots basketball) of amateur players fundamentally flawed?
Ridder – I don't think its fundamentally flawed. You have so many avenues when it comes to recruiting – high school team camps and regular season, junior college showcases, four-four transfers, and AAU grassroots. There's always going to be question on how to do it better. NCAA basketball makes a lot of people money, and like any financially profitable industry, you're going to have magnified scrutiny.
If we're going to change things for the better, than I'm a big proponent of creating direct, open and transparent dialogue with all the different types of programs these kids are coming from. Because there are so many parties and stakeholders involved, and so many people trying to manipulate these student-athletes and their decisions, it makes the process difficult for everyone. If the system could be more transparent, it would be greatly beneficial for everyone involved.
Les – Grassroots basketball has provided a very valuable platform for college basketball and for those aspiring to be a part of college basketball. It is imperative that we find a way to make sure it operates more effectively and efficiently for all involved. Like many growth industries, the legislation has not kept up with the increase of money and power that has occurred so quickly in club basketball and college sports. The NCAA is taking the right approach by studying all aspects of our game to reign in the relationships that have provided avenues to corrupt our game. We will all benefit from a grassroots basketball system that is more transparent and more consistently legislated by a uniform body, be it USA Basketball or the NCAA. It is our responsibility to make sure we embrace the changes that are coming. Let's build a grassroots basketball system built around equitable opportunities for players and coaches of all levels.
Martin – Without a doubt there are flaws, but AAU basketball is still the best way to evaluate student-athletes in basketball. The issue is the dynamic of the three constituencies involved in that process, the first being the shoe companies who pay for all of those prospects expenses, who have the relationships with the prospects and expectations of a return on their investment. The other is the AAU coaches who also expect something in return for securing the commitment of the players. Lastly are the event organizers, who are charging $500 for 'recruiting packets" that are full of wrong information. Many times, coaches don't even need that information, or need to evaluate the prospect, they just need to be seen by that student-athlete… and so they are functionally paying for that through this mismanaged system.
Borzello –  I personally don't think so. Grassroots basketball isn't the devil it's made out to be by a lot of people. I get the idea that some of the power wants to be taken away from AAU coaches and given back to high school coaches, but that doesn't necessarily change anything. High school coaches aren't inherently cleaner than AAU coaches. And there are shoe company sponsors at the high school level, too. Taking it one step further, grassroots basketball has never been more organized. It's much cleaner than it was a decade ago. Every coach must undergo a background check and be certified. Players can't change teams every day and there are fewer mercenaries/hired guns in terms of teams pulling players from all areas of country.
What are some of the biggest challenges in basketball recruiting that the average athletic director may or may not be aware of?
Ridder – Athletic Directors must fully understand the niche of their institution. Even though you may want to recruit a certain type of student-athlete or run your program a certain way, you have to recruit to your niche. At Bethune Cookman, our niche has been junior college transfers and 4-4 transfers. Now that we're developing some tradition, we can shift to recruiting high school kids. To many athletic directors want to emulate someone else without understanding why doing things that way not be the most optimal approach for their own programs.
Jim Les – First and foremost, it's imperative to self-evaluate. We must know our University's, athletic departments, and program's strengths and weaknesses. Next, we have to build a program that accentuates those strengths and mitigates those weaknesses. Our Chancellor (Gary May) and Athletic Director (Kevin Blue) are very supportive, and they provide continuous dialogue about their visions for UC Davis. This communication produces the blue print for understanding who you are, understanding where you're going, and then being able to build a foundation of long term success for your individual program.
Martin – One of the more unique challenges is the recruiting of a prospect's inner circle. There tend to be a higher number of individuals involved in the recruitment of a men's basketball player then any other sport. You have the player, their parents, AAU coach, high school coach, and in some instances the prospects "guy"… I'm not sure what the "guy" does that the other parties don't, but you are often informed early on in the process that the "guy" needs to be involved in all recruiting matters.
Borzello – Some athletic directors might be aware, but at the high-major level, a wide majority of people — even in the industry — don't realize the extent to which coaches need to interact with handlers, shoe company reps, guys like that. Especially after the FBI investigation, it was easy to say "stay away from agents," "we shouldn't deal with shoe company people," etc. As one high-major coach said to me, agents are involved with high school prospects before colleges are. It's impossible to avoid them. Shoe company reps know these kids from when they're in middle school. Handlers might be family members or family friends. For the most part, it's very difficult to recruit high-major kids by just going through the prospect and his parents. That's just how it is.
What are some of the unique constraints your program has when it comes to competing for recruits, and what have you done to carve a niche?
Ridder –  We have the smallest facility in Division I (seats about 800 people). Our tradition is minimal – 5 winning seasons in 38 years, with just 1 championship before I arrived. We're also perceived as a "low major school" and of course we're an HBCU.
How do we combat it? By being brutally honest in the recruiting process, almost to a fault. We show people the facilities, we show them the campus and we explain them that great programs aren't about resources – they're about people. I genuinely believe that staff we've put together believes in our mission and believes in helping student athletes first and foremost above all else.
You want to talk about "student-athlete experience"? As of today, we have not had one player transfer out of our program which is incredible at this level. Is everyone happy with their playing time? NO! But everyone sees that we value them, they're getting a great education and they are going to be taken care of after they graduate.
Les – We're at an elite academic institution (6th best public school in the country). We're looking for people that embrace the academic environment, want to be challenged and understand the value of the educational experience here at UC Davis. No two scholarships are created equal; there is a tremendous amount of value behind a scholarship and a degree from UC Davis and we must bring that to the forefront of the process. Having the opportunity to play Championship basketball while also obtaining a World Class education attracts elite student-athletes who are going to be very successful in the game of life.
Martin – We've had to overcome both tremendous perception and misconception about our state. Whether it's stereotypes or some other cultural prospective, we struggle with the pre-conceived notion that the state and its people are inferior as compared to others. Which is why we've worked tirelessly to make sure that 90% of the recruits that leave this campus say, "I didn't know West Virginia was like this" whether they sign with us or not.
West Virginia also has a population of less than 2 million people, so we don't exactly have a large base of players to recruit from. Therefore, we've had to create a brand to attract players from the rest of the country. We've done that in a number of ways, the most impactful being Press Virginia, our incredibly exciting brand of basketball and a program where the vast majority of our games are broadcast on national television.
Borzello – Looking at the high-major level, it's clear that certain schools have done a good job of figuring out what they do well, targeting guys that fit their system, and going out and securing commitments. The two teams that just squared off in the title game, Villanova and Michigan, are prime examples of that. Villanova got away from that a little bit several years ago, but then went back to the basics of their culture. They redshirt players, they mostly recruit locally, and they rarely use all 13 scholarships. Michigan recruits versatile guys that can shoot and pass. They rarely have guys that don't fit their system. Neither tries to compete with Duke and Kentucky for every recruit. There are only a few programs that can realistically get the cream of the crop every season, and every other program needs to find their niche.
Do athletic directors and department administration need to be more hands on in the recruiting process? More hands off?
Ridder – I do think they need to be involved. They need to know what type of student-athlete their coach is bringing in. For us, any official visit, the student-athlete meets with our athletics director (Lynn Thompson) and I think a big reason everyone that has signed with us is because of him… his character and conviction is extremely attractive, and people want to be apart of that.
Les – Everyone's situation is different, but we absolutely involve our administration in the recruiting process. We want the young man and his family to meet everyone within our department who they will interact with on a regular basis. I want them to hear the passion and enthusiasm from those individuals. That's something you can't explain in a brochure. I want the consistency of our messaging across campus to resonate; we have the resources, college environment, and experience to provide a springboard for their future. The next big separator from our competition is the collection of talented people at UC Davis who make it their job every day to make sure all our S-A's goals and dreams are accomplished.
Martin – It depends on the situation. If you ask most athletic directors, the would love to help with the recruiting process, but due to their own schedules they simply don't have the bandwidth. With us, the AD is not going to meet every single kid we bring to campus, but if we feel like its going in a positive direction then we try to make that linkage. In those situations, well make sure the AD is well prepared for the conversation, knows everything we do about the prospective student-athlete, and can help close the deal.
Borzello – I would say hands-off. Athletic directors hire coaches and should trust them to do their job, which is to run a basketball program. Perhaps the most important aspect of a program is recruiting, and a coach should be trusted to recruit effectively — or at least hire assistant coaches that can recruit effectively. Compliance is already involved in recruiting; the academic side is already involved in recruiting. If there are issues, then you can say administration needs to be more involved. But in a vacuum, I would say they should be more hands-off than hands-on. No one likes to be micromanaged.