Saturday marked the end of the 2021 NCAA Football Bowl Subdivision (FBS) regular season, the first with full attendance and completed schedules since the beginning of the COVID-19 pandemic.
With every home game of the 2021 season complete, let's analyze how FBS attendance numbers have changed or remained the same since they were last tabulated back in 2019.
Pandemic or not, college football attendance — as well as many other collegiate and pro sports — has witnessed steady decreases over the last decade. Since reaching an all-time high in 2008 at 46,971 average fans, home FBS attendance has now dipped below the 40-thousand mark.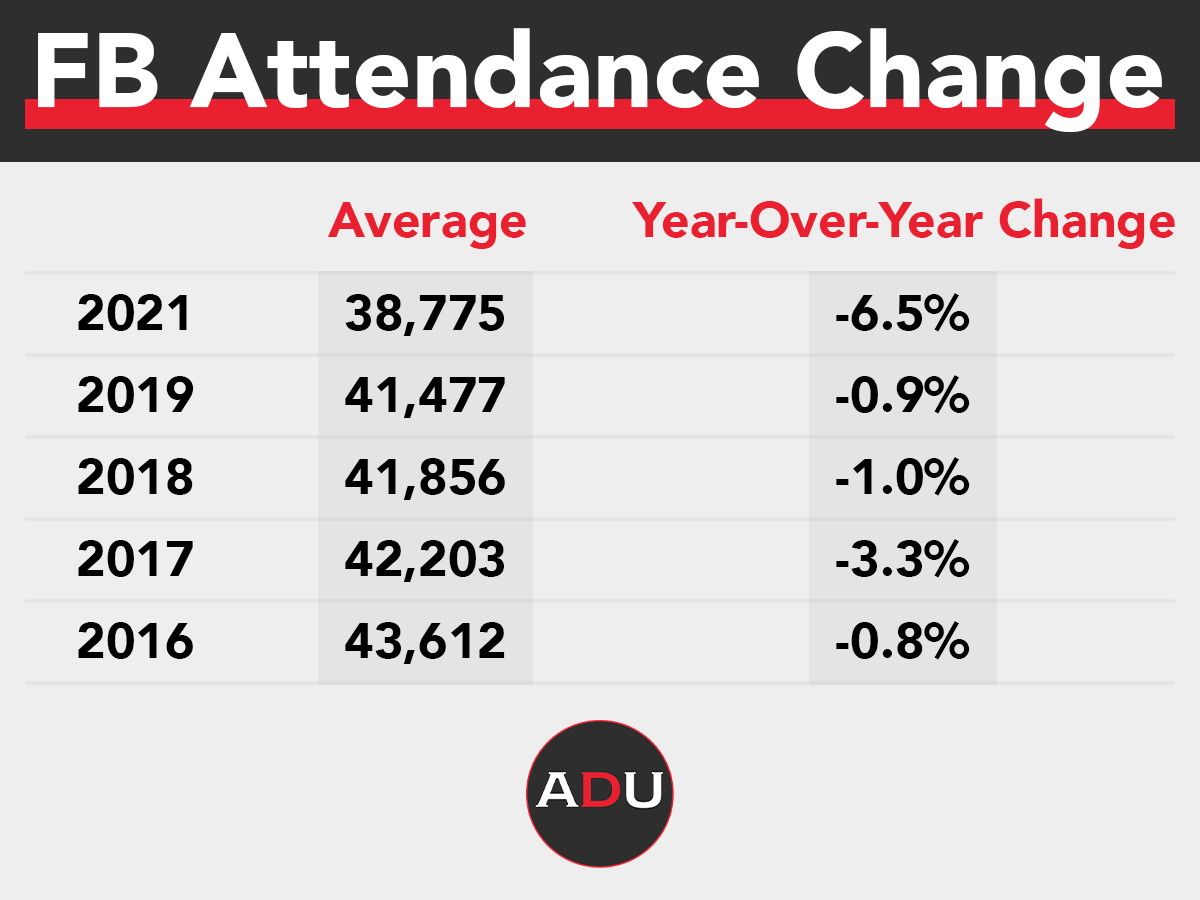 While fans may be experiencing hesitancy to return to the stands in 2021, this trend is nothing new: FBS average attendance has declined every year since 2013.
However, in 2021, the SEC remained the leader of the pack in conference-wide attendance, seeing a modest dip of just 0.5 percent vs. 2019's numbers. The Big Ten (-0.4 percent), Sun Belt (-2.2 percent) and Conference USA (-3.0 percent) also had similar marks compared to the most recent tally two years ago.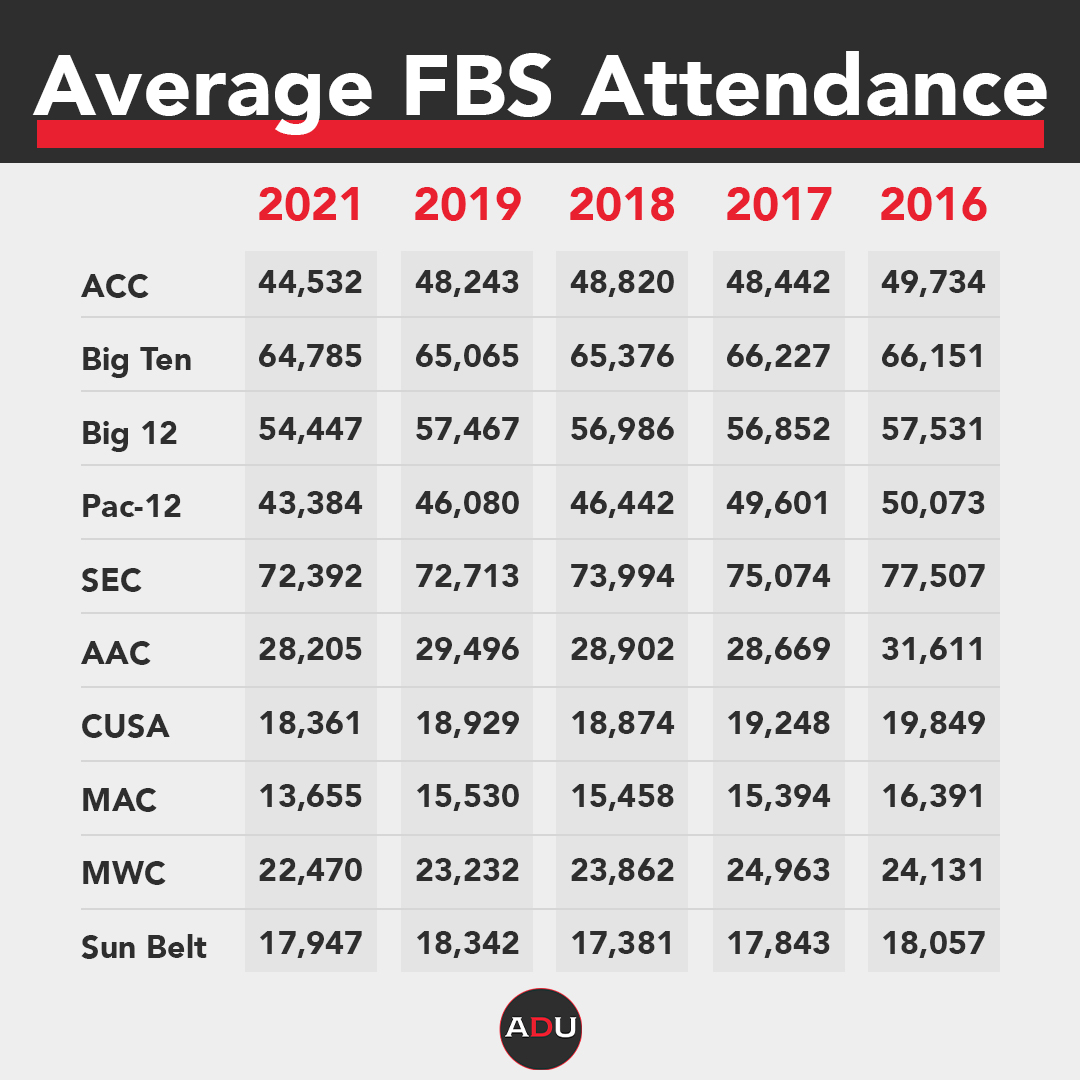 Michigan once again led the nation in average home attendance during the 2021 season at 108,763 fans. Penn State closely followed at No. 2 as the only programs in six figures while Alabama climbed up to No. 3 from its No. 5 ranking in 2019. The rest of the top 10 is in the chart below with win-loss records and national Sagarin ranking at the time of this writing.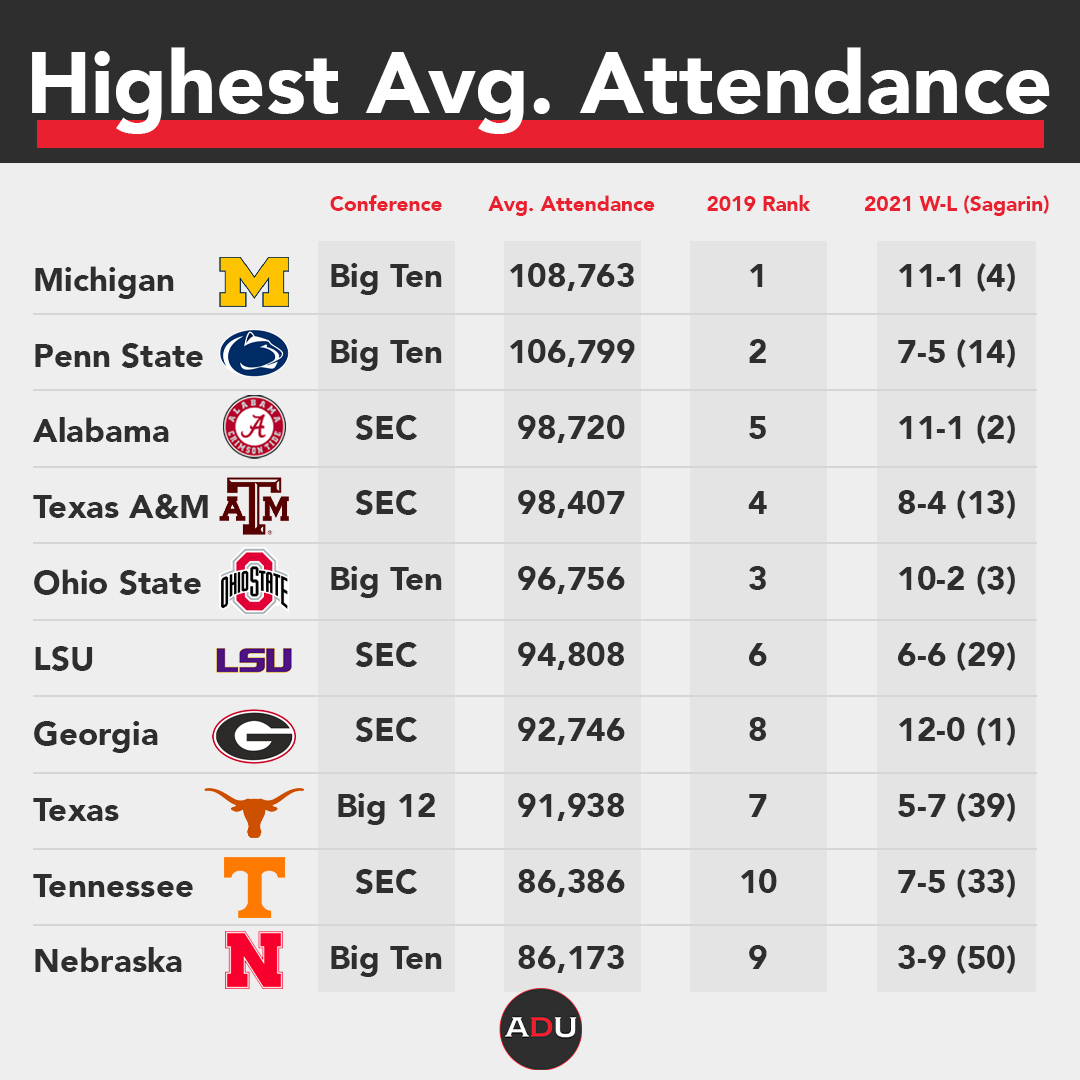 Overall, every team that ranked in the top 10 in average attendance in 2019 remained in the top 10 in 2021. It has been the same 10 teams at the top of the FBS attendance leaderboard since Florida ranked 9th in 2015, narrowly edging out Texas and Nebraska by an average of just 30 and 37 fans, respectively.
Rutgers enjoyed the largest overall increase in average attendance compared to the 2019 season. More than 52 thousand fans were in attendance for the Scarlet Knights' season-opening win against Temple, and RU never saw fewer than 40 thousand fans at home in 2021 after averaging 30,082 fans in 2019.
Three Sun Belt teams were among the 10 highest risers in average attendance with Appalachian State, Georgia Southern and Louisiana witnessing substantial increases.
Beyond total attendance, a team's stadium capacity fill percentage, seen below, gauges the percentage of seats sold for every home game, on average. Using a school's stadium capacity and its average home attendance, we can identify a key metric in analyzing program support.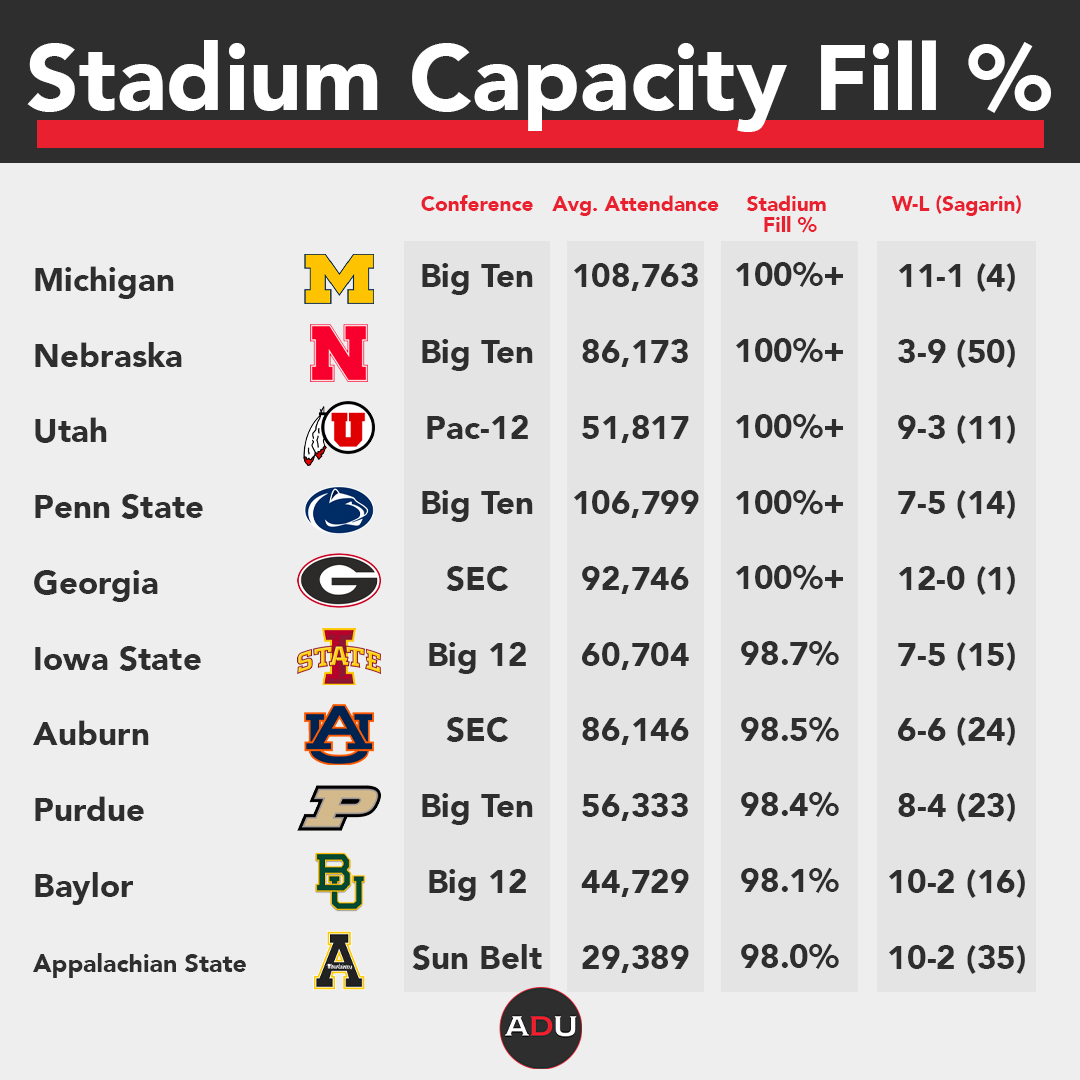 Michigan, Nebraska, Utah, Penn State and Georgia were at capacity during the 2021 season. Meanwhile, Purdue's 8-win breakout brought Boilermakers fans into Ross-Ade Stadium with 98.4 percent of possible seats sold, a dramatic increase from 2016's 60.2 percent.
While many teams prepare for bowl season, others are undergoing leadership changes at coaching positions. Of the 18 FBS programs that have initiated a coaching change since the start of the 2021 season, 11 saw their average home attendance decline more than 10 percent this season compared to 2016.
A total of 55 FBS programs have had their attendance dip by at least 10 percent since 2016, with no Power-Five program exceeding Duke's 48.4-percent decline. Just 14 programs have had their attendance rise by at least 10 percent over the same span.
It's no secret: Winning cures all, especially when it comes to attendance numbers. The chart below breaks down the average stadium capacity fill percentage based on Sagarin national ranking. A team ranked in the top 10 in Sagarin's rankings average 94.7 percent of possible tickets sold while teams outside of the top 100 sell just 53.2 percent of possible tickets.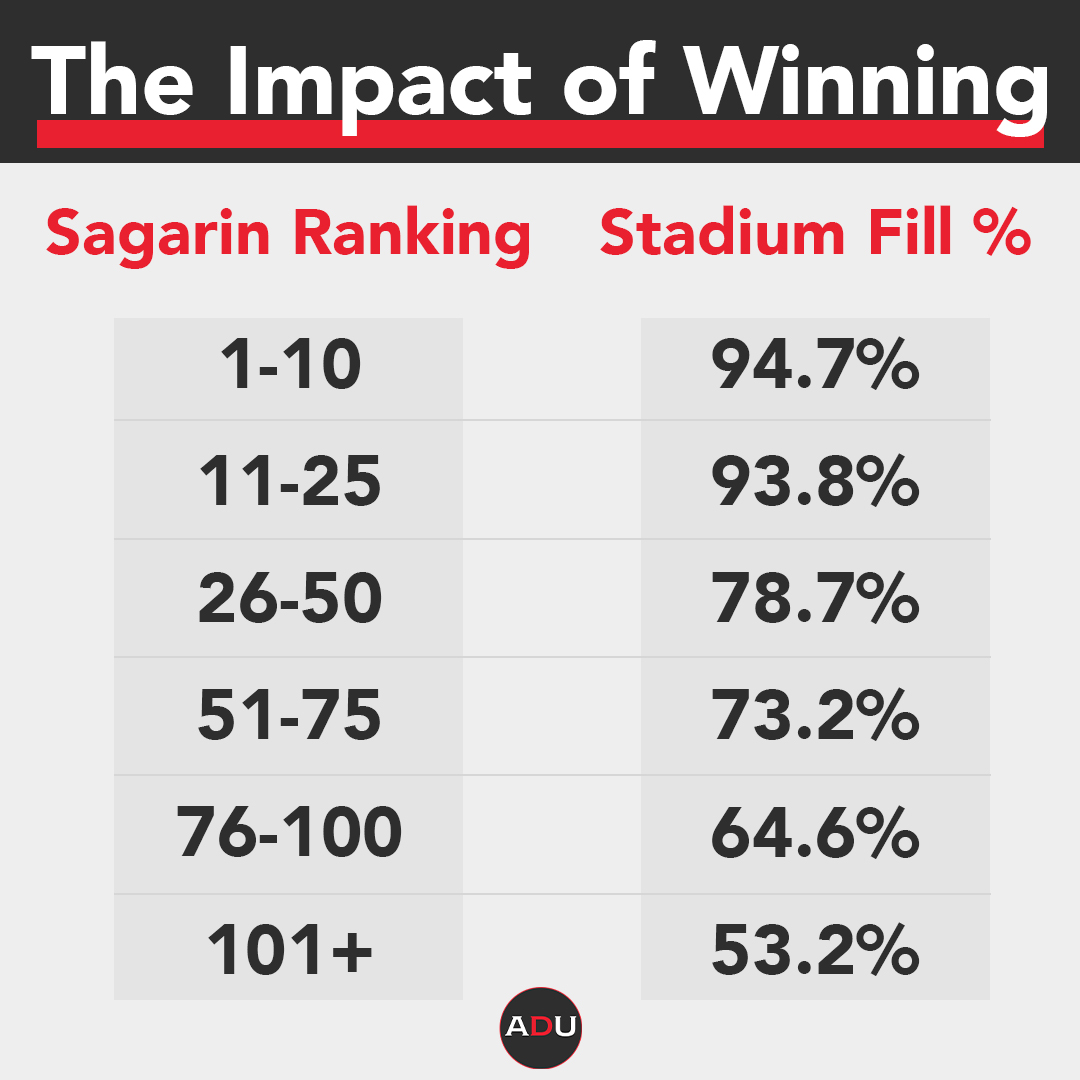 While attendance numbers may have slipped in college football in 2021 — like countless other sports — most programs recorded comparable attendance numbers to their pre-pandemic averages, which should serve as a positive sign for the sport moving forward.

Programs that have exceeded attendance expectations, however, should be recognized not only for a quality on-field product but also for their ability to welcome fans back to the stands during an unprecedented time.