In October 2018, the NCAA Transfer Portal came into existence. With the creation of the portal, a student-athlete may ask a compliance administrator to place their name in the portal and the school then has two business days to publicize the information. Previously, a student-athlete was required to ask their coach for permission to contact other schools, which a coach could deny and lead to a lengthy process of further requests and appeals.
According to the NCAA, the portal was created as a "compliance tool to systematically manage the transfer process from start to finish, add more transparency to the process among schools and empower student-athletes to make known their desire to consider other programs."
In recent years, more and more notable athletes have transferred during their college careers. Russell Wilson (NC State to Wisconsin), Kyler Murray (Texas A&M to Oklahoma), Baker Mayfield (Texas Tech to Oklahoma) and Joe Burrow (Ohio State to LSU) are among the notable FBS transfers while Davion Mitchell (Auburn to Baylor), Brandon Clarke (San Jose State to Gonzaga) and Semi Ojeleye (Duke to SMU) elevated their NBA Draft status after transferring to new schools.
Men's basketball is at the height of the transfer discussion. The sport's transfer rates have steadily risen in recent years, more than doubling over the last six years and recently spiking since the introduction of the transfer portal. If you like sports and you like to play online, discover more about the casino games that can make you win money.

But despite the men's basketball transfer surge, men's soccer maintains the highest transfer rate in Div. I sports at 18.6 percent, including a net increase of 4.6 percent from 2015 to 2019. Each of the nine major Div. I sports have experienced transfer rate increases over the past five years, according to data from the NCAA (seen below).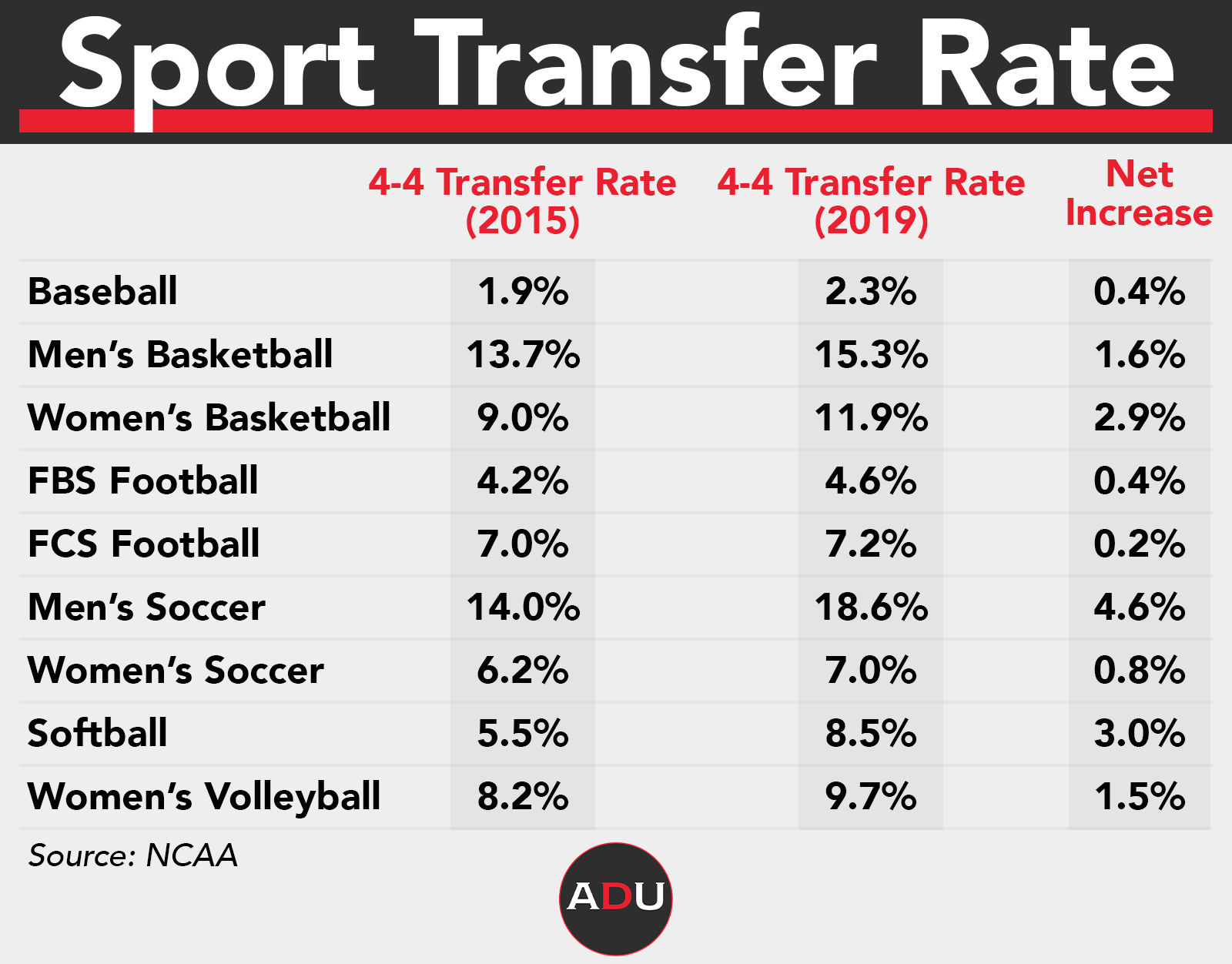 Baseball maintains a remarkably low transfer rate while other sports like men's soccer and basketball of both genders are above a 10-percent transfer rate as of 2019. While FBS football has witnessed notable players transfer in recent years, its transfer rate is still relatively low compared to other Div. 1 sports.
Overall, approximately 13 percent of Div. 1 student-athletes transfer from a school. But although spiking athletic transfer rates are often met with controversy, transfer rates for non-student-athletes are still significantly higher. An estimated 39 percent of all undergraduate students of four-year universities transfer at least once, according to a 2018 National Student Clearinghouse study. Student-athletes are far less likely to transfer than undergraduate students who aren't pursuing athletic careers.
According to data from Verbal Commits at the time of this writing, nearly 900 men's basketball players had transferred between Div. 1 schools during the 2021 offseason. While recent statistics are obviously altered by uncertainty amid the COVID-19 pandemic and the NCAA's extra eligibility year waiver, roster turnover has been on the rise for years.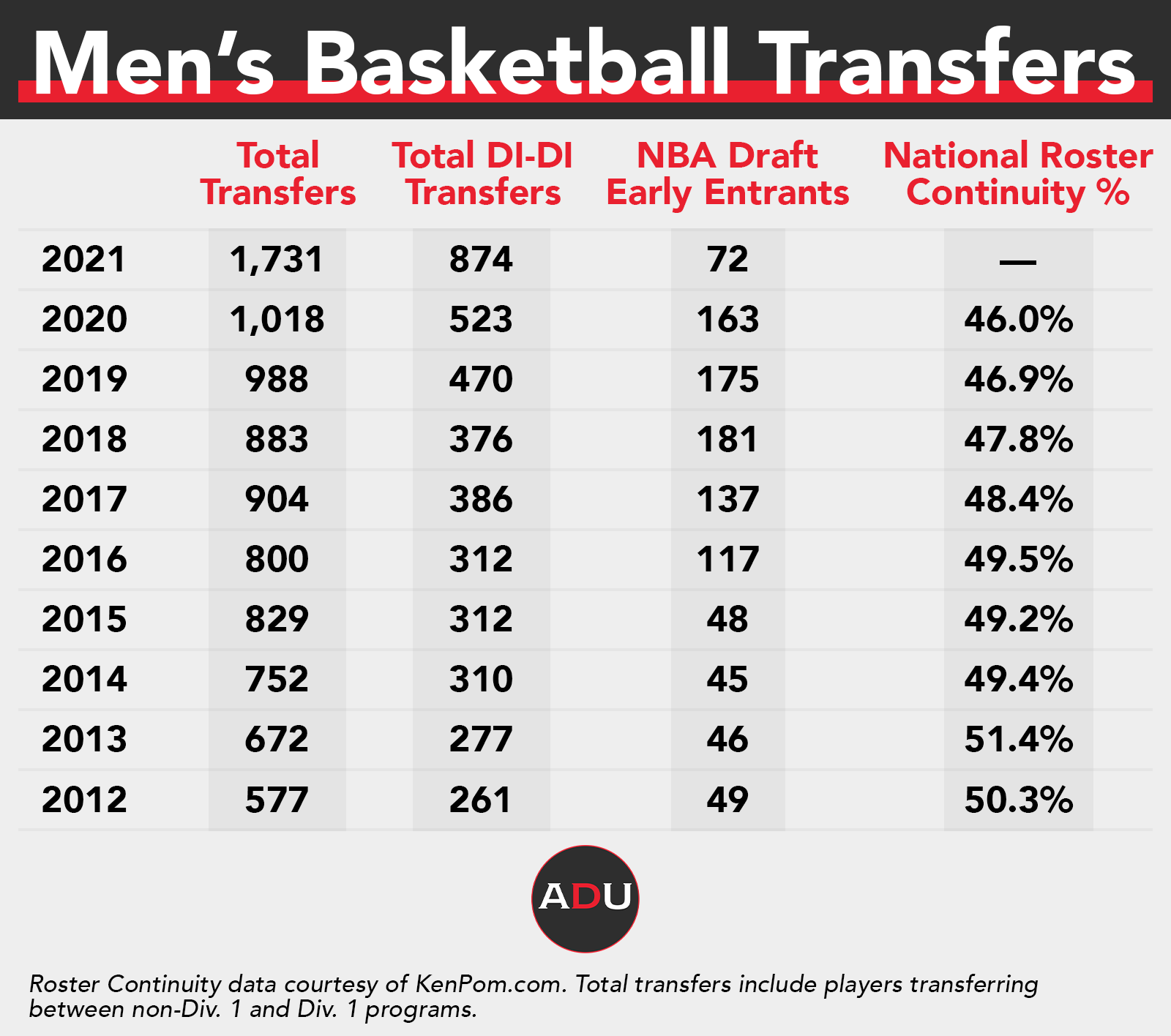 Across the nation, year-to-year roster continuity is at a historic low. Entering the 2020-21 season, just 46 percent of total minutes were recorded by returning players, according to KenPom.com — the lowest figure since the statistic began in 2006.
Programs have had an average of 22.7 players transfer out in total since 2012, or about 2.3 players per season. Colgate, Davidson, Belmont, Brown, Army and Arkansas Pine Bluff are the only programs with fewer than 10 transfers out among teams that have been at the Div. I level since at least 2012. Below are the 10 programs with the most transfer departures and the 10 programs with the most transfer additions in that span.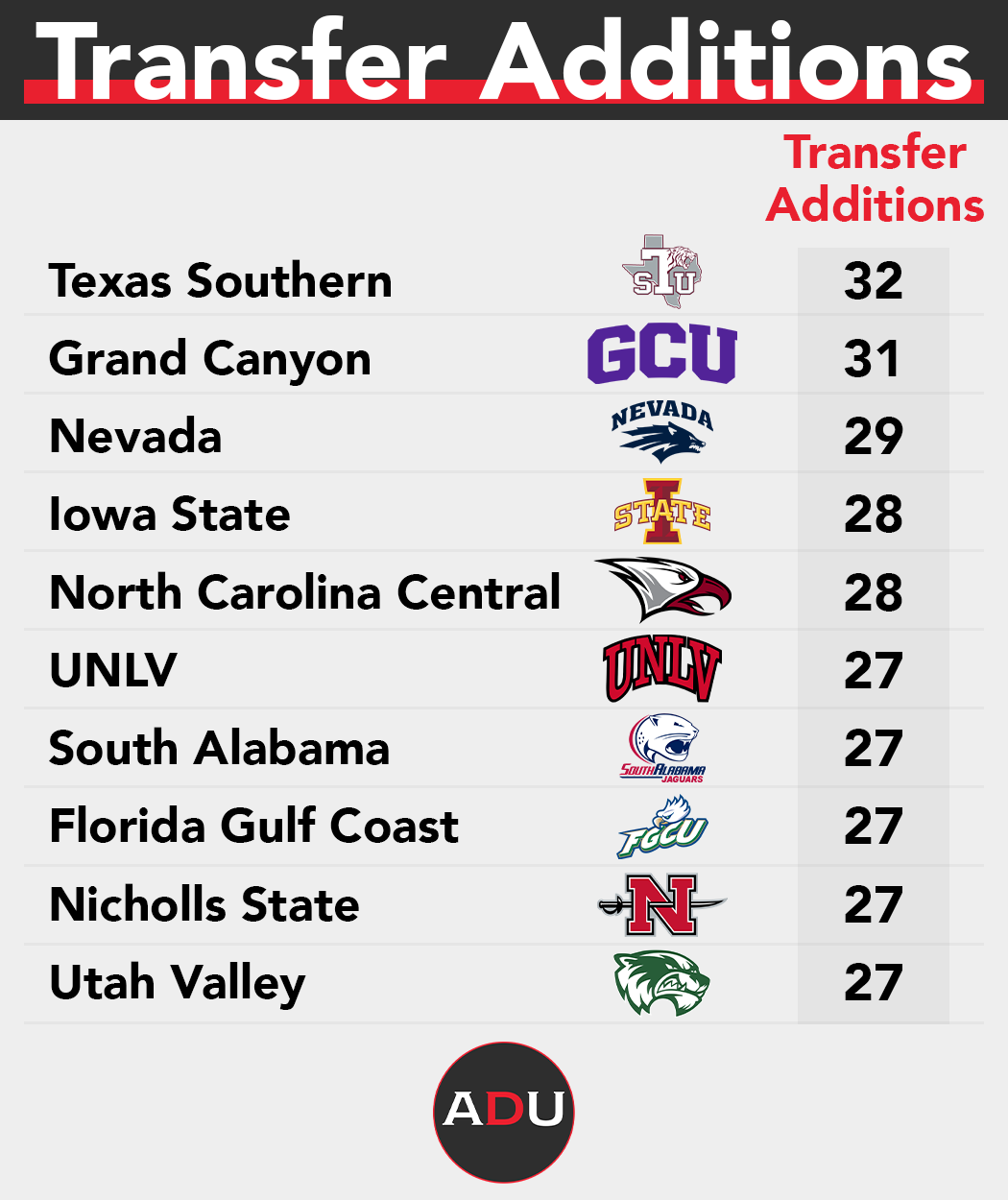 Transfer movement between conference levels — high-major, mid-major and low-major — creates data points worth monitoring as well.
The chart below orders each of the 32 Div. 1 conferences' transfer departures by the average conference level of their new home. For example, 32.4 percent of ACC transfers commit to other high-major programs. To order the conferences, we valued high-major commits as three points, mid-major commits as two points, and low-majors as one point, and weighted based on the frequency of each level.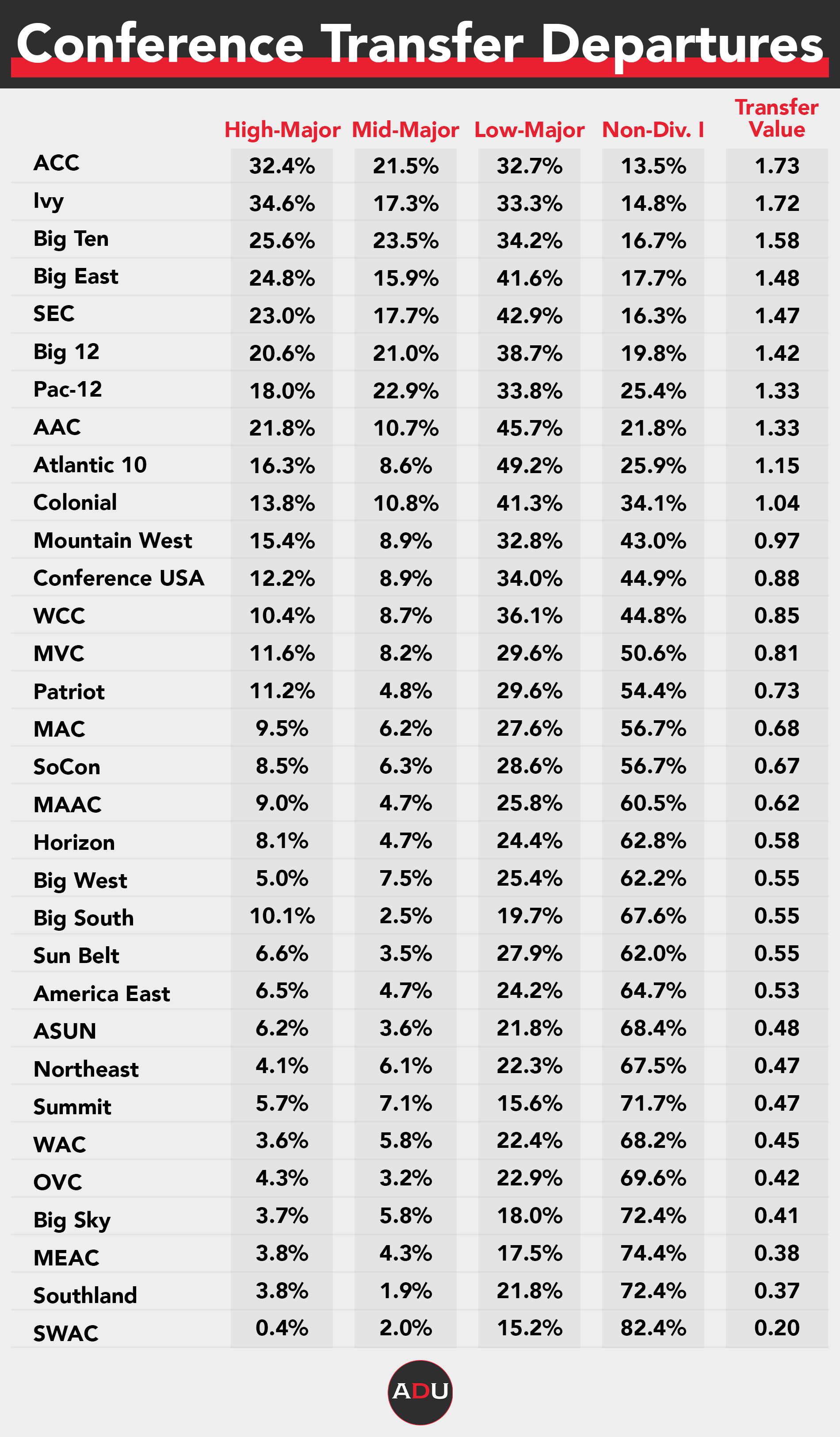 High-majors: ACC, Big Ten, Big 12, Big East, Pac-12 and SEC; Mid-majors: A10, AAC, MVC, MWC and WCC; Low-majors: remaining conferences
The Ivy League immediately stands out as a conference that produces more high-major transfers than one may anticipate. However, much of this is due to the Ivy League's rules disallowing redshirt seasons or graduate students participating in athletics.
As a result, some of the biggest names in college basketball's transfer pool in recent years have been Ivy League graduate transfers. The lengthy list includes names like Cal's Ryan Betley (Penn), Baylor's Makai Mason (Yale), Notre Dame's Paul Atkinson (Yale), Purdue's Evan Boudreaux (Dartmouth), Seton Hall's Bryce Aiken (Harvard), Syracuse's Jimmy Boeheim (Cornell), Ohio State's Seth Towns (Harvard) and Alabama's Jordan Bruner (Yale). 
Because student-athletes are unlikely to leave an institution of the Ivy League's academic pedigree, most of the conference's total transfer departures are fifth-year seniors who are skilled enough to play at the sport's highest levels as graduate transfers.
Elsewhere, in addition to the Ivy League, the ACC, Big Ten, Big East, SEC, Big 12 and AAC produce high-major transfer commits more than 20 percent of the time. The Pac-12's high-major transfer commit rate sits at 18 percent, but its mid-major transfer commit rate of 22.9 percent is second to only the Big Ten.
The term "up-transfer" is used to describe a player from a mid- or low-major conference who transfers up to a high-major conference. While this is generally a rare occurrence overall, up-transfers can be especially valuable for high-major teams and equally damaging for mid- and low-major teams.
In the following chart, the mid- and low-major conferences that recorded "up-transfers" since 2017 are listed, ordered by overall frequency. The Atlantic 10 is responsible for 9.7 percent of all "up-transfers" during this span, and its transfers have recorded an average of 1.58 win shares per season and 56.1 percent possible minutes played with their new team.
AAC transfers have been most productive with the second-highest "up-transfer" frequency and the highest average win shares and average percent minutes played among the five conferences with the most "up-transfers". Recent notable up-transfers from the AAC include Dedric Lawson (Memphis to Kansas), Elijah Hughes (East Carolina to Syracuse), Austin Reaves (Wichita State to Oklahoma), and Jamarius Burton (Wichita State to Texas Tech).
Additionally, coaching stability is correlated with roster stability. The chart below breaks down the average transfer departure and addition totals based on season and coaching qualifiers.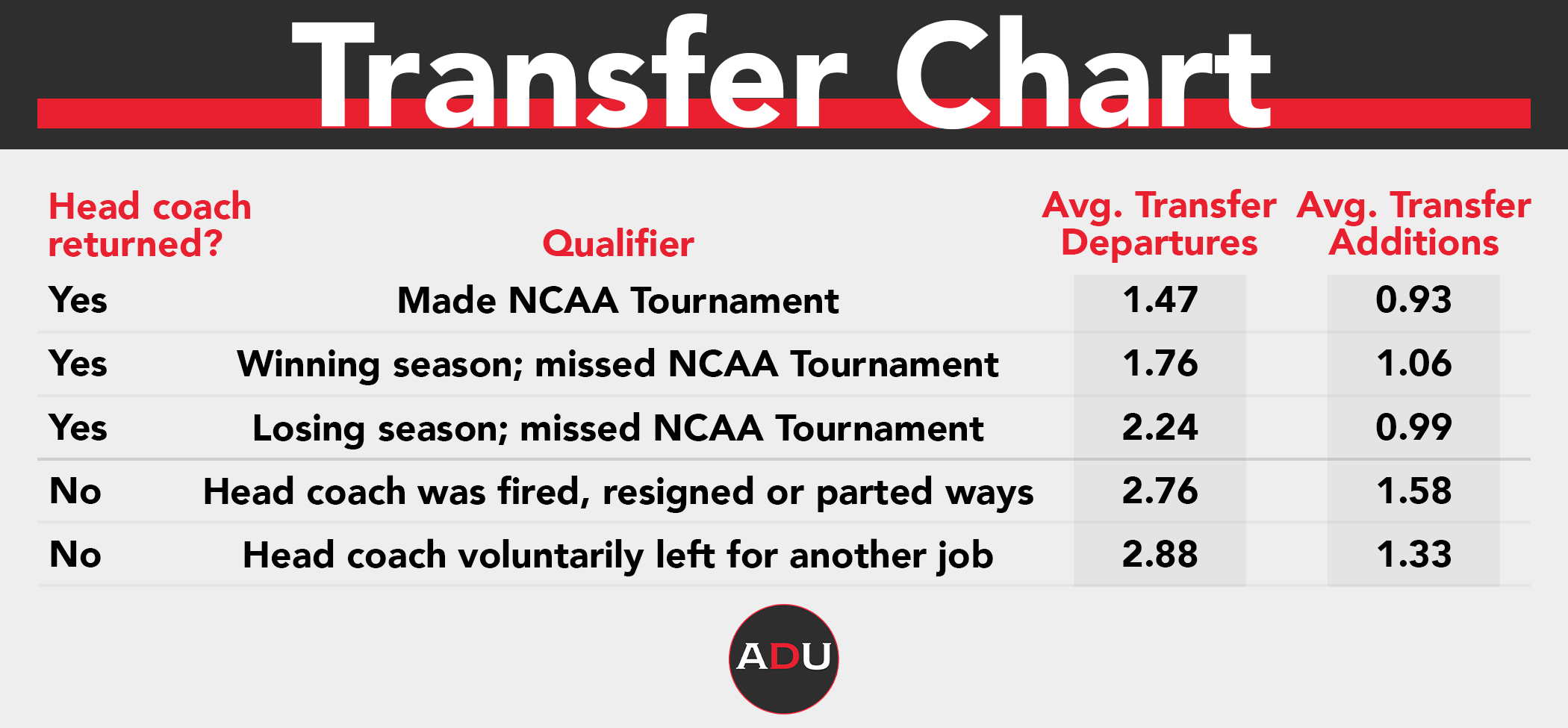 The most roster stability is found within teams that retained their head coach following an NCAA Tournament appearance with just 1.47 transfer departures per offseason. From there, more transfer departures are found within teams that missed the NCAA Tournament, particularly those that had losing seasons (2.24 transfer departures per offseason).
Coaching changes shake up rosters, on average, far more than when coaches are retained. Programs that see their head coach voluntarily leave for another position average nearly twice as many transfers per offseason (2.88 transfers) as programs that retained their head coach following an NCAA Tournament appearance (1.47). 
Individual production can play a significant role in a transfer's next destination. To understand and analyze further, we categorized transfers into one of four roles  — star/leading contributor, significant contributor, role player and minor contributor — based on their statistical benchmarks.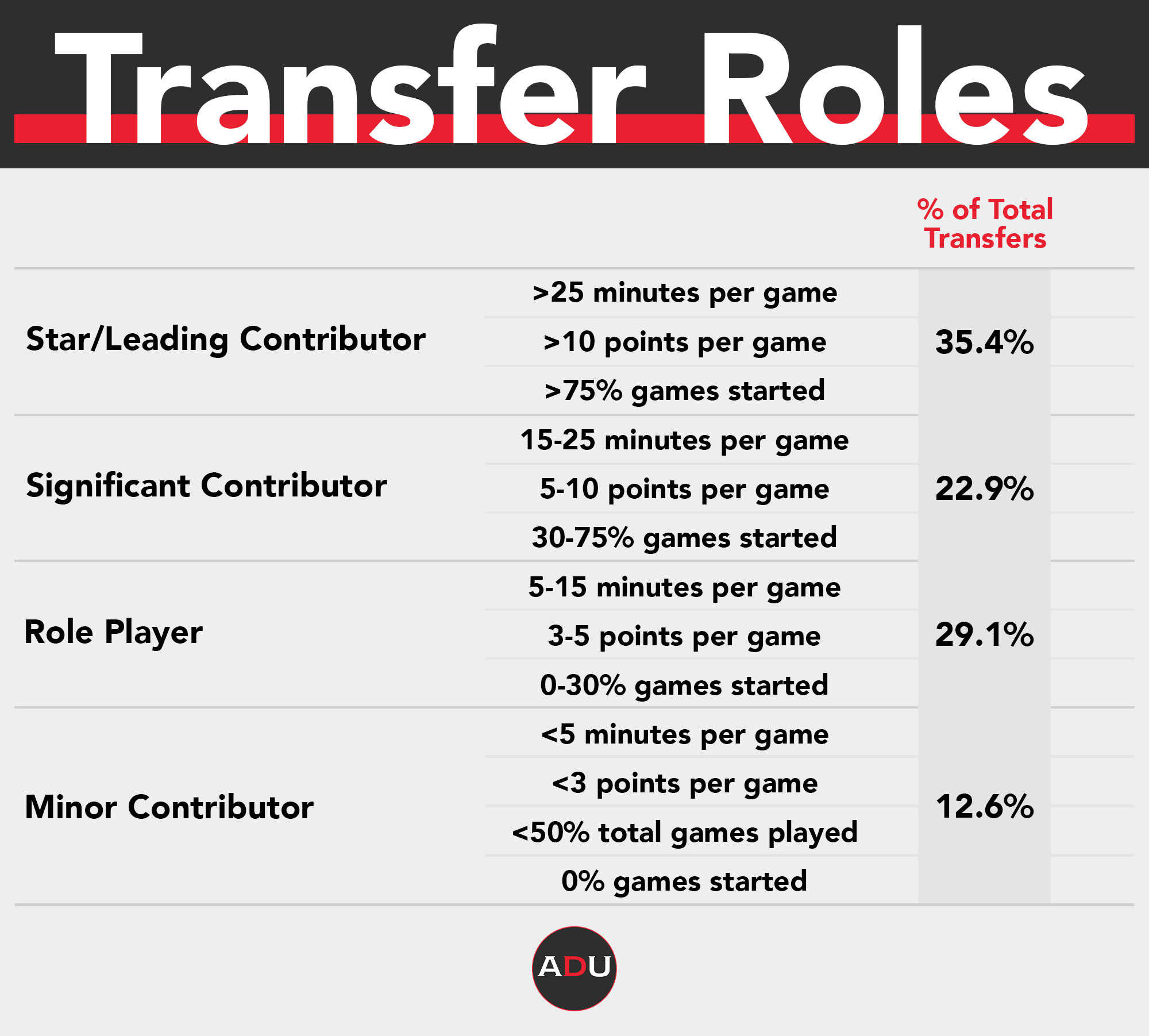 Using these four benchmarks, we can determine a transfer's most likely destination based on their previous conference level (high-major, mid-major or low-major). For example, a star/leading contributor transferring from a low-major program will transfer to another low-major 54.6 percent of the time, a mid-major 16.8 percent of the time, and a high-major 28.6 percent of the time, as seen below.
Naturally, those who perform the best at the highest level will transfer to and continue to compete at the highest level the vast majority of the time. Stars/leading contributors from high-major teams transfer to other high-majors 68.1 percent of the time while high-major minor contributors transfer to low-majors 70 percent of the time. 
Coaches also play a part in the ongoing transfer movement, particularly those who have experienced great roster turnover and those who actively seek out transfers. The active head coaches who have received the most transfer commits in the span of the transfers study are listed below, including further information about the production of their transfer additions.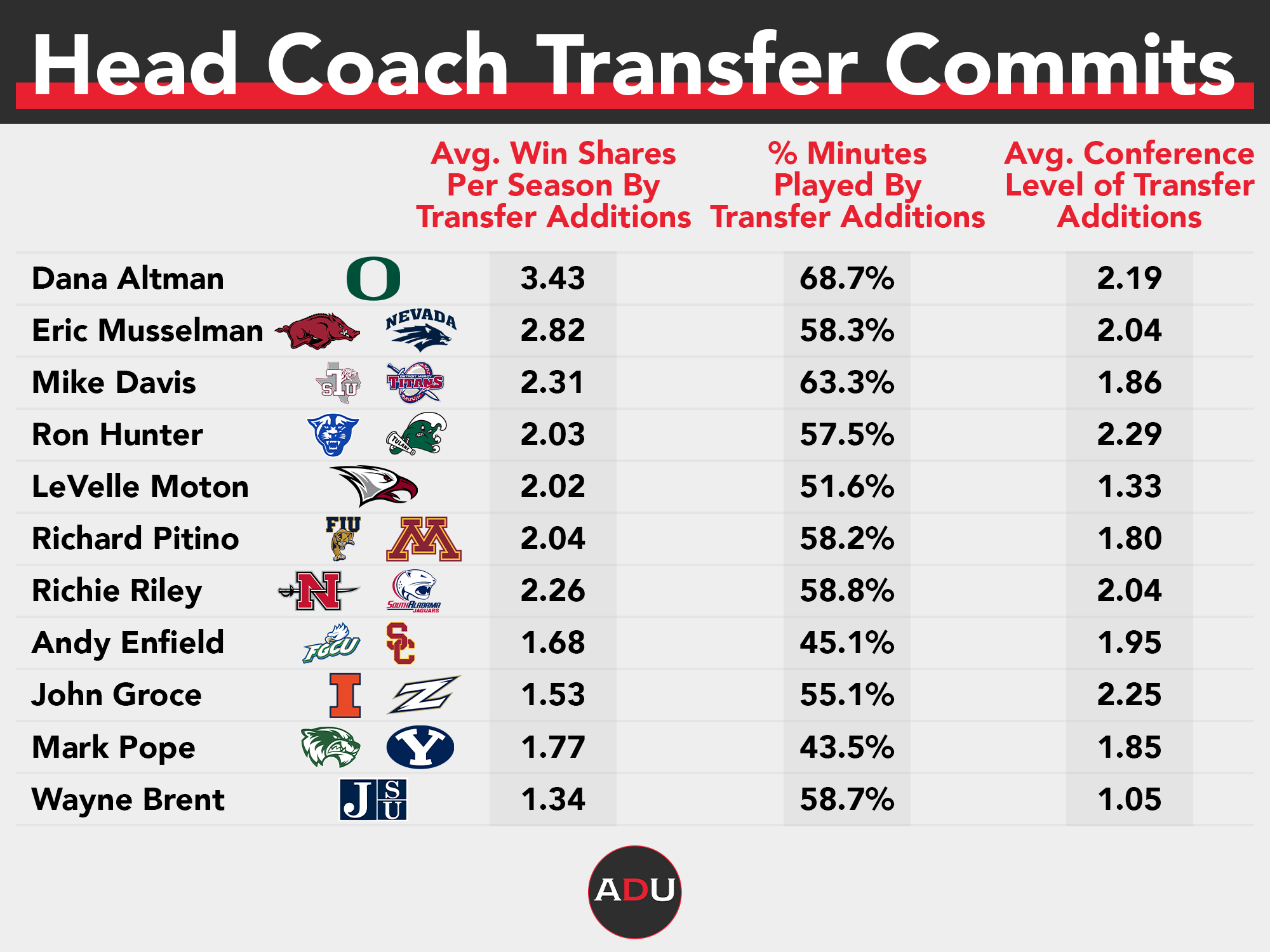 Oregon's Dana Altman has consistently built quality rosters through transfer contributors. For the 2021-22 season, the Ducks welcome Quincy Guerrier (Syracuse), De'Vion Harmon (Oklahoma) and Jacob Young (Rutgers) to the rotation. Previous transfer successes in the Oregon program include Anthony Mathis (New Mexico), Shakur Juiston (UNLV), Elijah Brown (New Mexico), MiKyle McIntosh (Illinois State), LJ Figueroa (St. John's), Dylan Ennis (Villanova) and Paul White (UConn).
Quality transfer additions often shape the nation's best teams. In 2021, 14 of the 50 players who recorded the most minutes on teams ranked in the final AP top 10 rankings were former transfers. This number doubled incoming freshmen and exceeded returning players of any class.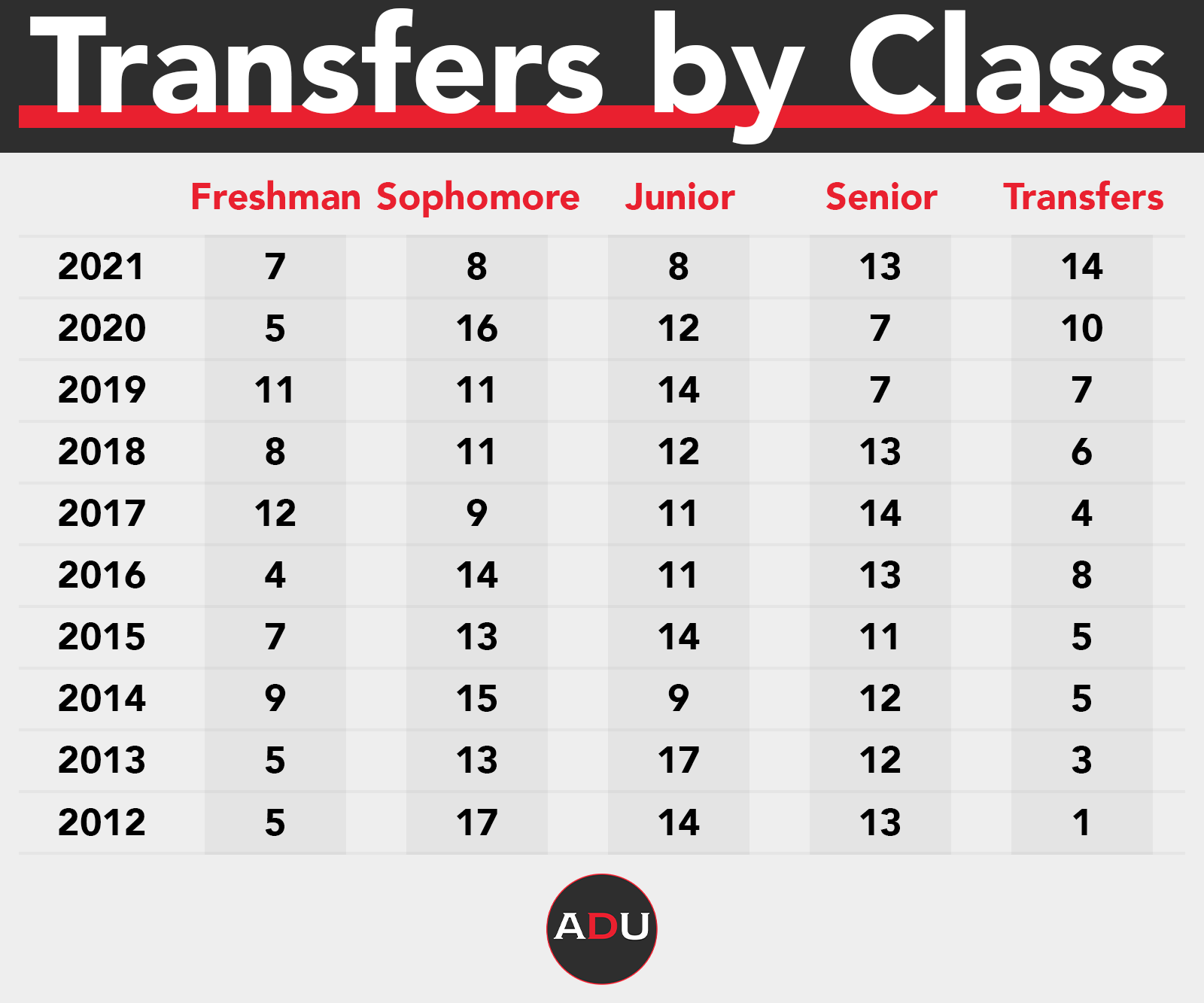 As recent as 2012, just one of the 50 players who met the same criteria was a transfer. The trend of impactful transfers among the sport's strongest teams has only increased over time.
But even though the transfer rise is indisputable, coaches remain mixed on how it has changed college basketball and their coaching strategies.
Arkansas' Eric Musselman, who successfully used a high rate of transfer pickups to elevate the Nevada program, recently said the following about his staff's transfer philosophy:
​​"We have statistical formulas that we've created internally — not any outside company — from the last six years that we continue to build on, where we plug a player from one conference in and how we project them as an SEC player. We had that down really well in the Mountain West and now we feel, after the last couple years, that the same formula can help us moving forward in the SEC."
Other coaches haven't shared the same enthusiasm.
"It's part of the game now and it doesn't mean I have to like it," former North Carolina head coach Roy Williams said. "I (pursue transfers) out of need. I'd much rather have a freshman kid because it's just more fun."
"I hate getting kids on a transfer, and I'm still not a fan of it," Michigan State's Tom Izzo told ESPN. "With all the freedom of transfers and playing right away, it could get ugly."
Whether coaches, analysts or fans enjoy transfer activity in college basketball or not, most can agree that rising transfer numbers have had a significant impact on the sport. Transfer trends can provide vital information for coaches towards approaching roster construction in an uncertain time in college sports.