Late last year, the Knight Commission submitted several recommendations for "transforming the NCAA DI model," the most drastic of which involved removing the FBS from NCAA governance due to similarities (or differences depending on which side of the 50-yard-line you're standing on) in mission and finances, among other factors. "No single entity is responsible for FBS football," said incoming Knight Commission Co-Chair Nancy Zimpher. "It is time to end this leadership void and bring more accountability to the sport, both for the benefit of athletes and for the future of FBS football."
Some high-profile critics of the report, including NCAA President Mark Emmert and SEC Commissioner Greg Sankey, argued the Knight Commission ignored some existing realities. "I think they're diagnosing some of the right problems, but they've got the completely wrong prescription," said Emmert, who added that separating FBS football from the NCAA is "candidly just exactly the wrong thing to do. … The [Autonomy 5] has a lot of flexibility [in the rules-making process] already. Pulling FBS football out and shoving it in another bucket makes no sense at all." 
Despite public pushback from Emmert, Sankey and others, data compiled by Qualtrics, Eventellect, Learfield IMG College, Winthrop Intelligence — as well as a survey of over 100 FBS stakeholders — tells a different story: namely, that establishing a centralized governance model for FBS not only makes business sense, it's also a popular idea among FBS administrators behind closed doors. 
Business Case
From a consumption perspective, it likely comes as no surprise that matchups between Power 5 football programs enjoy the highest TV ratings. According to Nielsen and Learfield IMG College, Power 5 conference matchups averaged 2.3 million viewers during the three seasons from 2017-19 while non-conference contests between Power 5 teams averaged 2.26 million. Meanwhile, games in which Power 5 schools hosted programs from the Group of 5 averaged just 846,569 viewers, a decrease of nearly 64%. The dropoff when Power 5 schools host FCS schools is even more stark with an average viewership of 488,462.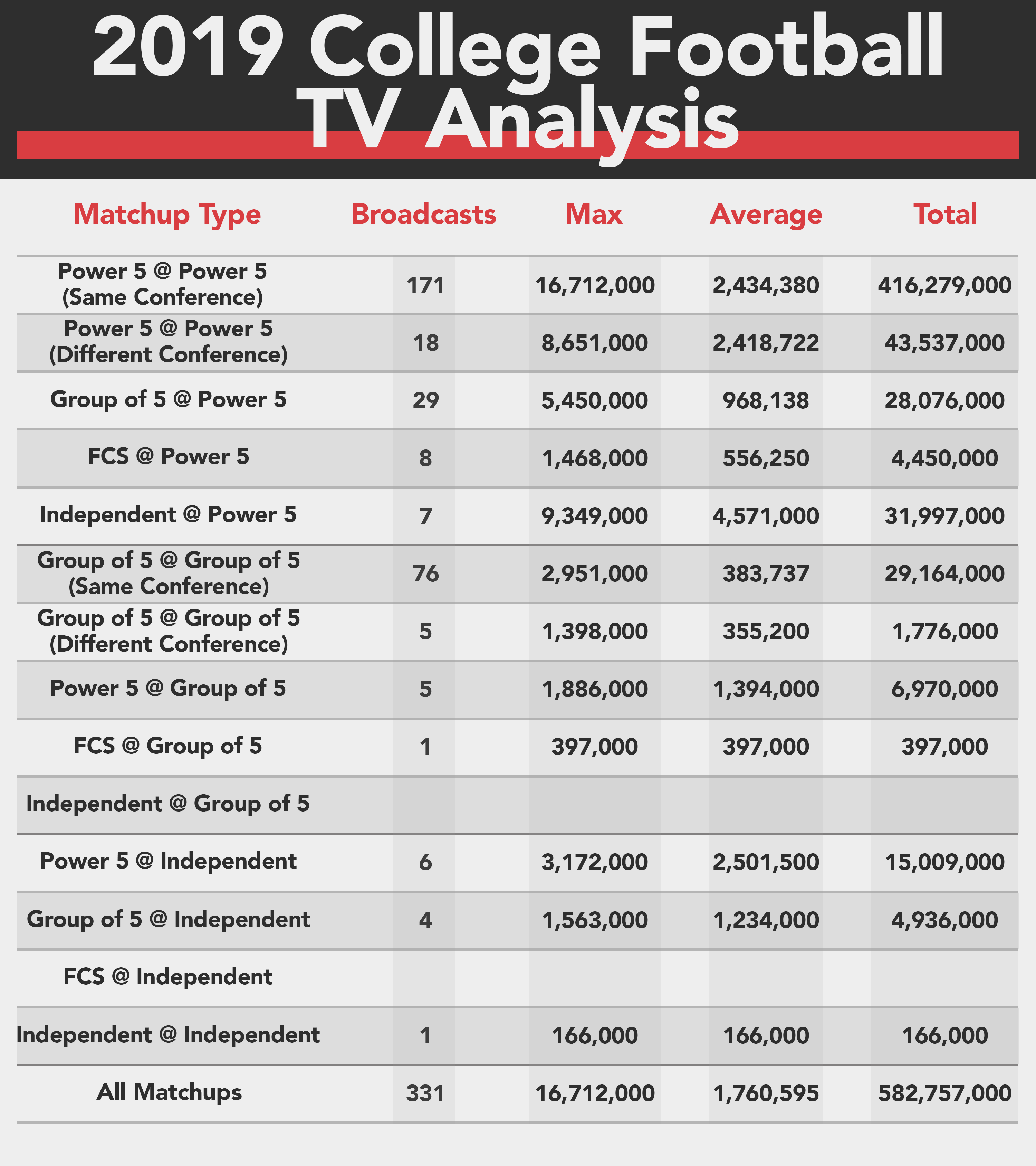 "It's predictable, it's a broad sample," said former Big Ten Commissioner Jim Delany, "and it's consistent with what we found 10 years ago. The numbers are the numbers, they are indisputable."
From a media perspective, TV executives would be very interested in improving the "quality" of the inventory mix, according to Crakes Media Consulting Principal Patrick Crakes. "As the College Football Playoff expands, schools should be more open to playing more and harder non-conference games. While that may equate to more losses, increased access to the CFP will balance things out and ultimately lead to more TV money. Furthermore, stretching out the season another couple of weeks creates more byes, which equals a better overall quality play and shouldn't tip the scales too much on student-athletes." 
Meanwhile, as TV viewership numbers decline significantly when Power 5 programs play Group of 5 or FCS teams, the guarantees Power 5 programs are paying for those games are spiking. According to Winthrop Intelligence, the average cost for guarantee games has doubled from $643K in 2010 to $1.3M in 2021. Additionally, these games are increasingly being scheduled further in advance, locking teams into matchups that may not be as palatable or even practical when the time comes, leading to decreased demand and ultimately lower prices for tickets.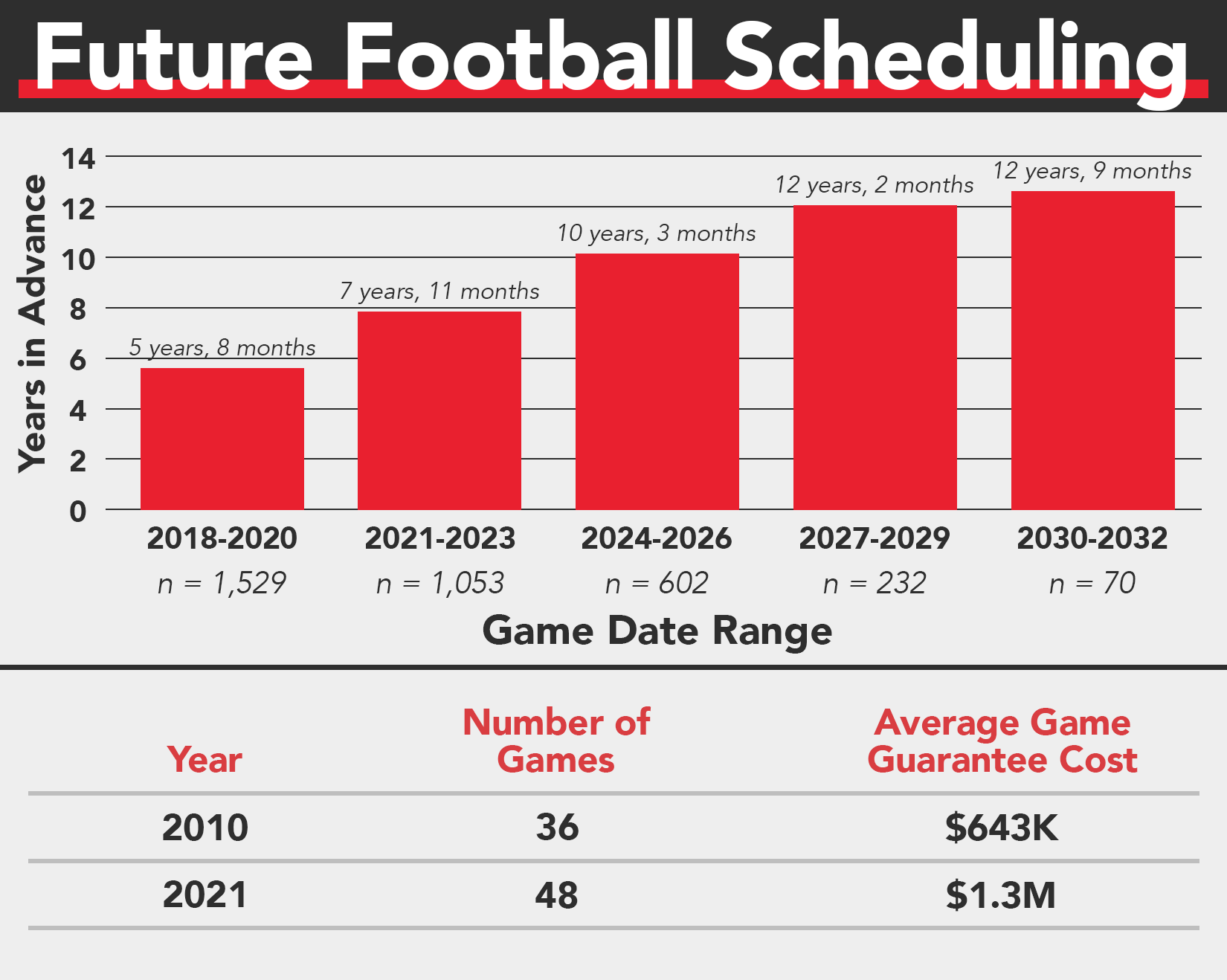 As you can see from the below data provided by Eventellect, the median ticket price for non-conference games when the visiting opponent is an FBS program is $51. For FCS opponents, that figure drops by 40% to $32. 
"As the competition for fan dollars and attention continues to increase, teams can add more value to the season ticket package by having higher-demand games in their schedule that will bolster renewals and new season ticket sales," said Eventellect Senior Vice President Lisa Walker, who oversees business development for their Collegiate business. "And generally, the stronger the season ticket base the stronger single game ticket pricing is, therefore there is real revenue to be captured on the ticketing side."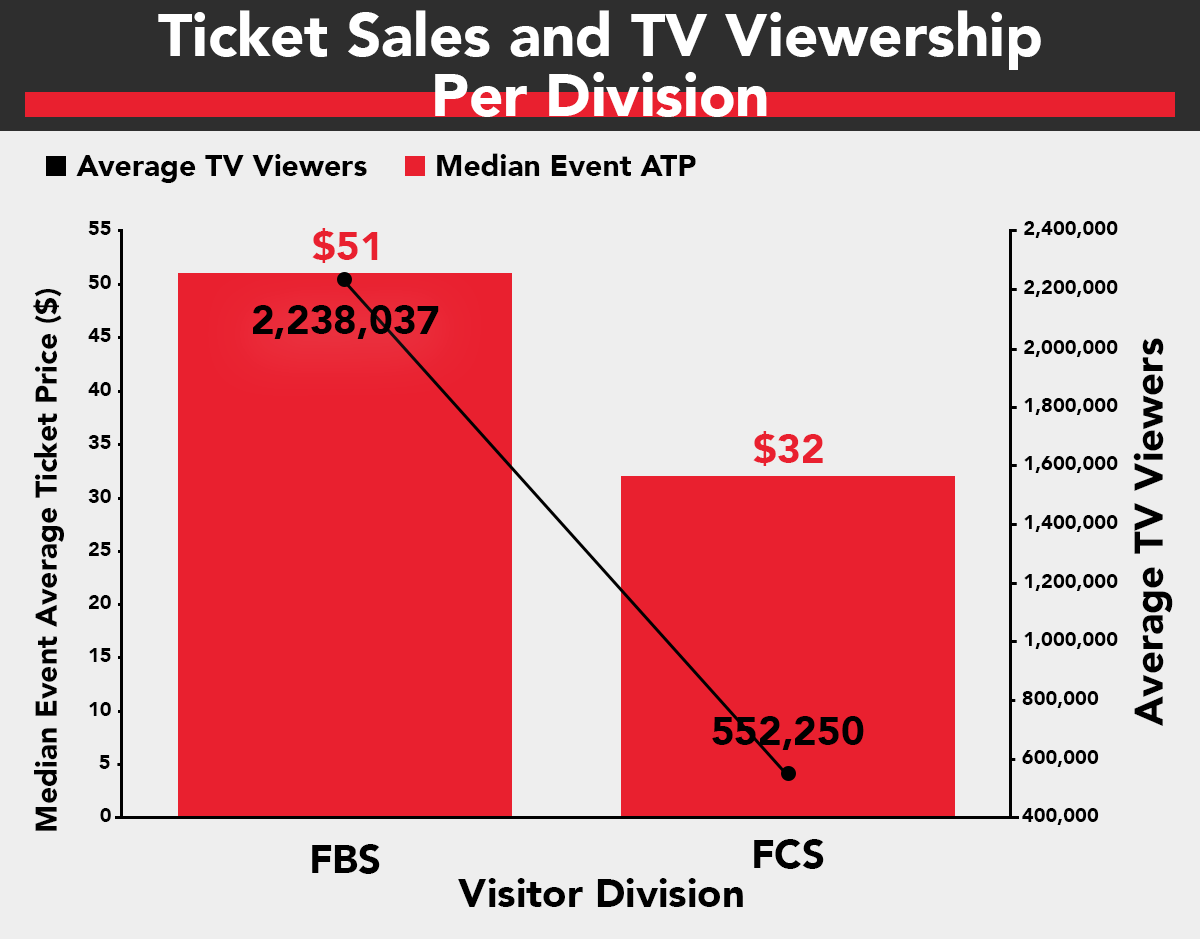 "I think there is a trend that people want better games," said Delany. "People recognize that." 
Current Big Ten Commissioner Kevin Warren agrees that fans want to see the best possible matchups but points out that scheduling "is as complicated as any issue we deal with" and points out that even if there were a master scheduler to maximize revenue for non-conference games, the logistics could still be unwieldy. "It's difficult to come up with a one-size-fits-all approach. There are TV considerations, competition challenges, travel, nuances of traditions and rivalry games to take into account," and other matters, including academic requirements. "These are not professionals. … If you gave fans Nirvana, they would select conference games and select non-conference games. By nature, fans like seeing their team play others from the conference they're a part of due to historical storylines & familiarity."
Those who participated in the Qualtrics survey expressed similar reticence, with fewer than 10% of athletic directors "strongly" agreeing that FBS needs a master scheduler to maximize revenues. Among ADs, 20% agreed while 30% strongly disagreed and 13% strongly disagreed.
"For Group of 5 programs, the trickle-down effect [of Power 5 v. Power 5] scheduling would present a major challenge," said one AD.
With geography, game times, exact matchups and quantity all weighing heavily in the equation for TV networks when scheduling games, Crakes points out that increased scheduling between Power 5 programs could also create friction between the leagues themselves. "Is the more likely first step long-term scheduling alliances between leagues, such as the SEC and ACC?" If so, could one league be left out?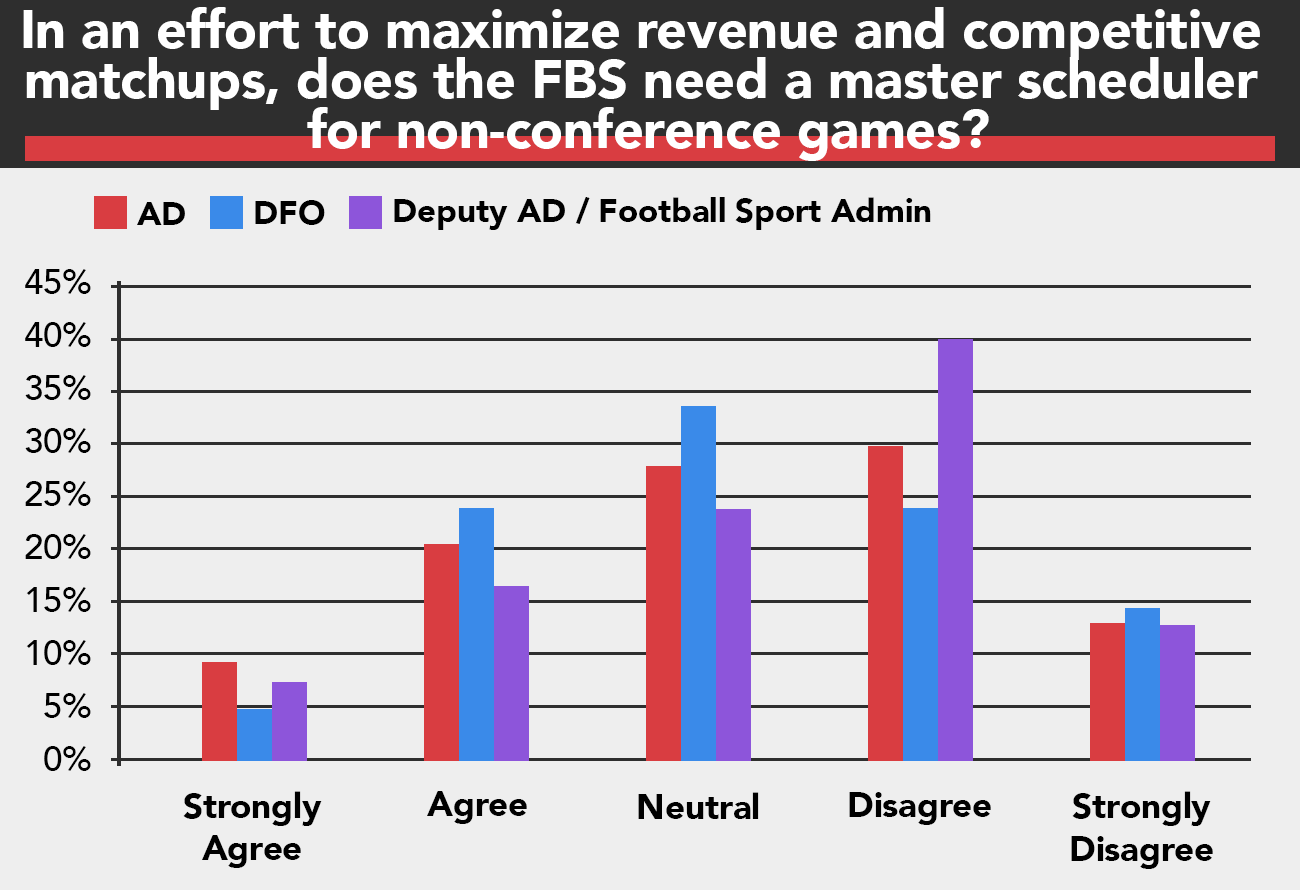 Alignment/Survey Responses
As documented, the Knight Commission's report faced highly publicized criticism from some of the most influential voices in college athletics; however, Qualtrics' survey found that 57.4% of the athletic directors who responded agreed with the statement that the FBS needs a commissioner or similar leadership position to lead the conferences compared with 24.1% who disagreed. Meanwhile, 78.2% of deputy athletic directors — presumably representing the next generation of college athletics decision-makers — agreed.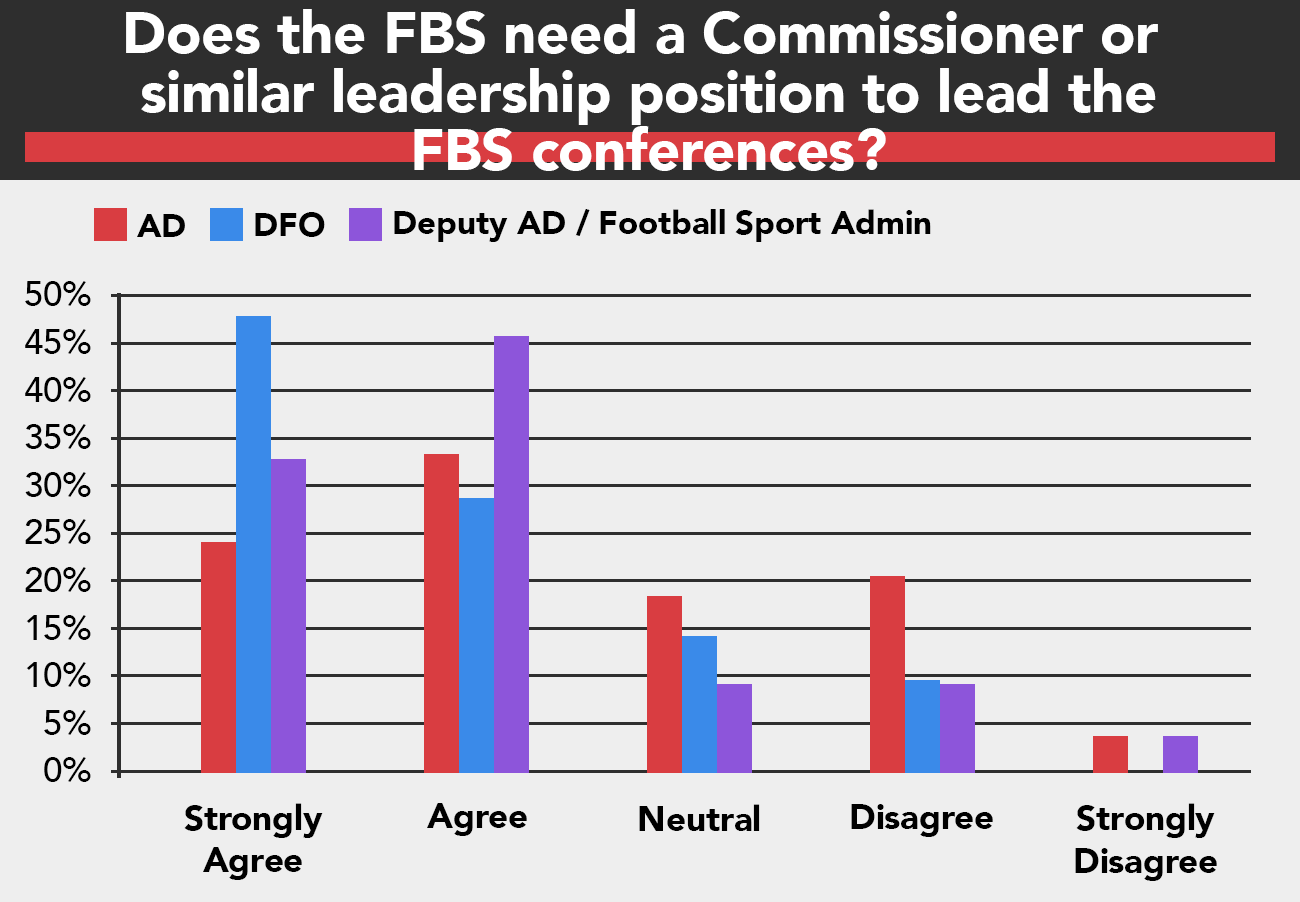 "There's never been a greater chasm in college sports between the national office and membership than now," said the Group of 5 AD. "The pandemic has shown the need for greater alignment between FBS conferences." However, the AD added, "If the governance model changes, it has to be a commissioner who can assist all leagues equally with a board that has representation and input from all the conferences." 
"This topic causes me to take inventory of the positive elements we've already created," said Warren. "It was very clear last year [during the pandemic] that each conference has different philosophies on how they approach critical elements, such as recruiting, academics, testing, fan bases, student-athletes, specific traditions, etc. It would be very difficult to align all these inherent elements. 
"It's also important for conferences and universities to maintain flexibility to be creative with business models to best serve their members. With 21 years in the NFL, I know that model very well. It's one commissioner, but it's one league with total control over scheduling, player unionization, broadcast — I have difficulty seeing how one individual could accommodate all that. I also don't believe in having our CEOs, ADs, SWAs, FARs — removing their voices from the decision-making processes. It would dilute what college athletics is. We come together for a common good, even though we approach our operations and business models differently."
Asked whether FBS needs a specific leadership panel to lead and align the conferences, a higher rate of athletic directors (70%) agreed with the idea while just 16.7% disagreed.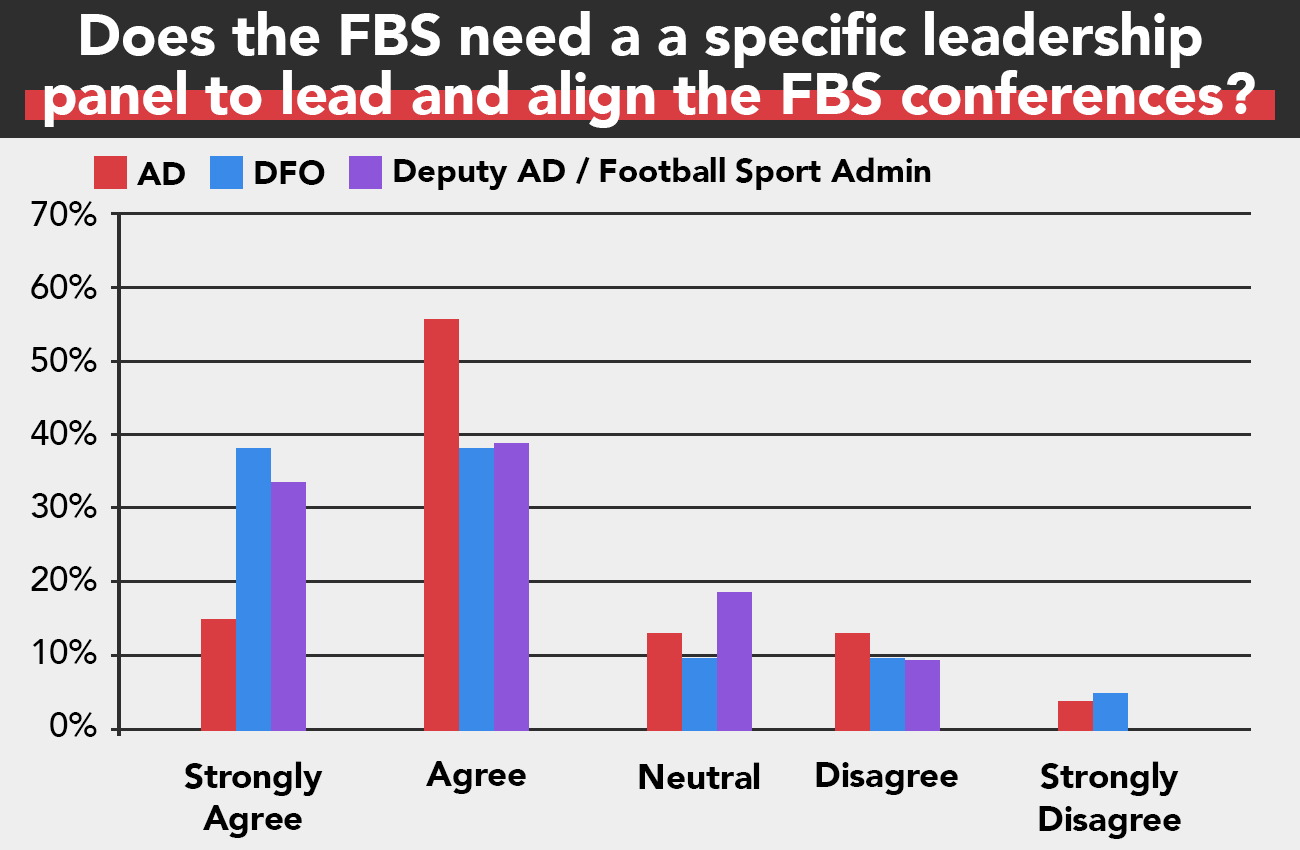 "A leadership panel would be worth listening to," said Warren. "Equal representation would be needed, but I don't see the difference from what we have now." 
For Delany, the idea of a centralized FBS model under one commissioner or committee raises as many questions as it does answers. "When you think more centralized, what are you willing to give up? Ultimately, decisions come from boards, integrated with directors, commissioners, coaches, and faculty. … It really is up to the schools. The question is why?" Realistically, he adds, a fully and separately aligned FBS would require cooperation among conferences that may be a long way off. 
Another area of potential alignment concerns a unified medical advisory board that would operate and oversee the same medical protocols across the sport. On this topic, 66% of ADs agreed while just over 20% disagreed. Notably, 81% of Directors of Football Operations who responded supported the idea. 
"I feel differently about this one [than about the commissioner and leadership panel questions]," said Warren. "In theory, this is an excellent idea as the health and safety of our student-athletes are paramount. The challenge is ensuring fairness, collaboration, clear processes, and how the board would be represented equally and in the right structure. For instance, concussion protocols — we'd need to get to consensus, we'd have to trust our medical leaders in our constituent bases. This is an area where I think we could reach consensus easier. Although, we allowed each school of the CFP to make their own decisions this past year. But, I feel if the CFP had said, 'No, that's not good enough,' we would have been able to come up with something together."
Numbers, as they say, don't lie, and in this case the numbers are saying with a high degree of clarity that there is an appetite for improved alignment in the FBS. Like everything in college sports, though, the numbers only tell part of the story. This is a complicated case, a lot of ins, a lot of outs, a lot of what-have-yous, and, as Delany pointed out, perhaps as many new questions as answers. Alignment or a centralized FBS governance model may not be imminent — it may not even be tractable — but according to the numbers, there are a lot of people already having the conversation. 
Source data for these studies was provided by Qualtrics, Eventellect, Learfield IMG College & Nielsen National TV View (NNTV), and Winthrop Intelligence. 
Special thanks to the four student researchers: Gavin Ellis, Neel Narayanan, Jackson Rosenberg and Ashwin Krishnaswamy for contributing to this project.