We reviewed all forms of compensation for the athletics directors at member institutions in the Autonomy 5 Conferences. We analyzed these employment agreements and related documents (the, "Contracts"), which were obtained in partnership with USAToday, and created a sortable database of primary compensation (click here to view the FBS Athletic Director Database, the "Database").
Unlike the market for college coaches, there is not a traditional hiring period for college athletic directors. Consequently, the awarding, termination and administration of their Contracts, including adjustments to the duration and compensation prescribed by those Contracts, occurs throughout the calendar year.  Thus, total compensation for college athletic directors is typically more difficult to normalize at any given time relative to compensation for college coaches. An independent methodology (described in the Database) was consistently applied to the analysis of each Contract in order to normalize the economic data derived therefrom and enhance its comparative utility.
From the foregoing analysis, we respectfully submit . . .
Five Takeaways:
Average Total Compensation By Conference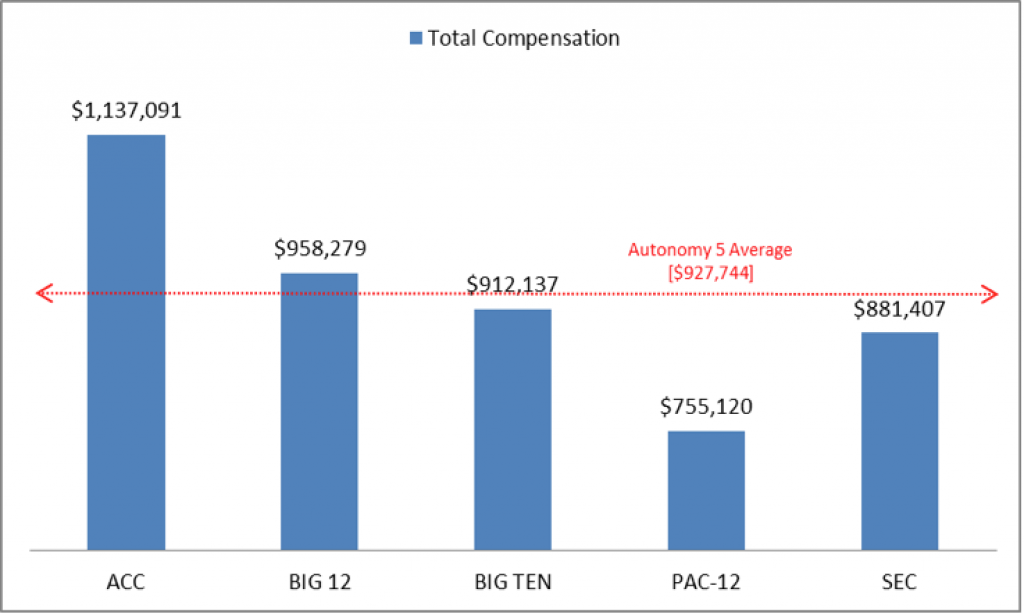 Total Compensation Relative to School's Athletic Department Revenue and Expense1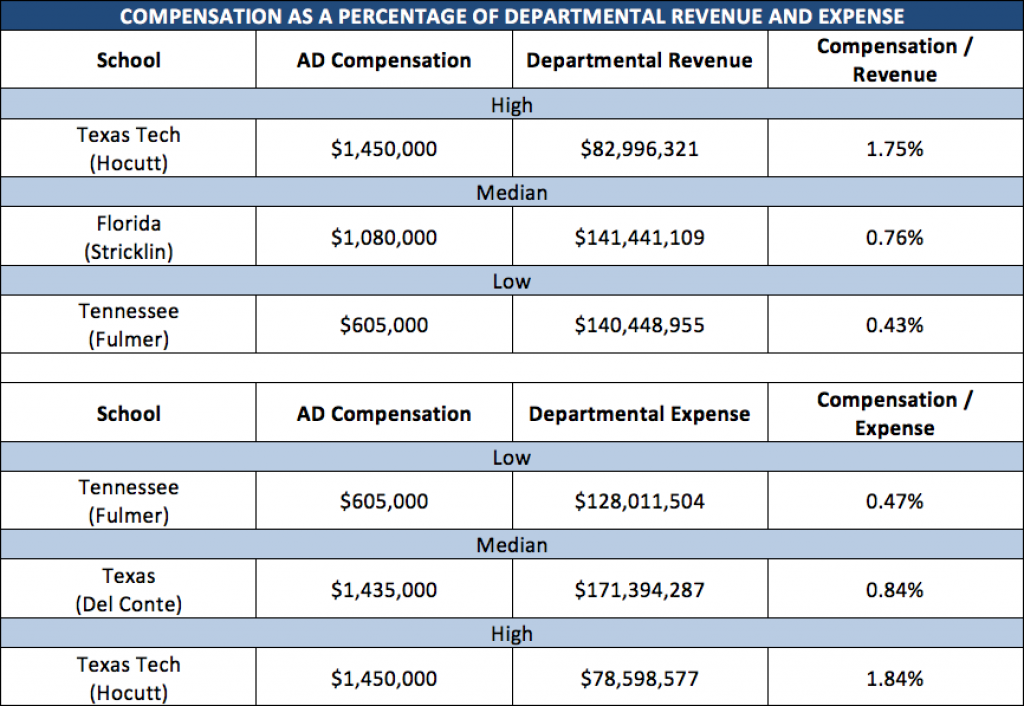 Athletics Director Fulmer's compensation is based on an Appointment Letter. It has been reported that the University of Tennessee is negotiating a multi-year contract for Athletic Director Fulmer that includes annual guaranteed compensation of $900,000. If that contract takes effect, then the lowest annual compensation relative to departmental revenue will be the contract of Texas A&M Athletic Director Scott Woodward (0.48%) and the contract with the lowest annual guaranteed compensation relative to departmental expenses will be that of University of Washington Athletic Director Jennifer Cohen (0.48%).
Increase in Compensation within the past 5 years
* Average Total Compensation Increase: $46,465 (8.95%). This year over year increase lags the annual compensation growth rate for football and men's basketball head coaches
* Highest Increase (Same School, Same AD): Athletic Director Swarbrick (increase of $1,866,351, or 157.56%). Notably, this increase arises as a result of bonus compensation totaling over $1.8M as reported in Notre Dame's most recent 990 filing
* Highest Increase (Same School, New AD): Texas (Perrin to Del Conte, increase of $685,000, or 91.33%)
Bonus Compensation
The average bonus compensation available to an Autonomy 5 athletic director is $199,733 (representing 23.98% of average total compensation). The average maximum available bonus amounts increased less than 1.0% over last year, supporting our finding that schools rarely revise an athletics director's bonus schedule.
AD Compensation relative to Coach Compensation (Autonomy 5 FB & MBB   Head Coaches)

Postscript
In the coming weeks we will complete and publish via ADU compensation analyses for all Football Bowl Subdivision institutions for which compensation data is available.
12015-2016 athletic department revenue and expense were obtained from the USAToday database found at http://sports.usatoday.com/ncaa/finances/, where available.