This condensed research paper published in the American Journal of Management (2018) analyzed the financial differences between "Power Five" and "Group of Five" Division I Institutions. The results show Power Five universities have more than double the athletics budget ($97.6 million vs. $32.8 million), while receiving an average subsidy of $4.6 million compared to $18.4 million. Furthermore, the analysis shows that Power Five institutions are substantially more productive financially on the academic side in terms of research funding ($428 million vs $96 million) and have five times a median endowment size ($1.25 billion vs $229 million) compared to institutions residing in Group of Five conferences.
NCAA autonomy legislation allows institutions to enact full-cost of attendance scholarships for student-athletes. Cost of attendance is a national figure developed by each institution's financial aid office in accordance with the Department of Education (NCAA, 2014).
Since the adoption of the new model, hundreds of proposed NCAA autonomy legislation has been proposed. The theme of the new legislation has centered on enhanced benefits to the student-athletes, such as "full cost of attendance." This is an additional scholarship stipend in the form of a financial compensation up to the institution's full cost of attendance as determined by the financial aid office and published in Department of Education. Cost of attendance includes personal costs (medical, toiletries, clothing, laundry) and transportation to and from school. Previous athletic aid only covered a full academic scholarship, room and board, and books. This additional aid covers what the institution deems the total out of pocket expenses to attend the university for one year. Autonomy legislation also allows for multi-year guaranteed scholarships, not being able to cut a student-athlete for performance related reasons.
Other student-athlete friendly legislation has included additional nutrition and meals, medical access and treatment, and time demands. The legislation has also impacted recruiting, allowing institutions more permissive practices and pay for additional expenses, such as admissions costs and recruiting visits of the family. The new framework has also impacted coaches and support staff, allowing institutions to add additional coaches and medical personnel. Changes in recruiting, including early signing period, and the addition of another assistant coach were the primary outcomes from the latest legislation. This new legislation will continue to divide institutions in the "Power 5" and "Group of 5" conferences. There will be a select few schools in the latter conferences that will adopt and continue to try to keep pace.
In regards to comparing and contrasting various conferences, the purpose of this research was to examine differences in Power Five and Group of Five athletic budgets in areas such as revenue, expenses, and subsidies. This study also specifically focused on the overall financial impact of the new NCAA legislation by examining differences in research and development (R&D) and endowments for Power Five and Group of Five institutions.
For this study, the researchers analyzed secondary data from public national data sets: the NCAA Membership Financial Report (2005-2014) (USA Today, 2016), National Science Foundation (2016), and National Association of College and University Business Officers and Commonfund Institute endowment report (NACUBO & Commonfund Institute, 2017).
RESULTS
Total Subsidy Definition: The sum of student fees, direct and indirect institutional support and state money, minus certain funds transferred back to the school. The transfer amount cannot exceed the sum of student fees and direct institutional support that the department receives from the school. (Under NCAA reporting rules, any additional money transferred to the school cannot be considered part of the department's annual operating revenues or expenses.) The NCAA and others consider student fees, direct and indirect institutional support and state money "allocated," or everything not generated by the department's athletics functions.
TABLE 1
NCAA Finances of Athletics of Conferences (In Millions)
TABLE 2

NCAA Finances of Conferences (In Millions)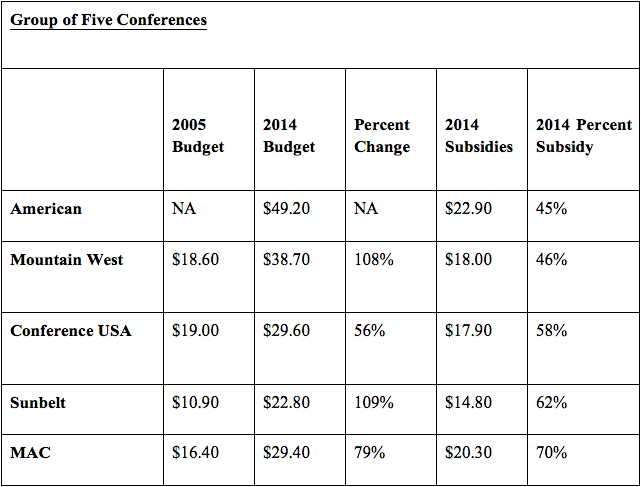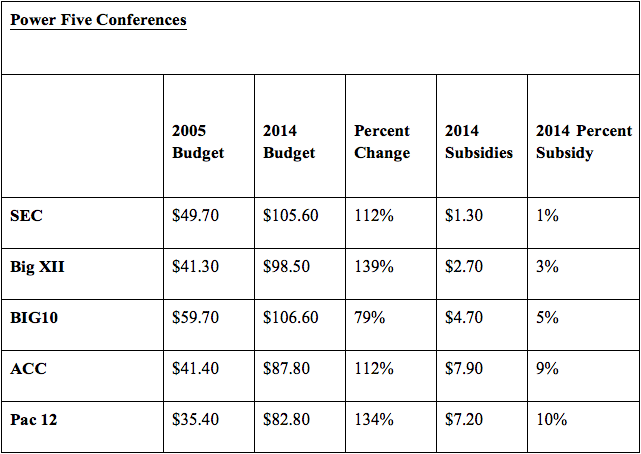 DISCUSSION
From the results above, it can clearly be stated that the financial impact from a cost perspective is directly related to the conference an institution belongs to and the overall financial well-being of each institution. Independent of conferences, institutions with larger athletic budgets are those institutions that have more financial means in terms of academic research and private endowments to support the entire institution, including its athletics department.
An insight as to why these institutions are associated with the conferences they are currently members seems to be the overall financial health of the institution itself. Institutions that have large athletic budgets and belong to Power Five conferences are the same institutions with large research and endowment sizes. The question remains however, were these institutions able to grow their research and endowment size through success and national exposure in athletics; or were their athletic departments' success a result of the institutions' overall academic and private donations growth?
Research shows that elite athletics success has a significant increase in private contributions to the entire university, not just athletics. This research suggests that successful athletics may help grow private donations and thereby the total university endowment (Walker, 2015). As for research grants in relation to athletics, controlling for university background characteristics such as years of existence, public/private, and endowment past studies found that athletic success has a positive relationship with enhanced academic research following such success, meaning as the institutions were more successful athletically their academic research increased as well (Keyton, Reifman, & Warnick, 2012). Interestingly, also found to exist was a positive relationship between endowment size and research funding in relation to athletics success (positive relationship).
Tentative evidence was found for an overall, well-rounded athletic program possibly enhancing a university's research portfolio. They hypothesized that the latter finding may result from successful teams making a university more attractive to prospective faculty members (those who follow sports, at least) or athletic success signifying a robust campus atmosphere of activity, including not just sports and academics, but other extracurricular endeavors (Keyton, et al., 2012).
There may also be indirect effects to public institutions in terms of state appropriations. Using data on 570 public universities, it was found that those fielding Division I (FBS) football teams receive about 8% more from their state legislature than otherwise comparable universities that do not participate in Division I (FBS) football. Participation seems to be what matters. Success is less important. State subsidies appear to be no greater for universities with top 20 or bowl-participating football teams (Humphreys, 2006).
Overall athletic spending for Group of Five and Power Five institutions continue to soar; however, the gap between the two groups is also growing (more than double the gap than 10 yrs. ago- $28M gap in 2005 vs $65M in 2015). Exacerbating the divide between the two is the growing revenues of the Power Five. Conferences approximate 2014-15 payouts per school in the Power Five: SEC $32.7 million, Big Ten $32.4 million, ACC $27 million, Pac-12 $25.1 million, Big 12 $23.3 million. This represents a revenue increase of 33% from 2015 to 2016 for these aforementioned conferences (Solomon, 2016). Meanwhile the Group of Five average payout per institution is $2 million (Lavigne, 2016).
The discrepancy between these two groupings leads researchers to ponder is athletic spending sustainable? Table 1 above, illustrates the growing gap between conferences in the Power Five and Group of Five. Due to growing subsidies, this is especially a concern for Group of Five institutions. Compounding this struggle is the fact that these universities also are weaker in terms of research funding and endowment size (four times fewer dollars in both regards). This is ironic since the overall financial health is stronger for those institutions that have the means to support their athletic programs, but are the ones who do not have the need to be subsidized. These institutions are more robust financially as a whole to support the entire university (independent of athletic budgets). In fact, many Power Five institutions actually now subsidize the university. LSU Athletics transferred $10 million to academic initiatives in 2015, while receiving no academic subsidy (The Advocate, 2015). In regards to rising costs of athletic salaries, one example is Alabama's Nick Saban, who signed a new contract that will pay him $11.1 million annually (Berkowitz, 2017).
Future impacts of the new NCAA autonomous legislation could continue to put strain on budgets for Group of Five institutions. The future landscape could look very different in the near term as institutions decide which divisions to compete in and what sports to continue to sponsor financially. While costs continue to rise and new or additional revenue streams remain steady or decrease, many more institutions not in the Power Five will be faced with the dilemma of eliminating sports (primarily men's sports) or decisions to alter NCAA classification for football and their entire department in the coming years.