Regardless of the sport, college athletics is fueled through recruiting, so much so that it has created businesses that simply track it, rank it or consult for it. In the world of college football in particular, it drives win and losses like no other metric.
In our studies of recruiting, we have determined that there are two consistent aspects to Football Bowl Subdivision (FBS) based recruiting. (1) Most programs are range-bound in recruiting, and (2) programs need to have a minimum recruiting radius to maintain current talent levels or expand the radius to increase the talent levels.
While most programs have normal or flat recruiting radius trends, there are three specific chart patterns we look for in recruiting radius behavior. It is likely that similar patterns can be found for any sport on the collegiate level. In our discussion, we will specifically look at increased radius and talent rise, increased radius and team decline, and a trend of declining recruiting radius below the moving average.
The term range-bound means that your average program has highs and lows over a five-year period, but their moving average largely stays in place. To break out of range bound recruiting, you need to change your recruiting range. When a program starts to take off in recruiting, we will most often see an uptick in distance traveled per-player-signed.
The chart below shows the recruiting efforts of TCU over the last decade under Gary Patterson. In the last few years, they have increased their talent level to No. 3 overall in the Big 12 (as ranked by the primary recruiting evaluation services). This is especially noticeable in the offensive and defensive lines. Five years ago, the average OL/DL recruited was just 196 miles from campus, but in the last two-years, it jumped to 361. However, making a stronger and wider range of recruiting does not mean a better team.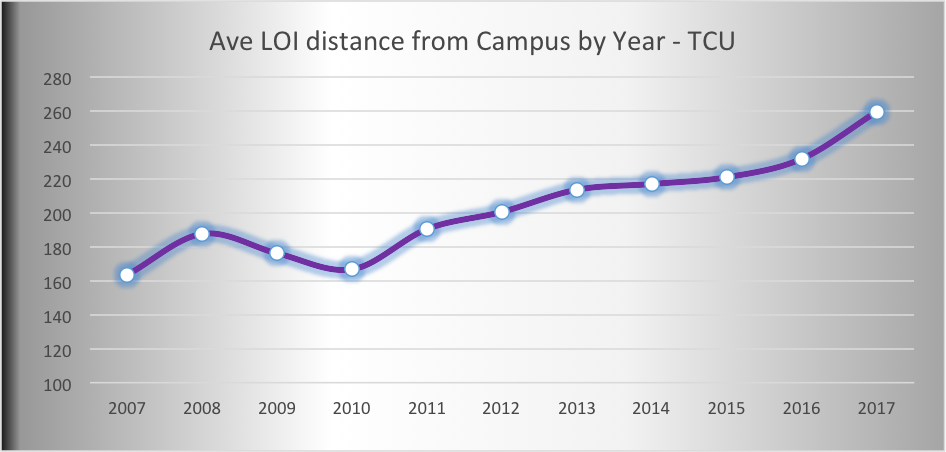 In the second chart, you see the recruiting effort at North Carolina over the last decade. This chart would show an athletic director a strong inefficiency in recruiting. Larry Fedora, who was terminated this offseason – was recruiting further and further from campus, and likely spending more money to do so, but the talent rankings showed no improvement. Not surprisingly, the talent level at UNC flatlined and along with it the teams record.
The staff appeared to be working hard to recruit but the effort was not generating results. Was too much time being spent trying to recruit and not enough time coaching? There is a balance at every program and recruiting radius can track when a staff may be making too costly of an effort off the field and thus hurting on field results.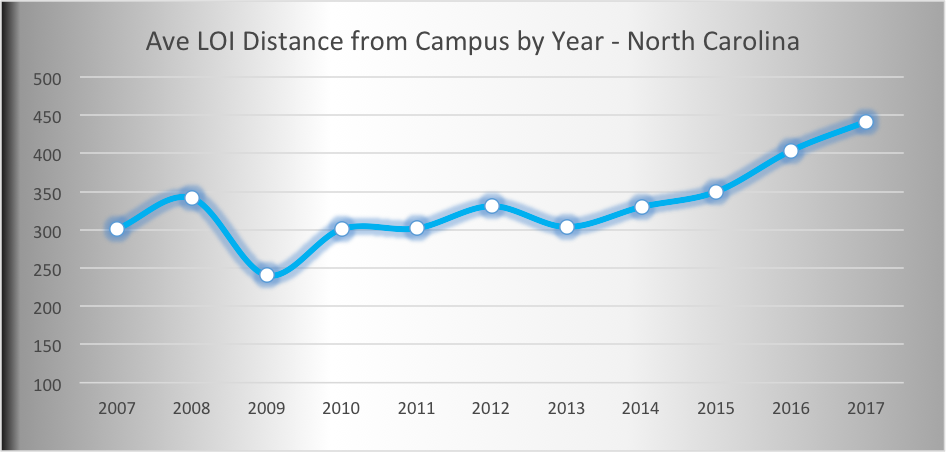 The below chart outlining Louisville's recruiting efforts under Bobby Petrino is your classic 'canary in the coal mine' harbinger chart of recruiting radius. The 2014 class was the 'transition' class, and quite often you will see it below the moving averages due to staff turnover. However, 2015 and 2016 were again below the four-year moving average and the 2017 class was the lowest recruiting radius for the Cardinals in the last eight years. While the effort appears to be in decline, the class talent profiles and the record on the field remained consistent. This may have been an early warning that the effort to coach year-round had begun to slide several years ago.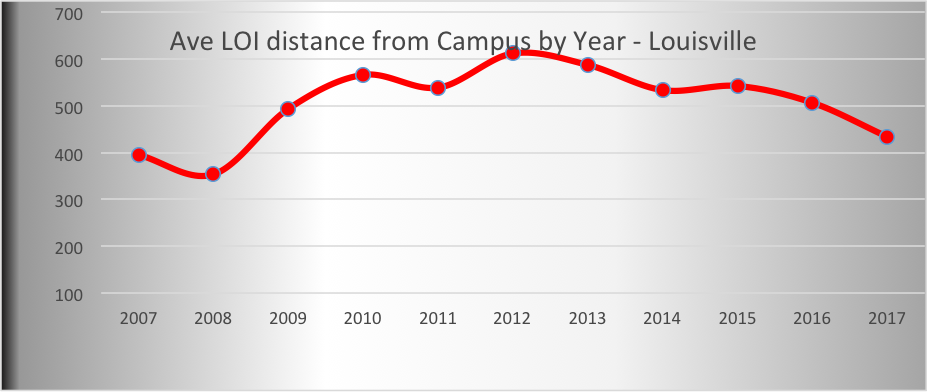 We must acknowledge that programs do have limitations due to budget and geography. Many may want to recruit further from home but lack the budget to do so. Other programs, like the teams in the Pacific Northwest, have to reach a long way to fill rosters because of lack of homegrown talent. Below, the chart shows the average distance for a class for Stanford and Mississippi State, two of the programs with the biggest and smallest recruiting radiuses in college football. A part of understanding your recruiting radius in comparing other programs to yours, as well as their budget and roster requirements.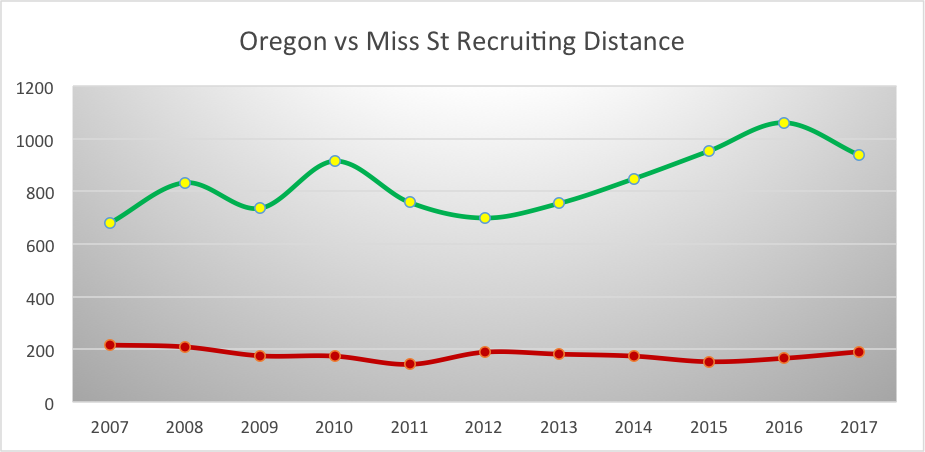 To get your free recruiting radius report, email us at matrixanalyticalsolutions@gmail.com Subject: Free Recruiting Radius Report. If you are not an FBS football program, send us a spreadsheet with available year by year roster data, and we will create one for you.
Matrix Analytical Solutions is an analytics firm focused on creating customized edges and risk/reward analytics for athletic directors and head football coaches including all phases of the coaching search and performance monitoring. Follow them on twitter via their private account exclusive to ADs and coaching staff, @AthDeptEdges. The managing partner, Dave Bartoo can be reached at 503.504.8710.